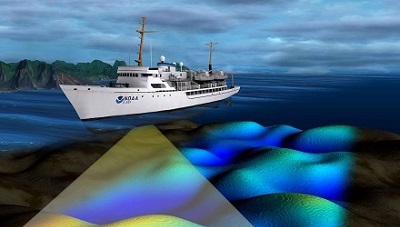 NOAA portrayal of seafloor mapping with vessel and sonar swath. Credit: National Oceanic and Atmospheric Administration, Office of Coast Survey.
The Maine Coastal Mapping Initiative (MCMI) works with our partners to investigate the seafloor to improve maritime navigation and safety, increase public access to detailed seafloor information, and promote informed ocean planning. The information that MCMI collects is used by scientists and managers to research and manage marine ecosystems and increase Maine's resiliency to environmental changes.
Created in 2012, MCMI is acquiring critical data about the seafloor and our oceanic environment, including bathymetry (seafloor depth), sediment information, benthic species and abundance, and water column information. Our data and findings are publicly available. The data collected by MCMI supports numerous uses including marine research, invasive species documentation, geological studies, benthic species range studies, navigation, underwater archaeology, and ocean exploration.
MCMI strives to create and foster partnerships within state, federal, private and non-profit organizations. These collaborations are the foundation of MCMI and foster innovative research and projects. These partnerships allow our data to be directly applied for multiple scientific and management purposes.
To find out more about MCMI, explore different aspects of the Initiative below:
MCMI uses state-of-the-art technology to collect hydrographic quality bathymetry and information about seafloor sediment. We further investigate the seafloor environment using underwater video and collecting a sample to catalogue benthic species. For more about how we collect data, please visit this page.
The information MCMI collects about seafloor sediment, and how it shifts in some areas over time, is an important factor in marine science and management. Through this work, MCMI has supported determining habitats for different species, identifying sand and gravel resources, and tracking nearshore sand movement following beach nourishment. Visit this page to see updated sediment maps and examples of their uses in coastal management.
Marine benthic habitat and the species that live on the seafloor influence many fish communities ability to thrive. Through MCMI, we characterize benthic species assemblages and seafloor habitat and extend these observations to regional spatial mapping. Our work has also led to new invasive species observations, and better understanding of species response to seafloor disruptions. Visit this page to see what we've learned.
MCMI's work has led to numerous publications and technical reports. These have included documenting new invasive species in the Gulf of Maine, describing the movement of sand over time following beach nourishment programs, comparing benthic species assemblages in Casco Bay, and describing seafloor characteristics and sediment in multiple regions of the Maine coast. Visit this page for downloadable publications and reports.
Online Interactive Map
MCP and DMR have created an online interactive map showing seafloor data collected by MCMI and DMR. This map can be a tool to view the data, access links to data downloads, and request data not available online. (Still in development)
MCMI's project goals have included comparative eelgrass mapping, sand and gravel resource identification, nearshore habitat classification, and tracking sand movement over time. Visit this page to read about current project goals.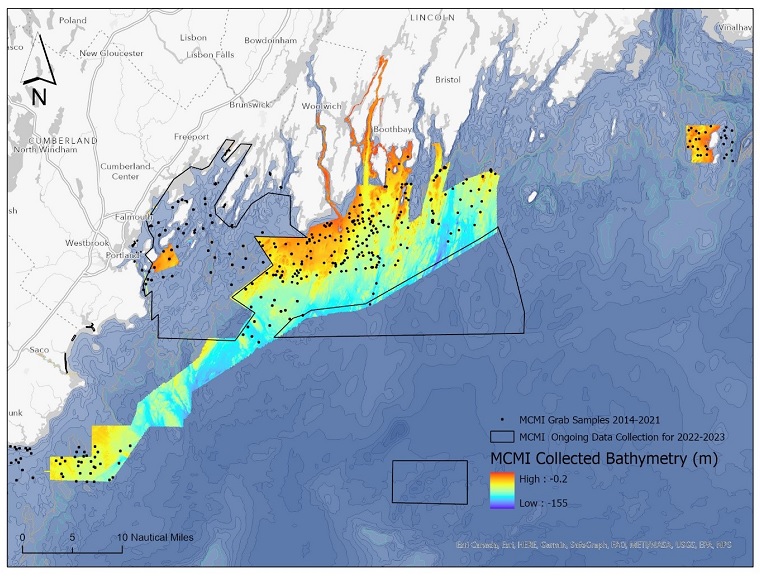 MCMI has collected bathymetry and seafloor hardness data as well as grab samples for sediment and fauna community analysis
from offshore Kennebunk to Matinicus, Maine. This map shows the areas of data collection through 2021. Credit: MCMI.