Mapping to Support Climate-Resilient Decision Making
Healthy tidal wetlands can provide coastal storm and flood damage protection, pollutant break-down, fish and wildlife habitat, and commercial harvesting and recreational opportunities. Some, like salt marshes, store atmospheric carbon that would otherwise contribute to sea level rise and other climate shifts. Roads, dams, and other structures that restrict tidal exchange limit the delivery of saltwater, sediment, and other materials that tidal wetlands need to provide important ecological and communality benefits. Restrictive crossings also impair the resilience of wetlands to sea level rise. In Maine, about 90% of roads that cross tidal wetlands restrict the tides. Roads that restrict the tides can also wear-out prematurely because they don't adequately accommodate tidal flow, a problem that worsens as sea levels rise and the volume of flows increase over the coming decades. The consequences for road owners can include higher maintenance costs, accelerated crossing replacement schedules, and impaired road access to critical services that put public well-being and safety at risk.
The Maine Coastal Program and our partners created the Tidal Restriction Atlas for communities, road owners, conservation groups, and others who plan for coastal resilience. The Atlas is based on the Maine Coastal Program's statewide Tidal Restriction Assessment, the first dedicated review of tidal structures in decades. The Atlas helps people identify culverts, bridges, dams, and other structures that are currently tidal or will likely become tidal in the future. The Atlas is meant to complement use of The CoastWise Approach for tidal road crossing design.
The Tidal Restriction Atlas shows where roads, railroads, dams, and other structures cross tidal streams, marshes, and other tidal wetlands. The Atlas allows you to learn about:
Crossings that are presently tidal or likely to become tidal in the coming decades
Crossings that are tidal restrictions
Information for individual crossings or multiple crossings selected using data table filters
Crossing structural dimensions, condition, and site photos, where available
Ecological features like fish and wildlife habitats associated with individual crossings
The extents of tidal influence projected under Highest Astronomical Tide and sea level rise scenarios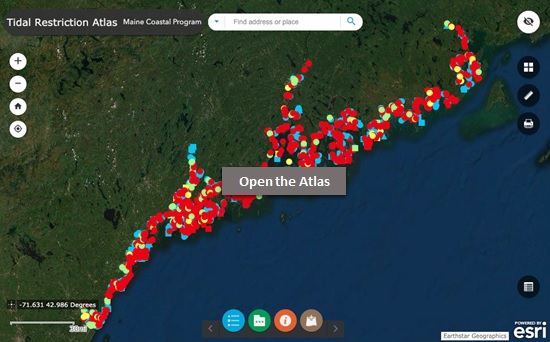 Learn More
For more information contact the Director of Maine Coastal Program, Kathleen Leyden at: kathleen.leyden@maine.gov.
Downloads
Contributors to the Maine Tidal Restriction Atlas Development
Casco Bay Estuary Partnership
Great Bay National Estuarine Research Reserve
Kennebec Estuary Land Trust
Maine Coast Heritage Trust
Maine Dept. of Transportation
Maine Geological Survey, Maine Dept. of Agriculture, Conservation, and Forestry
Midcoast Conservancy
Natural Areas Program, Maine Dept. of Agriculture, Conservation, and Forestry
The Nature Conservancy
New Hampshire Department of Fish and Game
US Fish and Wildlife Service
US National Oceanic and Atmospheric Administration
Wells National Estuarine Research Reserve