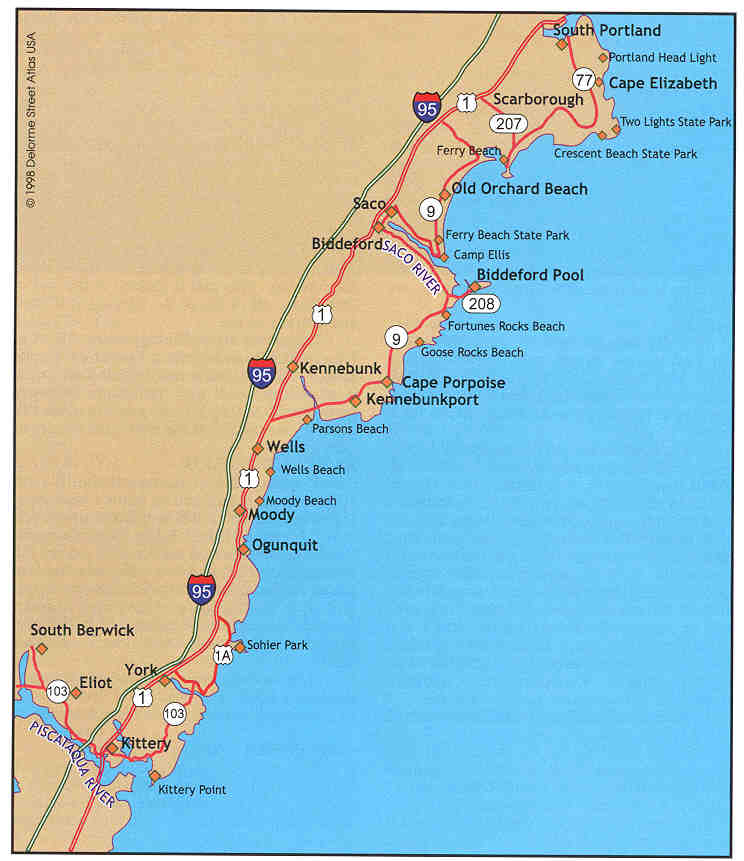 The South Berwick boat ramp is located off Route 101 at the William A. Bray Memorial Park. This town maintained facility has a gravel boat ramp, not usable at low tide, and limited boat trailer parking. A near-by bridge is a popular shore fishing location.
The town operated Piscataqua Boat Launch Facility, found off Route 103 on Hammond Lane in Eliot, is easily the busiest boat ramp on the Piscataqua River. This site offers a cement boat ramp, a float, restrooms, recreational playing fields, picnic tables and large parking lot. A small sand beach borders the boat ramp where shore fishing is permitted. A fee is charged for use of the ramp.
Two other Piscataqua River boat ramps, also located along Route 103, but closer to open water, are at Traip Academy and Kittery Point. At Traip Academy, on Williams Avenue, the boat ramp is paved and there Is limited parking. The Kittery Point Boat Ramp (or Frisbee's Pier) is found along Route 103 behind Frisbee's Supermarket. This site offers a blacktop boat ramp (not usable at low tide), temporary docking space, limited car parking and no trailer parking (unless you get permission from Frisbee's); however, parking at the nearby Mitchell Elementary School is satisfactory. Restrooms are available next to the boat ramp and shore fishing is permitted. This site is a popular mackerel and winter flounder fishing spot.
Fort McClary, Fort Foster, Fort Foster and Seapoint Beach (all located off Route 103 east of Kittery) offer only shore fishing. At Fort McClary, anglers can fish from the surrounding rocky shoreline. Parking is limited, so plan accordingly. A fee is necessary to get into Fort Foster, but a larger parking area, playground and fishing pier make this site an attractive alternative. If you head further east on Route 103 toward York Harbor, you will come to a popular surf fishing spot at Sea Point Beach, on Sea Point Road. Parking here is also limited.
There are several sites used by shore fishermen in the York area, including Town Docks 01 and 02 (where only daytime fishing, is permitted). The Route 103 bridge, which crosses the York River and is visible from the Town Docks, is also popular, as is a causeway just cast of the bridge. Farther up the coast, off Route 1A, Long Beach offers surf fishing opportunities. Roadside parking is available at this site. By continuing north on Route 1A you will come to Cape Neddick where Sohicy Park and Cape Neddick (Nubble) Light are located. The rocky shoreline skirting the park is a productive site for shore fishermen. Park facilities include restrooms, however parking is congested and there is a two hour time limit. Short Sands Beach, located still farther north on Route 1A, is another shore fishing site that offers restrooms and ample metered parking in a town lot.
Situated within the Ogunquit region are several popular fishing sites. The Opunquit Beach area, located off Route 1, offers surf and river fishing, restrooms and ample parking in the town lot (a fee is charged). Next, located farther north off Route 1 on Ocean Street, is the Footbridge Boat Launch, which offers a boat ramp and shore access. This site, on the Ogunquit River, has a blacktop boat ramp suitable only for launching small boats. Be forewarned that this ramp is not usable at low tide and passage beneath the bridge at high tide is restricted. Restroom facilities are a short walk from the footbridge and a large town parking lot services this site. An alternate shore fishing site lies further north along Route 1, where Ogunquit Beach ends and Moody Beach begins. At this latter site, town parking is also plentiful and restrooms are available.
Wells Beach has some great shore fishing and is easy to get to by following Mile Road from Route 1. Parking is free in a small town lot, however if this lot is full, additional parking is available in an adjacent lot for a fee.
If fishing from a jetty is preferred, try the ones at the mouth of the Webhannet River, off Wells Beach and Drakes Island Beach. To get to the Wells Jetty from the Wells Beach town parking area, follow Atlantic Avenue until the road ends. A fee is charged to park in a large town lot where restrooms are available. Across the channel, anglers can find equally good shore fishing off the opposing Drakes Island jetty and adjoining Beach. This area can be accessed by going back to Route 1 and traveling north, until turning onto Drake's Island Road, which eventually terminates in a small parking lot. Restrooms are located next to this lot.
Between Wells Beach and Drakes island is the Wells Harbor Boat Launch. This site has a single blacktop boat ramp (not usable at low tide), a float and charges a user fee. Fishing from the town dock is permitted. Restrooms are located next to the large parking lot. To find this site from Route 1, turn onto the Harbor Road at the Wells fire station.
At the mouth of the Mousam River is Parsons Beach. This site, considered by many to be a hot striper fishing spot, has limited parking. The road leading to this beach is located off Route 9, east of Wells. Prior to crossing the bridge that spans the Mousam River, take a right onto Parson's Beach Road and follow it to the end.
If one is looking for a boat ramp, the Mousam River Boat Ramp is located next to the aforementioned Route 9 bridge on the east bank of the river. Some downfalls of this site include a blacktop ramp in poor repair (not usable at low tide) and hazardous down river passage beneath the bridge at high tide. The Route 9 bridge itself and surrounding river banks are also popular shore fishing sites. Parking for both vehicles and trailers is along the road and is very limited.
Kennebunk Beach offers anglers shore fishing along a sand beach. Parking is available for about one dozen vehicles.
The two jetties at the mouth of the Kennebunk River are popular shore fishing sites. The jetty along the west side of the river can be accessed from Gooch's Beach, which is located off Route 9 in Kennebunkport. The east side jetty can be approached by traveling down Ocean Avenue, aflong the east side of the river. Note that parking is limited at both spots.
Also on Ocean Avenue are privately owned Chick's Marina and Kennebunkport Marina. Each have a paved boat ramp with nearby float that can be used for a fee. The ramp at Chick's Marina is not usable at low tide and only the Kennebunkport Marina has parking for boat trailers.
The Cape Porpoise Pier is an active shore fishing site, especially when mackerel are running. This pier is located at the end of Pier Road, off of Route 9. Parking is limited and there is no fee.
Additional shore fishing can be found at Goose Rocks Beach and Fortunes Rocks Beach, both of which can be found off Route 9, as one proceeds east from Cape Porpoise, on roads bearing the appropriate beach names. Seasonal parking restrictions apply at both locations.
The Saco River is one of the busiest sport fishing rivers in the state. The most active boat ramp on the river is the state operated Meeting House Eddy (Marblehead) Boat Launch, located on the west side of the river on Routes 9 and 208. The site has two paved ramps, a float and an outhouse. Upper and lower parking lots provide plenty of space for both vehicles and trailers. This site also provides anglers with some excellent shore access.
Further down river lies Vines Landing in Biddeford Pool. The boat ramp here is made of gravel and has only a few spots for parking. Biddeford Pool, which is also a popular shore fishing area, can be reached by continuing south on Route 208 where it leaves Route 9.
Below the head-of-tide dam, on the east side of the river, is Saco's Front Street Boat Ramp. This site, located on Front Street just off Route 9, has a single paved boat ramp, a float and a large parking lot. Boaters should exercise caution around this ramp at low water. Shore anglers may follow the path along the river bank that leads to a popular fishing spot just below the darn. (Please note that there are legal restrictions regarding how close one can fish to a dam.)
Traveling further east on Route 9 leads one to the Camp Ellis Pier boat ramp. Although this ramp is paved, it is unusable for larger boats at low tide. Shore anglers can fish from the nearby dock, beach or jetty at this locale. Ample parking and outhouse facilities help make this a popular site. Note that the town charges for general parking with an additional fee for ramp use. Ferry Beach, adjacent to Camp Ellis (where aglers should park), also offers excellent open beach fishing.
Old Orchard Beach offers shore fishing along the Ocean Park section, Old Orchard Beach proper and Surfside Beach. As with almost all public beaches, seasonal restrictions apply to both parking and angler access.
Located along the western bank of the Scarborough River, on King Street, lies the Pine Point Co-op boat ramp. This facility offers a paved ramp, a dock, ample parking and public restrooms. Fishing off the dock or along the beach is permitted.
Just a short walk from here lies the Scarborough River Jetty, a proven spot for striper fishing. Situated farther north along Route 9 is the Scarborough pipeline, which extends across Scarborough Marsh. Shore fishing along the pipeline path is popular.
Located along the eastern bank of the Scarborough River is the Clay Pitts Boat Ramp (sometimes called the Nonesuch Boat Ramp). This ramp provides access to both the Nonesuch River and the Scarborough River, and can be located by taking the Clay Pitts Road from Route 207. This municipally maintained site has a single cement boat ramp in fair condition (with an upgrade scheduled for the 1999 season) that is not usable at low tide. There is adequate parking at this site.
Another launching facility, located on the east bank of the Scarborough River, is the town of Scarborough's Ferry Beach Boat Ramp. Follow Route 207 toward Prouts Neck to find this location. Ferry Beach, which charges a fee, offers ample parking, outhouse facilities, a swimming area and a paved boat ramp (unusable at low tide). A prime striper fishing area is located a short walk down the river (next to a ledge marked by a navigational day marker).
Shore fishing can be had at Crescent Beach State Park, Two Lights State Park and the Portland Head Light (Fort Williams). As with all state Facilities, seasonal restrictions will apply.