Why Salt Marsh Monitoring?
Salt marshes provide coastal communities with storm and flood protection, fish and wildlife habitat, recreational and commercial harvesting opportunities, and pollutant filtration. They also store carbon that would otherwise contribute to climate change, including accelerated sea level rise. Salt marshes are especially sensitive to changes in water levels because they occupy such a narrow elevation band in the space between high and low tide. Over the past 5,000 years, salt marshes responded to slowly rising oceans by accumulating sediment and plant material at a rate fast enough to build upward and keep pace with sea level rise. In recent decades, the rate of sea level rise has doubled and it's projected to increase further. Marshes in some regions are drowning, leaving scientists concerned Maine's marshes might experience the same pattern. Although efforts are underway to develop responses to the effects of accelerated sea level rise, a better understanding of the processes involved is needed to help guide Maine's response, now and in the future.
Maine's Salt Marsh Monitoring Network
Addressing so much uncertainty about how marshes will respond to sea level rise over time requires a multi-decade commitment to monitoring over a wide area.
The Maine Coastal Program and our partners have established dozens of long-term monitoring stations as the foundation of the Maine Salt Marsh Monitoring Network. An important element of our work involves the use of elevation benchmarks anchored by steel rods driven up to 80 feet deep in marsh soils for stability. Each year, we measure changes in the marsh surface elevation in relation to the benchmark. Over time, these measurements are compared to trends in the local sea level to determine if the marsh surface is keeping pace with sea level rise.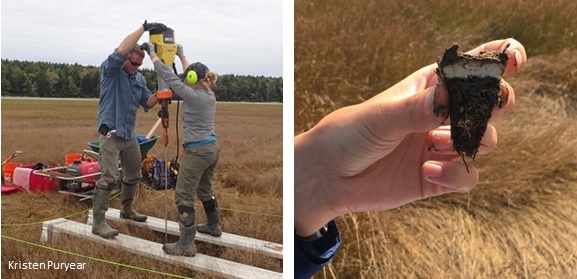 We also study the processes that influence changes in marsh surface elevations. We do this by placing a layer of light grey feldspar dust in each monitoring station. Over time, sediment and organic material naturally deposit above the feldspar and we periodically record the depth of that material. If the depth is greater than the measured increase in marsh surface elevation, the marsh surface may be sinking, which is a sign of low resilience to sea level rise. At each site, we also collect data describing changes in plant communities to predict future marsh health. What we learn at these sites will help inform investment planning and other decision-making for coastal communities, marsh conservation, and habitat restoration in the coming decades.
Contributors to the Marsh Monitoring Program's Development
Backcountry Hunters & Anglers
Bates College
Bowdoin College
Casco Bay Estuary Partnership
Great Bay National Estuarine Research Reserve
Kennebec Estuary Land Trust
Maine Coast Heritage Trust
Maine Dept. of Inland Fisheries and Wildlife
Maine Geological Survey, Maine Dept. of Agriculture, Conservation, and Forestry
Natural Areas Program, Maine Dept. of Agriculture, Conservation, and Forestry
The Nature Conservancy
New Hampshire Department of Fish and Game
Stantec
US Fish and Wildlife Service
US National Oceanic and Atmospheric Administration
US National Park Service
University of Maine
University of New Hampshire
Wells National Estuarine Research Reserve
York Land Trust
For More Information About This Work
Contact the Marsh Monitoring Network Project Manager, Kathleen Leyden at: kathleen.leyden@maine.gov.