Rainbow Smelt
Introduction
In 2004, the National Oceanic and Atmospheric Administration listed the rainbow smelt as a federal Species of Concern. The rainbow smelt is a small fish that lives in estuaries and offshore waters, and spawns in shallow freshwater streams each spring. Its numbers have dropped dramatically during the last fifteen to twenty years for reasons that are not well understood.
Using scientific information from our collaborative efforts, the state agencies of Maine, New Hampshire, and Massachusetts developed a regional conservation and restoration plan for rainbow smelt (pdf file, 100 pages, 1.8 MB). Each state is determining the most important threats from water quality, fishing pressure, or habitat alteration facing smelt populations in their area. We are also identifying regional threats, potentially including rising ocean temperature and marine bycatch, and site-specific threats and management recommendations, such as redesigning stream culverts to allow fish passage.
PDF files below may require Adobe Reader software (download here free) to view or print.
Species Information
Ice Fishing Information
Technical Reports and Smelt Conservation Plan
Monitoring Methods and Field Protocols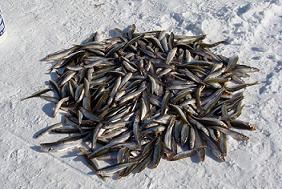 Final Report for 2007-2012 NMFS Species of Concern Grant
Any information or data presented in this Final Report or its Appendices should not be replicated or used without the permission of the Maine Dept. of Marine Resources.
Maine DMR Presentations