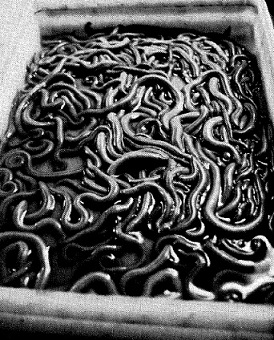 photo from Maine's "Worm King" Remembered,
by Ann Stoddard
Introduction
Maine is one of the only U.S. states that has an active marine worm fishery. The worms are used as bait by recreational fishers all over the world. Diggers harvest the worms from intertidal mud flats during low tide. The two species, the blood worm (Glycera dibranchiata) and the sand worm (Nereis virens) are packed in seaweed and shipped in boxes. Annual revenue for the fishery in 2020 was about $8.7 million paid to the harvesters.
Marine Worm Fishery Links
For More Information
PDF files below may require free Adobe Reader software (download here) to view or print.