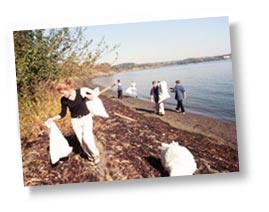 How do I find out if the beach I would like to clean is already reserved?
Most beach locations are listed in the drop-down menu in the location section of the registration. As beaches are adopted they are removed from the menu. If you have any questions email Theresa at theresa.torrent@maine.gov
What supplies will the Maine Coastal Program send me?
You'll receive data forms for recording debris, trash bags, instructions, and certificates for children (if requested).
What should I do with the data cards?
For Coastal Cleanup 2023 please scan and email your cards or you can type in and email your results to theresa.torrent@maine.gov. We are also encouraging the use of the Clean Swell App that has been developed by Ocean Conservancy to use with your smart phone and eliminates the need for paper, pens and clipboards!
Where do I take the debris after it is collected?
Please dispose of debris at your local transfer station.
If you have further questions please call (207) 287-2351