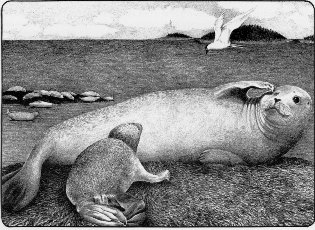 Seals are the most commonly-seen marine mammals along the shores of Maine. Spring is harbor seal pupping season in northern New England. A large number of seal pups appear each year on New England beaches, apparently stranded, but these pups are often only temporarily abandoned by their mothers, who are feeding nearby. It is illegal under the Marine Mammal Protection Act to handle these animals.
The National Marine Fisheries Service recommend that any stranded animal be left alone. It is against the law to handle a marine mammal without proper authorization, and their sharp (dog-like) teeth can be very dangerous. It is not unusual for a seal pup to be left alone on the beach by its mother for up to 24 hours.
To report any stranded marine mammal, or if a seal appears to be abandoned, appears on a crowded beach, or shows signs of illness or injury, notify the Maine Marine Animal Reporting Hotline, 1-800-532-9551. By following the directions at that number, your call will be directed to the appropriate responder.
National Marine Fisheries Service Law Enforcement division has established the following toll-free number for reporting potential violations: 1-800-853-1964.