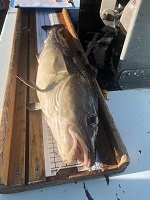 The Maine-New Hampshire Inshore Trawl Survey is a biannual fishery-independent survey of living marine resources in the coastal waters of Maine and New Hampshire that started in the fall of 2000. Its purpose is to fill a significant information gap that hinders efficient management of Maine's marine resources. This is a multispecies survey that provides decision makers the data needed to confront with issues such as fish stock recovery, fishery management measures, Essential Fish Habitat designations, climate change, Marine Protected Areas and more. Until the start of this survey, Maine and New Hampshire were the only states on the east coast that did not have a near shore assessment. As a result, Maine's and New Hampshire's resources were being managed without benefit of adequate information.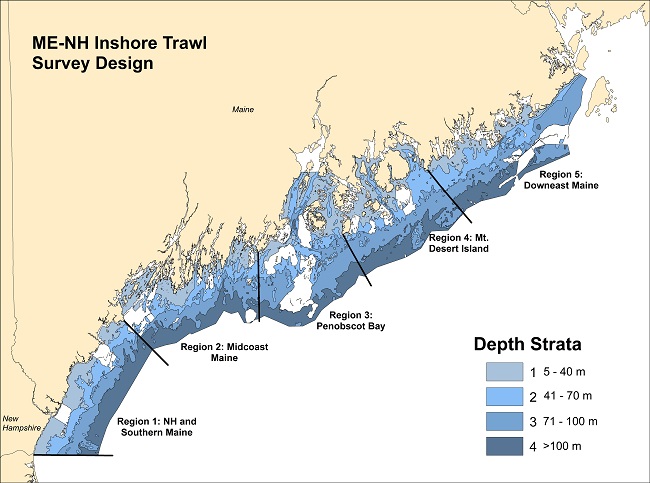 The survey is completed in the spring and fall every year. The coast has been broken into 5 areas based on geologic, oceanographic, geographic and biologic factors and in addition, each area has been divided into four depth stratums; 5-20, 21-35, 36-55, and 55+ fathoms. Stations are located randomly to reflect representative conditions within each of the strata. We attempt to complete 120 tows during each survey.
Gear consists of a modified shrimp net with a 2-inch mesh in wings and 1-inch mesh liner in the cod end. Foot rope and head ropes are 57' and 70' respectively, with 6-inch rubber cookies. The gear was designed to be very light on the bottom to minimize habitat disruption. Video work conducted in February and August 2002 has confirmed that this is so.
This survey is a collaborative survey that works with the commercial fishing industry to complete this survey. The F/V Robert Michael, a Northeast 54' from Portland, ME is used as the platform vessel for this survey.
More detailed information on the survey design, gear, vessel, and operating protocols can be found in our Procedures and Protocols Manual - pdf file, 3.4MB.