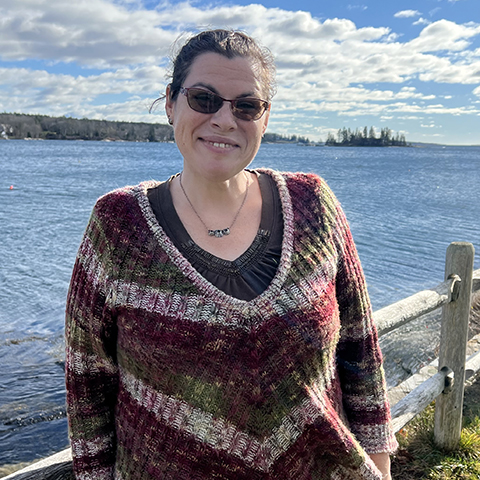 The Maine Department of Marine Resources' (DMR) Public Health Bureau has hired Meredith White, Ph.D., to lead a department program that supports coastal municipalities and harvesters as they confront climate change in Maine's nearshore waters.
White's hiring coincides with a recent name change that more accurately reflects the work of what was previously called the Shellfish Management Program and is now called the Nearshore Marine Resources Program.
"This program has evolved over time to include far more than just the management of softshell clams," said DMR Public Health Bureau Director Kohl Kanwit. "Scientists in this program manage all species of clams, oysters, and mussels as well as other important species including seaweed, marine worms, periwinkles, and whelks. The change in name better encompasses all the existing responsibilities of this program."
"This new senior scientist position and two supporting scientist positions were created by the administration and legislature to address new and dynamic challenges confronting municipalities and harvesters caused by climate change," said Kanwit.
"The aspect of this job that was most exciting to me is the idea that I'll be doing research on how climate change is impacting the nearshore resources," said White. "It's thrilling to see that the state is recognizing that climate change is a real issue and is committed to taking action on it, in order to sustainably manage our marine resources."
White will oversee the Nearshore Management team developing surveys to monitor resource abundance and to evaluate the impact of climate change on those resources while supporting the unique co-management system between the state and municipalities for clams and oysters in Maine. White is supported in these efforts by the current Area Biologist staff including Heidi Leighton, Hannah Annis and Ari Leach who work throughout coastal Maine. The team will be joined by recently promoted DMR Scientists Meryl Grady and Katie Tilton.
One of the first projects to be developed by the Nearshore Marine Resources Program is an intertidal monitoring program at specific sites throughout the state. She intends to collect long-term data on trends in the ecosystem including species abundance and diversity, invasive species, predation effects, and recruitment of young animals. 
Based on harvester input, in the coming months she will also be developing a marine worm larval study to evaluate changes in abundance. "Recently wormers have come to the department with questions about what they're seeing and asking us to do more surveys to look at the abundance of marine worms and see if there are changes," said White. "We want to respond to the needs of harvesters by conducting surveys that help answer questions they have about what they are seeing."
She will also be leading research into Maine's wild harvested seaweed resources as well as evaluating the abundance and management of blue mussels.
The data from this work will be used to inform management decisions that are made, especially at the local level. "At the municipal level, we will work with towns to develop shellfish management plans that outline steps needed to manage and conserve their shellfish resources, especially in light of the rapid environmental change facing our coastal communities," said White.
She will continue the work started by DMR in 2022 to create meaningful dialog between the state and towns to improve municipal shellfish management. 
White's background has positioned her well to lead the climate change-focused work of the Program. "All of my scientific research has been focused on understanding climate change impacts on marine organisms," said White.
Prior to joining DMR, White worked as the Interim Director of Hatchery Operations and Director of Research and Development for Mook Sea Farm, as a Visiting Assistant Professor in the Department of Earth and Oceanographic Sciences at Bowdoin College, and as a Postdoctoral Research Scientist at the Bigelow Laboratory for Ocean Sciences.
White received a Ph.D. in Biological Oceanography from Massachusetts Institute of Technology/Woods Hole Oceanographic Institution, and a Bachelor of Science in Biochemistry from Lafayette College.