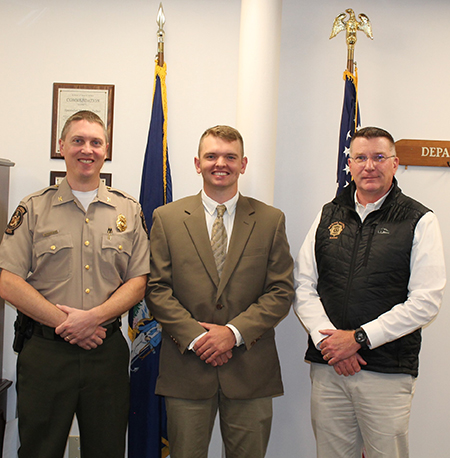 Augusta – Amos Abbott of Windsor has joined the Maine Marine Patrol as its newest Officer and will serve in the Friendship–Waldoboro–Cushing patrol.
Officer Abbott was sworn in recently in Augusta by Department of Marine Resources Commissioner Patrick Keliher.
Officer Abbott, who holds an associate degree in criminal justice and has completed the Maine Criminal Justice Academy's Law Enforcement Pre-Service Training Program, is currently undergoing the Marine Patrol's field training program.
He brings hands-on experience in law enforcement to his new position, having served as a patrol officer with the Rumford Police Department between 2021 and 2022.
Prior to working in law enforcement, Officer Abbott served as a Supervisor with the US Census Bureau, and as a registered Maine Fishing Guide.
"We're pleased to welcome Officer Abbott onboard. His background and enthusiasm will be a great addition to the Bureau and to the community in this busy patrol," said Marine Patrol Major Rob Beal.