Welcome to the Maine Coastal Program
The Maine Coastal Program works with various partners toward the shared goal of a healthy coast and vibrant coastal communities.
Maine Coastweek
Maine Coastweek is September 15 to 22, 2018
Visit pictures of our 2017 Cleanup at Back Cove, Portland that was sponsored by 98.9 WCLZ.
Maine Coastweek registration is now open.
---
FY 19 Shore and Harbor Planning Grant Program Statement Released
Please see the DMR News page for information.
---
NOAA Approves Routine Program Changes to the Maine Coastal Program
Please see the News page for additional information
---
Maine Coastal Program Moves to the Department of Marine Resources
9/11/17 - Today the Maine Coastal Program announced its move from the Department of Agriculture, Conservation and Forestry to the Department of Marine Resources.
---
---
Maine Stream Habitat Viewer Release
Version 2.0 of the Maine Stream Habitat Viewer is here! First released in 2013, the Stream Habitat Viewer has successfully brought together people seeking to cooperatively restore and conserve Maine's streams and wetlands while also looking for opportunities to ease the financial burdens of road and dam owners. The Viewer displays stream habitats for species important to Maine's economy, ecology and way of life and also provides information about dams and road crossings that can act as barriers to fish passage and stream health.
See News for more information.
---
Maine Coastal Highlights
Listen to the Maine Coastal Highlights produced by WCLZ radio. These short audio clips highlight a new section of the Maine coast from the Maine Coastal Access Guide every week.
---
---
Regional Recreational Boating Survey Released
The Maine Coastal Program, in partnership with the Boston-based science and policy nonprofit Seaplan and the member states of the Northeast Regional Ocean Council, helped fund, review, and publish a survey of the recreational boating industry's distribution, abundance, and economic impact per state in the Northeast region over the course of the summer of 2012. Read the final report (8 pages, 2.8 MB) and state summaries (24 pages, 13 MB) for the results. For additional information, please contact Matthew Nixon.
---
---
State of the Gulf of Maine Report Released
The State of the Gulf of Maine Report has been updated and is available from the Gulf of Maine Council on the Marine Environment.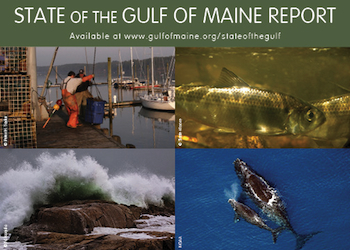 ---
Last updated on November 13, 2017
Featured Links
Contact Information
Maine Coastal Program
32 Blossom Lane
21 State House Station
Augusta, Maine 04333
Get directions

Phone: (207) 287-2351
Fax: (207) 624-6024
E-mail