Welcome to the Maine Coastal Program
The Maine Coastal Program works with various partners toward the shared goal of a healthy coast and vibrant coastal communities.
---
Notice of Approval of Changes to the Maine Coastal Program
September 1, 2020: Please see the News page for additional information
---
July 15, 2020 - Every five years, Maine Coastal Program (MCP) at the Department of Marine Resources prepares a self-assessment as a part of the National Oceanic and Atmospheric Administration's (NOAA) Coastal Zone Management Enhancement Program under the provisions of Section 309 of the Coastal Zone Management Act of 1972, as amended. This self-assessment is used to determine priorities and develop strategies to be undertaken by MCP (provided that future funding, capacity and partnerships become available). NOAA requires that the assessment goes through a 30 day public outreach period.
We have created a short survey with background information and summaries of the high priority areas. We would greatly appreciate any input you may have regarding the priority areas MCP has chosen and the strategies we hope to accomplish over the next 5 years. Click here to take the survey
Survey is due by August 15, 2020.
---
CZMA Consistency Submissions – E-mail Filing Only
April 15, 2020 - Maine Coastal Program staff continue to process Coastal Zone Management Act (CZMA) consistency determinations and certifications while working remotely. Effective immediately, all CZMA consistency-related documents filed with DMR/Coastal Program must be submitted by e-mail. Such documents should be sent to Todd Burrowes, Federal Consistency Coordinator, 207-707-2324; todd.burrowes@maine.gov. If you are unable to submit such documents by e-mail and wish to discuss an alternative, you may contact Todd Burrowes.
---
Maine Coastal Program Moves to the Department of Marine Resources
September 11, 2017 - Today the Maine Coastal Program announced its move from the Department of Agriculture, Conservation and Forestry to the Department of Marine Resources.
---
Maine Stream Habitat Viewer Release
Version 2.0 of the Maine Stream Habitat Viewer is here! First released in 2013, the Stream Habitat Viewer has successfully brought together people seeking to cooperatively restore and conserve Maine's streams and wetlands while also looking for opportunities to ease the financial burdens of road and dam owners. The Viewer displays stream habitats for species important to Maine's economy, ecology and way of life and also provides information about dams and road crossings that can act as barriers to fish passage and stream health.
See News for more information.
---
Maine Coastal Highlights
Listen to the Maine Coastal Highlights produced by WCLZ radio. These short audio clips highlight a new section of the Maine coast from the Maine Coastal Access Guide every week.
---
---
---
State of the Gulf of Maine Report Released
The State of the Gulf of Maine Report has been updated and is available from the Gulf of Maine Council on the Marine Environment.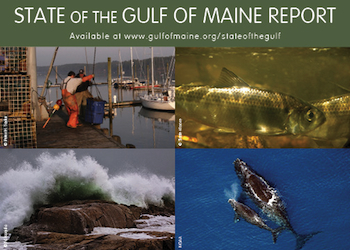 ---
Last updated on September 1, 2020.
Featured Links
Contact Information
Maine Coastal Program
32 Blossom Lane
21 State House Station
Augusta, Maine 04333
Get directions

Phone: (207) 287-2351
Fax: (207) 624-6024
E-mail