Health Inspection Program
Lisa Silva, Program Manager
Please email all correspondence and questions to hiplicensing.dhhs@maine.gov.
Emergency Consultation and Disease Reporting hotline: 1-800-821-5821.
FAQ's for HIP Licensed Businesses
Program Mission
The Health Inspection Program exists to provide licensing and inspection services for a number of different types of businesses to protect the public health. These businesses include restaurants, lodging, campgrounds, youth camps, public swimming pools and spas, tattooists, micropigmentation, body piercing, electrolysists, school cafeterias, and mass gatherings.
---
Sporting and Recreational Camp Stakeholder Input Notice (PDF)
NOTICE: New Public Law May Impact Retail Tobacco Licenses for Cannabis Licensees, Registered Medical Use Cannabis Caregivers, and Registered Dispensaries
Date Issued: March 30, 2023
LD 83 An Act to Clarify State Policy Regarding Cannabis Paraphernalia in the Maine Medical Use of Cannabis Act and the Cannabis Legalization Act (Emergency), became Public Law on March 15, 2023.
Please consult your own attorney for analysis and interpretation to determine whether this public law influences your licensing requirements.
If you sell, offer to sell, or furnish any products containing tobacco, nicotine, or synthetic nicotine to any person, then you still must obtain a valid Retail Tobacco License.
If you do not sell or furnish any products containing tobacco, nicotine, or synthetic nicotine, you may choose to contact the Maine CDC Health Inspection Program to terminate your Retail Tobacco License.
---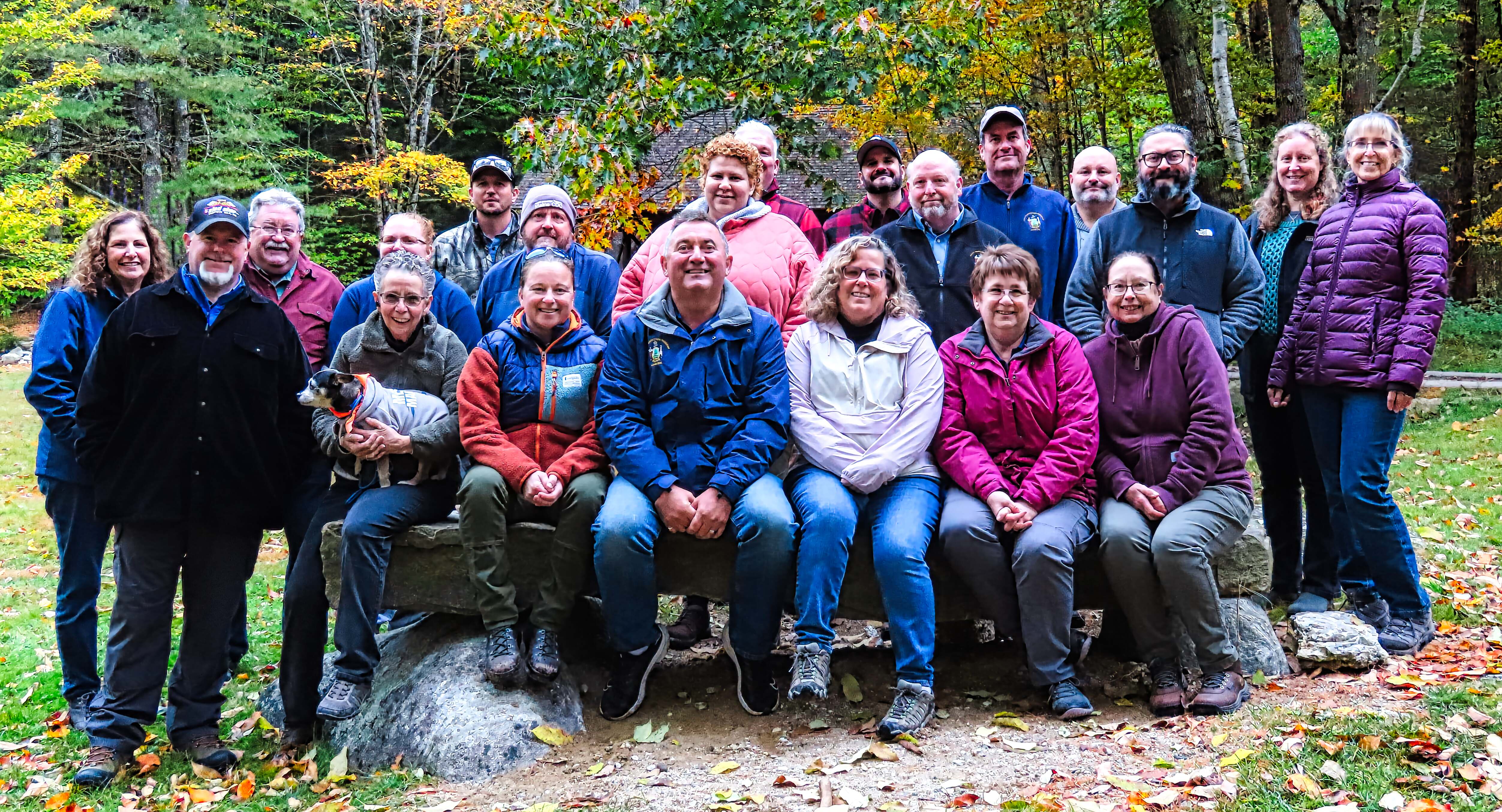 The Health Inspection Team.
It has come to the Health Inspection Program's attention that fraudulent emails are being sent to some Retail Tobacco Licensees that appear to be from the Department of Health and Human Services (DHHS) and include an image of a State of Maine seal. We want to alert you that private emails from a yahoo account are neither affiliated with, nor sent from, the DHHS Health Inspection Program. If you received such an email, please do not click on any links in these documents. We recommend that you delete the email. If you have any questions about your Retail Tobacco License, please contact our Program directly at 207-287-5671.
Fraudulent Health Inspector Alert
This is to alert you that the Health Inspection Program recently received a complaint about an individual showing up at a restaurant to conduct an inspection. In the past, we have also received complaints regarding an individual calling restaurants claiming to be a health inspector. The individual states that the restaurant owner must provide a credit card number to pay for the inspection.
These individuals do not represent the State's Health Inspection Program. Please do not send any money or provide credit card information. The State's Health Inspection Program would never call to ask you for your credit card information.

Please refer to the staff link for names of the Health Inspection Program staff. Do not allow anyone without proper identification to enter into your establishment to conduct a food inspection, nor provide or confirm personal information to anyone on the phone or in person asserting to be from the State health department.
Please immediately call your local police department if you suspect that a person is acting fraudulently.

New Rule In Effect
Effective October 10, 2018, the Administration and Enforcement of Establishments Regulated by the Health Inspection Program, 10-144 CMR Ch.201 has been adopted. You can access the complete rule and related rulemaking documents by going to the Maine CDC Rules webpage.
Certified Food Protection Manager Requirement
Every eating establishment, with some exemptions, must employ or engage a Certified Food Protection Manager (CFPM). This requirement was adopted in the Rules Relating to the Administration and Enforcement of Establishments Regulated by the Health Inspection Program amended October 10, 2018. A valid CFPM certificate must be included with the license application for all new establishments and changes of ownership. This requirement is in addition to all other CFPM requirements in the Maine Food Code. A CFPM must be hired within 60 days of the departure of the last CFPM leaving employment. Eating establishments must post the CFPM certificates in a conspicuous area and the certificate must be made available to the Department upon request. Learn more about our CFPM Courses (PDF).
---
Food Allergen Information
Undeclared allergens are the leading cause of food recalls initiated by the FDA. The agency recently posted an article for consumers that describes which foods are most often affected and the allergens that are involved. See our selection of food allergies trainings.
---
Business License Application Information
The Health Inspection Program received a call regarding a business advertising and selling business license compliance packages that include the Health Inspection Program's License Application. These packages were being sold for $149.99.
There are businesses that provide services such as compiling forms and filing business license applications for their clients that are required by state, county, city and municipal government agencies. There is a fee associated with these services.
Please be aware that if you wish to fill out the applications on your own, they are free and can be downloaded from our Forms and Applications page, or you may call our offices at 207-287-5671 and we will mail or email you a copy.
Complaints/Inquiries
To file a complaint, report a foodborne illness, or inquire about a Health Inspection Program-licensed establishment, please call our main number at 207-287-5671 during business hours. Our offices are open Monday through Friday from 8am-5pm excluding holidays. For emergency after hours calls please call 1-800-821-5821.
Safety Guidelines for Choosing Residential and Day Camps in Maine
Opening for the Season Handout
Henna Tattoo Alert
Although the Health Inspection Program does not regulate henna tattoos as they are temporary tattoos, there are health concerns that we would like to make you aware of from the FDA.
Temporary Tattoos, Henna/Mehndi, and "Black Henna": Fact Sheet

Americans With Disabilities Act and Swimming Pools
Business Answers for Licensed Facilities
The Health Inspection Program has prepared a series of questions and answers to assist those who are interested in starting a restaurant, bed and breakfast, hotel, tattoo parlor, or other facility licensed by the Program. Learn more.
Policy for Sewage Holding Tanks for Campgrounds and Mobile Food Units
Bed & Breakfast, 5 Rooms or Less
In response to legislation that was passed and reflected in Title 22 §2501 which states "Private homes are not deemed or considered lodging places and subject to a license when not more than 5 rooms are let…" the Department wants to clarify that your B&B establishment 5 rooms or less kitchen is still regulated as an eating place by the Department of Health and Human Services as you are preparing and serving a breakfast meal. The lodging piece of your establishment is not inspected by the Department however, a license and inspection is required for eating establishments per Title 22 Chapter 562 §2492.
Virginia Graeme Baker Act
Information about the Virginia Graeme Baker Pool and Spa Safety Act is available at www.cpsc.gov/.
Install drain covers that meet the ANSI/ASME A112.19.8–2007 standard on EVERY drain/ grate. NSF Product and Service listings can be found at info.nsf.org/Certified/Pools/Listings.asp?ProductType=ASME1908&
Install an automatic shut-off system, gravity drainage system, Safety Vacuum Release System (SVRS), suction-limiting vent system, if the pool operates off of a SINGLE main drain. Pools and spas with unblockable drains are exempt from this requirement.
Ensure that dual or multiple main drains are at least 3 feet apart.
Check with your pool professional to assist you in choosing the correct system for your pool.
COVID-19 Related Activity
Featured Links
Online Inspection Results Portal
Bed Bugs
Business Answers
CDC Guidance for Rodent Cleanup
Cleaning Companies
Emergency Guidance for Retail Food Establishments
Employee Health Initiative
Hazard Analysis Critical Control Point (HACCP) Information
Micropigmentation
Pesticide Companies
Plastic Bag and Polystyrene Ban
Recalls
Reusable Container Guidance
Schools
Swimming Pool/Spas (Public)
Tattoo/Body Artists
Tobacco