Plastic Bag and Plastic Film Recycling
In light of concerns about the use of multi-use bags during the current COVID-19 public health crisis, the Legislature's response to those concerns in L.D. 2167, and effects on Department resources, the Department will not be enforcing the statewide restrictions on the use of single-use bags in 38 M.R.S. § 1611 until January 15, 2021. As of March 17, 2020, State law preempts municipal regulation of single use bags; no local ordinance requiring a fee for, or otherwise restricting the use of, single use bags is in effect.
Municipal recycling programs in Maine typically accept several types of plastic. Plastic containers used for products including milk, laundry detergent, shampoo, and dish soap are commonly accepted in curbside bins and at transfer stations. Municipal recycling programs usually do not accept thin, flexible plastics such as plastic bags and plastic film as the material can clog up the gears of machinery used to sort recyclable items. However, plastic bags and film are recyclable, and drop-off recycling bins are located throughout the state.
Plastic bags in Maine
Maine law requires all carry-out bags provided by retailers in Maine must be either reusable or paper bags. Retailers in Maine include stores, restaurants, farmers' markets, and fairs that sell merchandise like food, goods, products or clothing. Hunger relief organizations are the exception to this rule and may use single-use plastic bags to provide food to consumers at no cost. The Department will not be enforcing the statewide restrictions on the use of single-use bags until January 15, 2021.
This plastic bag guidance document explains Maine's single-use plastic bag law in detail, including how retailers can comply, exemptions for certain types of single-use plastic bag, and what types of bag may be used at point-of-sale.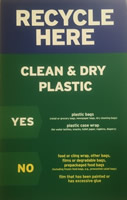 Where can I recycle plastic bags and film?
Many stores in Maine provide convenient locations to drop off your plastics recycling. When looking for the plastics recycling bin at your local store, check near the entrance. By law, retailers in Maine that use single-use plastic bags to bag products within the store such as produce, deli, or bakery items, flowers, plants, etc. must provide a receptacle to recycle plastic bags, either within the store or within 20 feet of the main entrance of the store. To find the nearest drop-off location for you, enter your zip code into the search box on Plastic Film Recycling's website.
What types of plastic film can I recycle?
Plastic bag recycling bins are not just for plastic shopping bags. Many types of thin, flexible plastic are accepted. An easy way to tell if a plastic film can go in the bin is to see if it is labeled with a #2 or #4. The important point to remember is that in order to be considered recyclable, all items must be EMPTY, CLEAN and DRY.
All the following items are OK to recycle in the plastic bag recycling bins located at retail stores: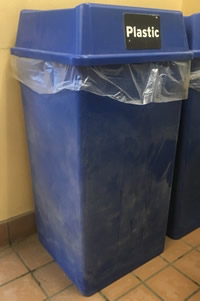 Plastic grocery and retail bags
Produce bags
Plastic bubble mailers (paper label cut out) and air pillows (release the air)
Bread bags
Mattress bags
Furniture Wrap
Case over-wrap (found on diapers, toilet paper, etc.)
Dry Cleaning bags
Newspaper Sleeves
Ice bags
Pellet bags
Zip lock and other reclosable bags
Bubble Wrap
Salt bags
Cereal bags
Stretch film/pallet wrap
Some plastics require a bit of preparation before being placed in the recycling bin. For example, when recycling wood pellet bags, the top of the bag should be cut off completely, and the bag should be turned inside out and shaken thoroughly to ensure that the bag is empty. Plastic bags used to hold bread or other food items may also need to be shaken out to remove any crumbs. Mailers should have the paper labels cut out, and air pillows should have the air released. Please note that any film or bags labeled as compostable, pre-washed salad mix bags, and frozen food bags are NOT acceptable.
What are plastic films[1]?
Film plastics are usually defined as any plastics that are less than 10mm in thickness. All of the plastic films listed above are low density polyethylene (LDPE) or high density polyethylene (HDPE). Some common examples of plastic films #2 and #4 are provided below.

LDPE#4 - Low Density Polyethylene: Unpigmented films have high clarity, moderate stretch & strength characteristics.
Bags (e.g., thicker newspaper bags, bread bags, pellet bags)
Bubble wrap

LLDPE#4 - Linear Low Density Polyethylene: Unpigmented films have moderate clarity, slightly tacky feel to the touch.
Stretch wrap
Bags (e.g. clear, thin newspaper bags)
Dry cleaning film
Agricultural films (silage bags, greenhouse films, wraps for hay bales)

MDPE#4 - Medium Density Polyethylene: Unpigmented films have moderate clarity, poor stretch and strength characteristics.
Consumer paper packaging (i.e. toilet paper, paper towel)
Note: MDPE is a variation on the production of LDPE and is often labeled #4. It's generally used as an alternative to other resins in film applications where strength is not required.

HDPE#2 - High Density Polyethylene: Unpigmented films have some opacity, crinkle to the touch, low stretch, and can tear easily, high strength.
Most grocery bags
T-shirt bags
Bags with sealed air for packaging (e.g., air cushion)
---
[1] Descriptions of the types of film plastics taken from plasticfilmrecycling.org.