Office Locations
Maine DEP has office locations in four regions across the state.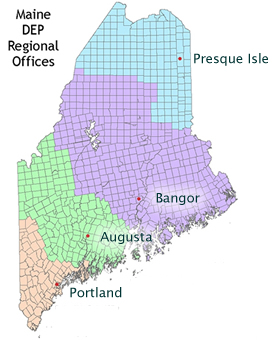 Augusta, Main Office and Central Maine Regional Office - CMRO
(Mail) 17 State House Station, Augusta, Maine 04333-0017
(Physical) 32 Blossom Lane, Augusta, Maine 04333-0017
(207)287-7688 • (800)452-1942 • FAX (207)287-7826
DEP's Augusta office in the Ray building is closed for renovations. During this time, Ray building staff are temporarily relocated to the Marquardt building on the East Campus.
Bangor, Eastern Maine Regional Office - EMRO
106 Hogan Road, Bangor, Maine 04401
(207)941-4570 • (888)769-1137 • FAX (207)941-4584
Jim Beyer, Director

Portland, Southern Maine Regional Office - SMRO
312 Canco Road, Portland, Maine 04103
(207)822-6300 • (888)769-1036 • FAX (207)822-6303
Marybeth Richardson, Director

Presque Isle, Northern Maine Regional Office - NMRO
1235 Central Drive, Presque Isle, Maine 04769
(207)764-0477 • (888)769-1053 • FAX (207)760-3143
Bill Sheehan, Director