Natural Resources Protection Act (NRPA)
Protected Natural Resources
Protected natural resources are coastal sand dune systems, coastal wetlands, significant wildlife habitat, fragile mountain areas, freshwater wetlands, great ponds and rivers, streams or brooks. See 38 MRSA 480-B for statutory definitions.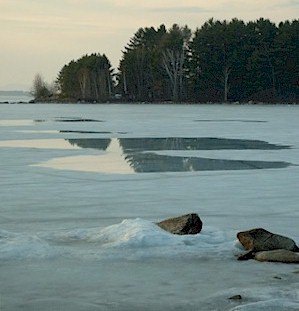 The purpose section of the Natural Resources Protection Act (NRPA) provides, in part, that: "The Legislature finds and declares that the State's rivers and streams, great ponds, fragile mountain areas, freshwater wetlands, significant wildlife habitat, coastal wetlands and coastal sand dune systems are resources of state significance. These resources have great scenic beauty and unique characteristics, unsurpassed recreational, cultural, historical and environmental value of present and future benefit to the citizens of the State and that uses are causing the rapid degradation and, in some cases, the destruction of these critical resources, producing significant adverse economic and environmental impacts and threatening the health, safety and general welfare of the citizens of the State."
The law is focused on "protected natural resources". A permit is required when an "activity" will be:
Located in, on or over any protected natural resource, or
Located adjacent to (A) a coastal wetland, great pond, river, stream or brook or significant wildlife habitat contained within a freshwater wetland, or (B) certain freshwater wetlands.
An "activity" is (A) dredging, bulldozing, removing or displacing soil, sand, vegetation or other materials; (B) draining or otherwise dewatering; (C) filling, including adding sand or other material to a sand dune; or (D) any construction, repair or alteration of any permanent structure.
Certain exemptions apply. A pre-application meeting is required for some projects, and is available on request for others. The NRPA is administered by the DEP in organized areas.
Contacts
Have a question or need more information? Use the links below to find out more or connect with DEP staff.
Most Land Bureau inquiries can be made using one of the fillable forms above. Submitting the online form ensures that your inquiry, complaint or request for information will be viewed and responded to as soon as possible by a Bureau staff person. Because of the high volume of inquiries, it may take several days for you to receive a response or follow up.
Statutory sections
Title 38, Chapter 3, §§ 480-A to 480-Z. [note: this link is to the text at the Office of Revisor of Statutes' site. Always check the disclaimer there -- the text may not include the most recent changes.]
Rules
Forms
Important Note: See the Department Fee Schedule, under Land Resources - Natural Resources Protection Act, for the current fee to submit with completed applications.
Permit by Rule Notification Form for use with DEP Rule, Chapter 305.
NRPA Application and Application information booklet Use for individual NRPA permit, and freshwater wetland alteration (Tier 1, 2 and 3). Note: The hardcopy application is color coded for ease of use. If using a copy downloaded from the web, look for the page color that is indicated in text at the bottom right-hand corner of each page.
Forms associated with some of the sections of Permit by Rule:
Specialized applications
Supplemental materials
National Wetland Inventory Maps
Important Disclaimer: National Wetland Inventory (NWI) maps are produced by the U.S. Fish and Wildlife Service from interpretation of aerial photographs. They provide approximate information on the types, extent, and locations of wetland resources and are used for a variety of purposes. The accuracy of the NWI wetland information, especially wetland sizes and locations, can be a factor of the time of year when photographs were taken, the density of tree canopies, and other obstacles to photo-interpretation. They therefore should not be used as the sole source of information when accurate wetland information is critical. NWI maps do not substitute for site specific field investigations and wetland boundary delineations required by the Department pursuant to the Natural Resources Protection Act (38 M.R.S.A. §§480-A et seq.) and the Maine Wetland Protection Rules (Chapter 310). Go here to "Wetlands Digital Data" (off-site).