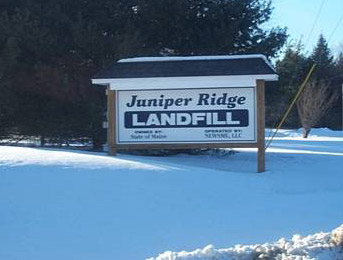 The Juniper Ridge Landfill is owned by the State of Maine and is part of the solid waste disposal system within the state that provides for Maine's solid waste disposal needs. Juniper Ridge Landfill accepts residues from waste-to-energy facilities, construction/demolition debris and other wastes generated within the State.
Juniper Ridge Landfill is operated by New England Waste Services of Maine, LLC, a subsidiary of Casella Waste Systems.
Background on the Landfill:
In 1989, the Maine Legislature banned new commercial solid waste disposal facilities and placed the responsibility for providing future disposal capacity on the State itself. In accordance with this policy, in 2003, the Legislature directed the State to acquire the Juniper Ridge Landfill in Old Town, Maine to address the solid waste disposal needs of Maine residents and businesses. (Juniper Ridge Timeline - DOC 29KB)
Exploring the Juniper Ridge Landfill - (PDF - 255KB) - graphic - Bangor Daily News, June 2010.
For more information on Juniper Ridge Landfill, please see options below:
Juniper Ridge Monthly Reports (includes status overview of major activities at the landfill during the past month, waste deliveries, financial benefit report and other records). Reports are posted for a twelve month period. If you wish to obtain older reports please email your request to William Longfelllow.
2023 Reports +

October 2023

September 2023

August 2023

July 2023

June 2023

May 2023

April 2023

March 2023

February 2023

January 2023

2022 Reports +

December 2022

November 2022

October 2022

September 2022

August 2022

July 2022

June 2022

May 2022

April 2022

March 2022

February 2022

January 2022

2021 Reports +

December 2021

2020 Reports +

December 2020

2019 Reports +

December 2019

2018 Reports +

December 2018
Links: