Backcountry Camping
Scenic campsites in remote settings await those who venture off the beaten path on Maine's Parks and Public Lands. From wild coastal islands to the mountains and remote lake shores of interior Maine, we have campsites for you. NOTE - Untreated firewood from outside of Maine has been banned. Please Buy It Where You Burn It!
What to expect:
Remote campsites are almost exclusively first-come, first-serve; reservations are not generally possible.
Sites most often have a rustic picnic table, access to a pit toilet, and fire ring. Sites on the Maine Island Trail typically do not have these features.
Backcountry campsites are predominantly accessed by boat (often canoe or kayak) or foot.
Where to go:
Want to leave the car or truck behind and explore the wild backcountry? Here are some suggestions: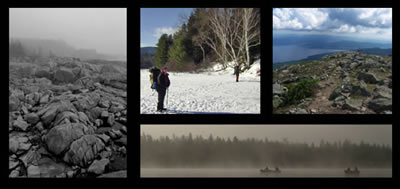 Photo Credits: Staff photos
Paddling/Boating
Backpacking/ Remote Hiking
Looking for a remote camping experience with the convenience of easy access to your vehicle?
Many public Lands provide car-camping sites in remote settings. These primitive camping sites are reached by traveling over gravel logging roads and generally share the same characteristics of the sites described above. Search for camping in Public Reserved Lands on the Find Parks and Lands feature to explore more.
Remember: Be prepared for changeable weather and variable terrain. Plan outings wisely, don't exceed your ability or that of anyone in your group, and research where you are going. This link will help you to plan ahead and prepare.