Help us Protect Maine's Forests. Leave your firewood at home--use local or heat-treated firewood!
Untreated Out of State Firewood is Banned, but even moving firewood from within Maine can spread damaging pests.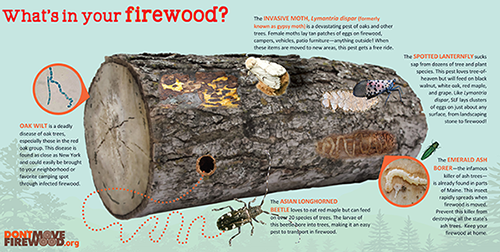 Emergency Order Restricting Transportation of Firewood Into the State of Maine
On August 31, 2010 the Director of the Division of Forestry, pursuant to the authority granted by 12 M.R.S. § 8305 (as amended by PL 2009, Ch. 585), issued the initial Emergency Order regulating import of firewood. That initial Order, which was slated to expire after 120 days, has been subsequently reissued. Where the final regulations have not yet been put in place, in order to protect Maine's forest resources and wildlife from the introduction and spread of these destructive insect pests, the Director of the Division of Forestry must take immediate action and hereby reissues and amends the Emergency Order pursuant to the authority granted by 12 M.R.S. § 8305 (as amended by PL 2009, Ch. 585).
What is Your Wood Hiding?
What Can You Do?
Do not bring firewood from outside the state of Maine. Even within Maine, leave your firewood at home.
Buy local Maine firewood or certified heat treated wood! Find local source near where you camp.

Find a supplier of Firewood in Maine. Maine and several other states use Firewood Scout to help travelers find sources of firewood near their destination. Also, many people sell campfire wood along Maine's roadways, especially close to campgrounds and parks.
What is local? Generally, when it comes to untreated firewood, 50 miles is too far, and 10 miles or less is best.

If you've already transported firewood, don't leave it or bring it home – burn it! If you can't burn it all within 24 hours, bring it to the nearest drop-off site listed below.

Be sure to also burn any small pieces of bark and debris that have fallen from the wood.

You can report your concerns regarding firewood to the Maine Forest Service by phone at 1-800-750-9777 or online.
Firewood tips for your next OUTDOOR RECREATION trip
The next time you head out to camp, fish, ski, canoe, kayak, four-wheel, snowmobile and otherwise enjoy the outdoors, follow these firewood tips.
Leave firewood at home.
Buy firewood as close to your destination as possible.

Purchasing certified firewood is the best choice. Buy firewood with a state seal stating the wood has been heat-treated to 160 degrees Fahrenheit for at least 75 minutes to make sure it is pest free.
If certified firewood is not available, purchase your firewood as close as possible to where you will burn it.
At some sites, you may be able to gather firewood on or near the site. Check local rules.

If you buy wood that is not heat-treated or gather firewood and don't burn it all, don't take it home with you or to your next destination.
Firewood Disposal Drop-off Sites