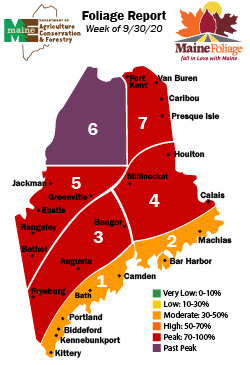 Weekly Report for 9/30/2020
This week's Fall Foliage Report from the Maine Department of Agriculture, Conservation & Forestry (DACF) reports peak and slightly beyond peak conditions for this upcoming weekend in northern, western, and central Maine. Coastal and southern regions are displaying moderate color changes (less than 50 percent color change).
Where to Visit
We've put together some suggestions for the best locations in each region of Maine, and when to visit each one for the best fall colors.
Subscribe for Foliage Reports!
Enter your email to receive weekly foliage reports from mid-September to mid-October.