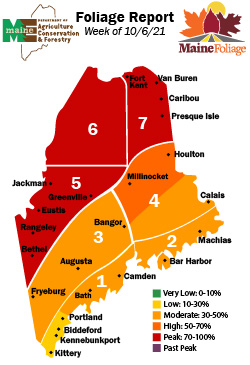 Maine Fall Foliage Conditions
Weekly Report for 09/22/21
Maine's leaf-bearing trees will show off their array of fall colors in the upcoming weeks. The second 2021 Fall Foliage Report from the Maine Department of Agriculture, Conservation & Forestry (DACF) reports low color change (less than 30 percent) throughout most of the state. As of September 22, 2021, Maine Forest Rangers in northern Maine report less than 50 percent color change, with low leaf drop.
Where to Visit
We've put together some suggestions for the best locations in each region of Maine, and when to visit each one for the best fall colors.
Subscribe for Foliage Reports!