Central Maine (Zone 3)
Covers Central and Southwestern Maine, including Bangor, Augusta and Fryeburg
Peak Week: Second Week in October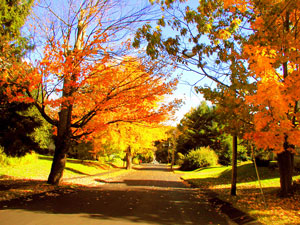 Hallowell, ME
Driving Tours
Tourism Driving Tour: Apples & Arts
Start in Augusta and head through Hallowell to Lewiston/Auburn, on through Mechanic Falls to Gray, then back north through Winthrop to Belgrade Lakes and Waterville.
Tourism Driving Tour: Lakes & Leaves
This tour begins in Skowhegan and goes north through Peaks-Kenny State Park and Moosehead Lake, then west to Jackman, and south along the tree-lined Kennebec River.
Old Canada Road National Scenic Byway
The Old Canada Road (U.S Route 201) leads travelers on a trip through time. In towns like Bingham, classic clapboard homes line the streets and harken back to the boom days of the 19th and early 20th centuries when lumber barons reigned over the surrounding forest.
Featured Maine State Parks
Peaks-Kenny State Park - Peaks-Kenny State Park lies on the shores of Sebec Lake, offering day visitors and campers a peaceful, wooded setting in which to enjoy boating, fishing, swimming, hiking and picnicking.
Androscoggin Riverlands State Park - Visitors enjoy the Androscoggin Riverlands year-round, with skiers and snowmobilers using the trails in winters and a mix of hiking, boating and ATVs in warmer seasons. Hunting is popular on these lands so be sure to wear highly visible clothing in the fall.
Trip Idea
Fall Sculpture Tour of Maine's Kennebec Valley - Kennebec Valley Region
Art Lovers buckle-up and prepare yourselves for a vibrantly colored autumn sculpture tour through the heart of Maine's Kennebec Valley. Three charming diverse towns serve up the beauty of autumn along with the experience of sculpture (al fresco, of course) in concert with the crescendo of a sun-dappled cruise along America's most beloved and inspiring autumn foliage road trips.
Movement 1: Augusta's Viles Arboretum
This isn't any ordinary stroll. This half-mile trail is dotted with the largest permanent outdoor sculpture collection in Maine. And lucky as you may be, this fall the 2015 Viles Arboretum Sculpture Symposium will run between September 25 and October 5 bringing another dozen talented sculptors (some returning) to the Arboretum.
Movement 2: Ever Eclectic Waterville
Always creative, Waterville is home to a wild and beautiful art collection that reflects the history and diversity of its artistic residents. In the concourse it is impossible to miss the glistening steel of the kinetic Ticonic, a 1997 work by R. Majorowicz. Head to the library for 2013's Oh Courant! Mosaic, and visit the Lebanese Heritage Mural at 51 Main Street. Then, stroll among towering oaks of Colby's campus to find Sol LeWitt's iconic Seven Walls. Nearby at the entry of the celebrated Colby Museum is Richard Sera's 4-5-6, the massive yet warmly-colored work of an American Master.
Movement 3. Skowhegan Rising
Skowhegan's well-loved Indian donated by Bernard "Blackie" Langlais has gained a lot of recent attention and now some new friends. In August the new Langlais Park (at the foot of the towering sculpture) was opened and with it came the Playground Group. Nearby is the Seated Woman and Falling Woman. Renaissance Passage holds the Jungle Animal Relief. At the pedestrian bridge sits Girl with Tail the only artist named piece in the downtown. Presently one more large and rather tall outdoor sculpture called Basketball Player is at the Skowhegan Community Center located about 1.5m from the downtown on Rt.2.*
Movement 4. Along the Kennebec to the Mountains
The feast for the eyes expands to a beautiful conclusion not with sculpture, but with the elevating undulations of the Old Canada Road National Scenic Byway as it climbs into the mountains. Take a breathtaking pause at Robbins Hill and birch lined Lake Wyman. Autumn's palette you will raise your hopes of spotting an eagle in flight, a red fox on the hunt or perhaps even our designated ambassador, the Maine moose.
*Langlais Sculpture: While this tour focuses on outdoor sculpture visitors should also know that throughout the region from Gardiner to Solon, from China to Starks and with a special concentration on the Waterville and Skowhegan areas (Skowhegan has a total of 25 indoor and outdoor works) the Kennebec Valley is deeply grateful to the Kohler foundation for allowing us to share the work of this talented Maine sculptor with the world.
Farms & Foliage - Maine Highlands Region
Depart Bangor and travel north on Route 15, as you crest Charleston Hill, autumn unfolds in every direction. Continue through Dover-Foxcroft, turn left on Route 7, turn right on the Sangerville Road and make your way to Stutzman's Farm Stand and Bakery located in Sangerville. (Stutzman's was rated the 2015 Best Farm Stand in Maine by DownEast Magazine!) They offer a wide variety of fruits and vegetables, homemade baked goods, brick oven pizza and on Sunday, they offer brunch with live music. As you make your way to Route 16, you may opt to take an easy walk upriver at the Guilford Memorial River Walk. At one time, this was the rail bed for the Bangor & Piscataquis Railroad and offers a mixed species forest, a tranquil picnic spot, benches and good birding along the river (you might even see eagles, osprey and heron). Turn right on Route 16/15/6, and travel east along the Piscataquis River and you will capture the quintessential New England fall foliage photo at Lowes Covered Bridge.
Continue east and you will return to Dover-Foxcroft where you can visit Bob's Farm, Home & Garden and find just about anything from seasonal items to kitchenware. The Farms & Foliage Tour wouldn't be complete without a stop at one of the two corn mazes located in The Maine Highlands. Visit Treworgy Orchard in Levant and explore "Edwin the Elephant's Exciting Escape" or Thunder Road Farm in Corinna where this year's theme is "Support our Local Animal Shelter" and you can find your way around a cat and a dog themed maze.
For Thunder Road Farm in Corinna: In Dover-Foxcroft, turn right on Route 7, travel approximately 20 miles, past the shores of Lake Wassookeag into the town of Dexter. Dexter offers a charming downtown with a variety shops. Continue Route 7 into Corinna, and approximately a mile beyond Corinna, Thunder Road Farm will be on your left. Enjoy the corn maze, hayride, games and activities and pick your own pumpkins. Travel south on Route 7/11 into Newport and Route 95.
For Treworgy's Orchard in Levant: From Dover-Foxcroft return south on Route 15 traveling to the town of Kenduskeag, turn right at the Townhouse Road, travel four miles to Route 222/Union Street in Levant. Turn left and Treworgy Orchard will be on your right. At Treworgy's you can get lost in the corn maze, pick your own apples, pick up a gallon of apple cider, enjoy an ice cream cone, take a hay ride, and visit the Pumpkin Patch. To return to Bangor, travel east on Route 222 for about 10 miles.
Trip Planning Resources
Events
Group Travel Information for Maine