Central Maine (Zone 3)
Covers Central and Southwestern Maine, including Bangor, Augusta and Fryeburg
Typical Peak Week: Second Week in October
On this page:
---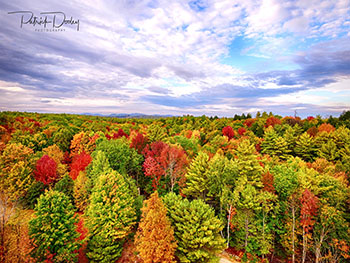 Limerick, ME, Photo Courtesy of Patrick Dooley.
Driving Tours
Featured State Parks
Things to Do
Depart Bangor and travel north on Route 15, as you crest Charleston Hill, autumn unfolds in every direction. Continue through Dover-Foxcroft, turn left on Route 7, turn right on the Sangerville Road and make your way to Stutzman's Farm Stand and Bakery located in Sangerville. They offer a wide variety of fruits and vegetables, homemade baked goods, brick oven pizza and on Sunday, they offer brunch with live music. As you make your way to Route 16, you may opt to take an easy walk upriver at the Guilford Memorial River Walk. At one time, this was the rail bed for the Bangor & Piscataquis Railroad and offers a mixed species forest, a tranquil picnic spot, benches and good birding along the river (you might even see eagles, osprey and heron). Turn right on Route 16/15/6, and travel east along the Piscataquis River and you will capture the quintessential New England fall foliage photo at Lowes Covered Bridge.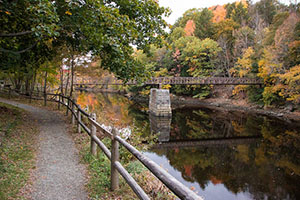 Bangor, ME
Continue east and you will return to Dover-Foxcroft where you can visit Bob's Farm, Home & Garden and find just about anything from seasonal items to kitchenware. The Farms & Foliage Tour wouldn't be complete without a stop at one of the two corn mazes located in The Maine Highlands, Treworgy Orchard in Levant and Thunder Road Farm in Corinna.
More Trip Ideas & Places to Visit
Plan Your Trip
Events