Western Maine (Zone 5)
Covers Western Mid-Maine, including Greenville, Rangeley, and Bethel
Typical Peak Week: Second Week in October
On this page:
---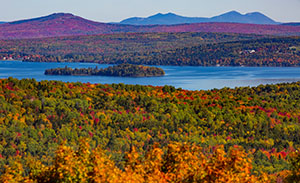 Rangeley Lakes
Driving Tours
Featured State Parks
Things to Do
Any serious leaf peeper will tell you Maine's fall foliage season is a sight to behold indeed. Some people come to Maine to visit our pristine lakes, while others prefer the scenic peacefulness of the covered bridges that dot the countryside.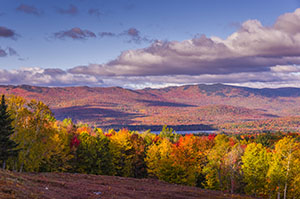 Scenic View in Weld, Maine
Pair these extensive and beautiful natural gifts with our charming western Maine towns and villages and you've got a fall vacation in the making. Since the hard part might come in choosing how to spend your time when you arrive, we would like to offer you a few suggestions.
Explore and photograph Western Maine's six wooden covered bridges. In the 19th century, covered bridges started popping up everywhere and at one point there were 120 covered bridges in Maine! Now, just nine covered bridges remain and six of them are in Maine's Lakes and Mountains Region. From the most photographed and painted bridge, The Sunday River Bridge, also known as the "Artist's Bridge," to the shortest covered bridge in Maine, The Lovejoy Bridge in South Andover, we've got you "covered".
A driving tour along one or more of our scenic byways is sure to fill your leaf peeping needs for outstanding views and beautifully diverse landscapes. Enjoy the nationally designated Rangeley Lakes National Scenic Byway and/or one or more of our three state byways - Grafton Notch Scenic Byway, Maine High Peaks Scenic Byway (Route 27) and the Pequawket Trail Scenic Byway.
If you're in the mood for a different perspective, a ride on the Chondola up to Sunday River's North Peak is in order. Take in the views of the Sunday River Valley and Mahoosuc Mountain Range, explore the mountain on a network of hiking trails, or bring lunch for a mountain-top picnic. You can ride the lift back down or choose from a number of hiking trails to extend your adventure.
Plan Your Trip
Events