Eastern Maine (Mid-Coast & Downeast)
(2 & 4)
Covers Houlton, Millinocket, Calais, Machias, Bar Harbor and Penobscot Bay
Peak Week: Second Week in October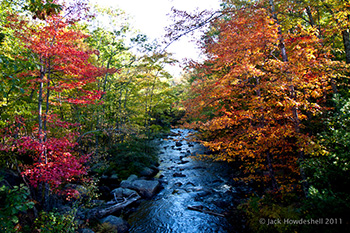 Hancock County
Courtesy of Jack Howdeshell
Driving Tours
Featured State Parks
Lamoine State Park - Visitors enjoy camping, boating, fishing and simple relaxation in a beautiful location. Park views of Frenchman's Bay, and amenities such as the campground facilities and boat launching ramp are some of the park's highlights.
The Donnell Pond Public Reserved Land in Townships 9 & 10 SD in Hancock County near Sullivan and Franklin offer hiking trails up Schoodic and Black Mountains that provide vistas on surrounding woodland, lakes and Acadia National Park across Frenchman's Bay.
Trip Idea
The Blueberry Barrens are Scarlet! (In Autumn) - Drive your car, RV or motorcycle along DownEast and Acadia's Black Woods, Bold Coast, and Schoodic Scenic Byways to enjoy beautiful fall foliage, scenic vistas and blueberry barrens from Ellsworth to Machias. Bring along your bicycle, boat or boots if you like to enjoy a slower pace off the beaten path between scenic vistas and eateries.
Start your foliage and blueberry barren journey in Ellsworth by driving uphill on Maine Street to US Route 1 East, past the beginning of the DownEast Sunrise Trail at Washington Junction to Hancock. Turn east on State Route 182 to Franklin and Cherryfield. The Black Woods Scenic Byway rewards you with views of Taunton and Hog Bays as it winds past lakes and mountains to Cherryfield, "The Blueberry Capitol of the World." You'll pass the Catherine Hill Winery on your left, and you'll definitely want to stop and taste the Bold Coast red blend! The Riverside Arts and Music Festival, a four day celebration of local arts and music, takes place the second weekend of October 2015 in downtown Cherryfield.
Continue on the Bold Coast Scenic Byway (US Route 1) through Harrington, Columbia Falls, and Jonesboro toward Machias to enjoy the rolling hills and brilliantly colored blueberry fields. You'll pass Wild Blueberry Land on the right, the home of all things blueberry, and among the blueberry fields to your left you'll see the University of Maine's Blueberry Hill Farm where new hybrids, planting, growing and harvesting techniques are trialed and tested. Low bush blueberries are native to the area and grow prolifically in the sandy, glacial soil of the region. Originally harvested by our "first Nation" Wabanaki People, the petite and tasty blueberry is a major cash crop in DownEast Maine. The plants turn a magnificent scarlet to almost mahogany red in the fall, and look stunning when poking out of a light snowfall.
Machias hosts the Machias Wild Blueberry Festival the third week of August, and is the home of Helen's Restaurant and the Bluebird Ranch Restaurant, both famous for their blueberry pies (best tasted warm and "a la mode," and also available at other eateries throughout the area). Returning toward Ellsworth on US 1 south you'll be driving along a glacial ridge with blueberry barrens on both sides. Be sure to stop at Bartlett Winery off the Chicken Mill Pond Road in Gouldsboro. Bartlett produces fine fruit wines and spirits – be sure to try their Wild Blueberry Wine for more seasonal color.
Enjoy the colorful blend of deciduous trees and conifers as you return along coastal US Route 1 and portions of the Schoodic Scenic Byway to Ellsworth, where another Helen's Restaurant, Riverside Café, Sylvia's Café and more will be glad to serve fine food followed by blueberry desserts – sure tastes great after a foliage tour and a true Maine "lobstah roll!"
For more information about how to enjoy this True Maine experience, and many more in DownEast & Acadia, go to downeastacadia.com.
Trip Planning Resources
Events
Group Travel Information for Maine