Eastern Maine (Downeast)
(2 & 4)
Covers Houlton, Millinocket, Calais, Machias, Bar Harbor and Penobscot Bay
Typical Peak Week: Second Week in October
On this page:
---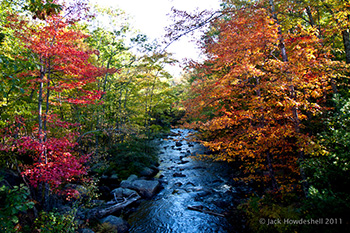 Hancock County
Courtesy of Jack Howdeshell
Driving Tours
Downeast Acadia is rich in scenic beauty, from our dramatic rocky coastline to our sparkling inland lakes. Downeast Acadia is the only region with five scenic byways, exemplifying the plethora of scenic, cultural, and recreational opportunities available here. Take in the length and breadth of our scenic splendor and the vibrant history and culture of our communities, all at your own pace.
Featured State Parks
Things to Do
The Blueberry Barrens are Scarlet! (In Autumn)
Start your foliage and blueberry barrens adventure in Hancock by turning east on State Route 182 to Franklin and Cherryfield. The Black Woods Scenic Byway winds through narrow passes between lakes and mountains to Cherryfield, "The Blueberry Capitol of the World." At the top of Tunk Mountain you'll find lots of wild blueberries to nibble along the trail. Just before Cherryfield village, you'll definitely want to stop at Catherine Hill Winery to taste their Bold Coast or blueberry blends! And downtown Cherryfield boasts a river walk along the Narraguagus River through their large and well-preserved National Historic District. Start your walk at the Cherryfield Narraguagus Historical Society.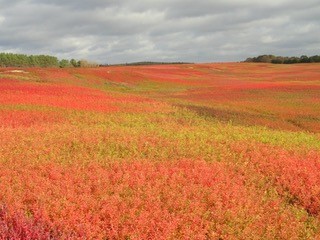 Continue toward Machias on the Bold Coast Scenic Byway (US Route 1) through Harrington, Columbia Falls, and Addison, with a dip down the peninsulas into Jonesport and then into Roque Bluffs to enjoy the brilliantly colored blueberry fields rolling toward the ocean. You'll pass Wild Blueberry Land in Columbia Falls, the home of all things blueberry and creator of the Wild Blueberry Virtual Museum, which shares the complex story of this incredible wild fruit.
Stop at a Farmers' Market or roadside stand to pick up a fresh quart of wild blueberries to eat along the way, or plan a few hours to pick your own at a local farm.
Return south along the Bold Coast Scenic Byway, then veer south on Route 1A toward Milbridge and Steuben, where you can pick your own berries at the Hollingsworth Trail in the Petit Manan section of the Maine Coastal Islands Wildlife Refuge, or on top of Pigeon Hill.
Pick up the Schoodic Scenic Byway on Route 186 heading in Gouldsboro to meander through more coastal blueberry fields and working waterfront villages, but first stop off at Bartlett Winery off the Chicken Mill Pond Road in Gouldsboro. Bartlett produces award-winning fruit wines, ciders, and spirits – be sure to try their Wild Blueberry Wine! For the grand finale, stop in Corea or Winter Harbor to savor mouth-watering lobster rolls and a slice of wild blueberry pie a la mode!
More Trip Ideas & Places to Visit
For more information about how to enjoy a True Maine experience in Downeast & Acadia, go to downeastacadia.com.
Plan Your Trip
Events