Southern Maine (Zone 1)
Covers Mid-Coast and South Coastal Maine, including Camden, Portland, Kennebunkport and Kittery
Peak Week: Mid to Late October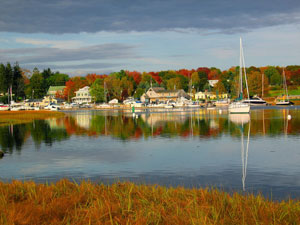 Kennebunkport, Maine
Driving Tours
Midcoast Ramble
This drive starts in coastal Brunswick and heads Downeast along Route 1. There are countless possibilities for detours down the "fingers" of coastline. One way takes visitors to Boothbay Harbor or head down to bucolic Pemaquid Point and its famous lighthouse. Visitors can amble down the back roads past saltwater farms to the scenic harbor at Friendship or to Wyeth country in Cushing. Back on Route 1, it's time to carry on through to Rockland, where the full range of the artistic genius of the Wyeth family can be seen at the Wyeth Center at the Farnsworth Museum. Finish the drive in Camden, and ascend to the 800-foot summit of Mount Battie at Camden Hills State Park, where spectacular views are enhanced by the foliage that runs right down to the harbor.
Featured State Parks
Things to Do
From Mountaintop to the Sea - Travel through MidCoast Maine for views of fall foliage from mountain-top to the sea as your vista spans from Mount Battie or the summits of Camden Hills State Park.
Pick Your Own Orchards - Veer off the beaten path down a country road inland to Hope, Appleton, or Union where there are pick-your-own orchards abound!
Explore a New Peninsula - Travel down the Port Clyde, Boothbay or Pemaquid peninsulas, where vistas vibrant with red, gold, orange, and pine green will be interrupted by delicious seafood and secret beaches.
Education by the Sea - At the Coastal Maine Botanical Gardens, celebrate the changing colors of fall with miles of walking trails and an educational experience for the whole family. In Belfast, you also have an opportunity to sail the Penobscot on a cruise.
Kayak Adventure - To enjoy the autumn foliage from the ocean, including the many vibrant islands of Penobscot Bay, you can rent a kayak for a few hours or an entire day!
Blaze a Trail - There are more than ten unique trails in Brunswick for walking, hiking, and biking through the foliage. Find one that fits your level of expertise!
Visit a Lighthouse - Among Maine's 65 lighthouses, many are open to the public, some even offer access to keeper's quarters. A good number have adjacent museums.
Trails, Hikes and Nature Preserves in MidCoast Maine - Find trails in Maine's Midcoast, including Brunswick, Wiscasset, Bath, and Damariscotta.
Hub & Spoke from Portland, Maine Itinerary - Four day itinerary of adventure and shopping in the Portland region.
Art & Garden Trip Ideas in Coastal Maine - A four day itinerary for fun filled days of art, gardens and museums.
Maine's Pumpkin Trail - Maine's Pumpkin Trail covers 40 miles of Maine's charming coastline and features family events, parades, cruises and more!
Maine Wine Trail - Maine wineries produce grape and fruit wines, distilled spirits, meads, ciders and fortified wines.
Maine Beer Trail - Small, handcrafted brewers.
Maine Agri-Tourism - Plan new experiences and create lasting memories while having fun around agriculture.
Plan Your Trip
Events