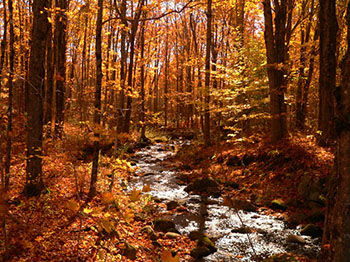 Palermo, ME
Courtesy of Alec Hartman
Maine Forest Facts
Where are Maine's forests? They are everywhere: not only in the great North Woods lying beyond our towns and cities, but between our communities, alongside our highways, and in many of our backyards.
Maine's forests are:
A home to more than 50,000 species of wildlife
A purifier of our air and the reservoir of most of our water
An economic resource that produces more than 500 products and directly employees almost 25,000 Maine workers.
A huge recreational area, with mountains, lakes and streams that hundreds of thousands of people visit each year.
A green landscape for our homes and communities.
A self-renewing energy resource with dozens of hydroelectric dams and wood-burning electricity generating plants.
Are almost evenly split with 58% of the forest softwoods or conifers and the remaining 42% hardwoods or deciduous trees.
How Maine Was Named "The Pine Tree State"
The abundance and value of eastern white pine, Pinus strobes L., in Maine has caused it to be known as the Pine Tree State. The was approved February 1, 1895, declaring the Pine Cone and Tassel is the floral emblem for Maine in the National Garland of Flowers." Fifty years later on July 21, 1945, the white pine tree was designated the official tree of the State of Maine.
King's Pine
The availability and high quality of white pine lumber played an important part in the development and economy of Maine since 1605, when Captain George Weymouth of the British Royal Navy collected samples here and brought them back to England for display. Shortage of ship masts in Europe led to England's Broad Arrow Policy in 1691, whereby pines 24 inches or more in diameter within 3 miles of water were blazed with the mark of the broad arrow; such trees were to be reserved for used in the Royal Navy. The term King's Pine originated from this policy. Most of the accessible virgin pine was but by 1850. Lumber production reached its peak in 1909 but white pine is still a principal lumber species and continues to contribute greatly to the economy of the state.
Forest Products Industry: Deep Roots in the Maine Economy
One of the first industries in Maine, beginning in the early 1600s was the sawing of white pine lumber. Since that time, nearly every tree species found in the state has been used for wide variety of wood and paper products, and the forest products industry has been a very important part of Maine's economy.
Sources:
The Maine Forest, Maine Forest Service Fact Sheet, April 2000
Forest Trees of Maine, Department of Conservation's Maine Forest Service, 1995
The Forests of Maine, University of Maine's Water Resources Program, May 1994