Northern Maine (Zones 6 & 7)
Covers Northern Maine, including Fort Kent, Caribou and Presque Isle
Typical Peak Week: Last week in September into first week of October
On this page:
---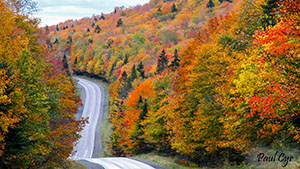 Driving Tours
Featured State Parks
Things to Do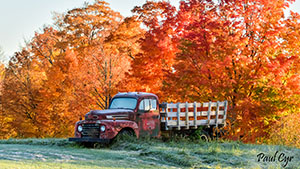 Spend a day or two traveling through Aroostook's Scenic & Cultural By-Ways enjoying its vast open fields and experience its Big Sky.
Starting in Sherman, off I-95, travel the Scenic By-way Route 11 to the top of the state, Fort Kent. A fun drive but pay attention to deer and moose that may be crossing in front of you. The foliage is just stunning along this ride throughout Aroostook. Make sure to stop in Patten to get a picture of the breathtaking view of Mt Katahdin.
Ashland is the first community you will find restaurants, gas and convenience stores after Patten. At the 2nd blinking light you will need to take a left turn to remain on Route 11. From here you will go to Portage Lake where you can stop at the public beach for a break. Continuing north stop on the top of the hill and get a partial view of the Fish River chain of lakes. You will cross the Fish River just before Eagle Lake. Be sure to stop in Eagle Lake to take in the beautiful scenery.
From Eagle Lake continue north to Fort Kent. While in Fort Kent be sure to visit "America's First Mile," the Fort Kent Block House and look for the mural paintings on some of the old potato houses depicting farming of years gone by.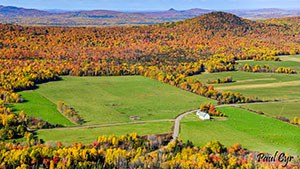 US Route 1 starts at "America's First Mile" in Fort Kent, a great photo opportunity and ends in Key West Florida. You will head south on Rt.1 along the St. John River separating the USA and Canada. Stop along Route 1 and see the interpretative panels depicting Acadian History.
Madawaska is the most northeastern town in the USA, and home our Four Corners Park. One of only four in the country. Be sure to stop in to sign the guest book.
Continue along the river to trace the great state of Maine border to Van Buren. Each of these border towns will tantalize you with history and unique vistas unlike anywhere else in Maine.

From Van Buren you have 2 options. Option 1 head south on Route 1 through Caribou and Presque Isle, "The County's" two largest communities. There are several things to do and sights to see on your ride south on US Route 1. From Presque Isle south on Route 1 you will have the opportunity to see a complete scale model of our solar system, with the Sun in Presque Isle and Pluto in Houlton.
Option 2 head south on US Route 1A from Van Buren to Mars Hill, you will connect with Route 1. Traveling 1A you will follow the St John River, travel through Amish Country, and drive along the Aroostook River. It is a beautiful ride. Depending on where you are going, and the time you can either take Route 1 to Calais, Route 2, 2A, or 95 to Bangor in Houlton.
Plan Your Trip
Events