Selecting a Private Consulting Forester
The Maine Forest Service strongly suggests contacting more than one consulting forester in order to make an informed choice. Taking some time to select a forester is often worthwhile. Ideally, you will develop a long-term working relationship with a forester that you trust, and can continue to work with over many years.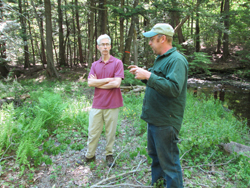 Prepare to meet prospective foresters by gathering maps, deeds, past management plans, timber sale receipts, or other records. If you are interviewing several foresters, tell them so. Ask if they intend to bill you for proposed meetings or for any background research they offer. Ask about their experience, background, range of services, and specific expertise or credentials. In addition to an on-site meeting:
request references and follow up with past clients
look at samples of written plans and maps
visit past harvests the forester has managed
In particular, look for a forester who listens and communicates well, provides quality work in a timely manner, and delivers results that meet customer expectations. Tell the forester, as specifically as possible, your values and vision for your woods. If he or she doesn't "get it," keep looking!
Ultimately you as the landowner should feel confident that you have chosen the person or firm that best suits your needs. Note that most foresters work in multiple counties, and a working area of up to 1 hour or greater travel time from their business location is common.
More information about Working with a Forester.
View an alphabetical list of Stewardship Foresters (PDF | 101 KB). Stewardship Foresters are Maine licensed, private consultants, who have taken additional training and are eligible to prepare forest management plans that meet WoodsWISE Incentives Program standards.
View a map showing Stewardship Foresters locations. You can use this map to search for foresters near a specific town or municipality.
The Maine Forester Licensing Board maintains a complete list of all licensed foresters in Maine that can be searched using the Regulatory Licensing and Permitting online service.
The inclusion of a name on these lists does not imply a recommendation by the Maine Forest Service. We encourage you to check references and have a written contract for services.
"We help you make informed decisions about Maine's forests"