Forest Health and Monitoring
The Division of Forest Health & Monitoring was established in 1921 to protect the forest, shade and ornamental tree resources of the state from significant insect and disease damage and to provide pest management and damage prevention for homeowners, municipalities, and forest land owners and managers, thereby preserving the overall health of Maine's forest resources (video).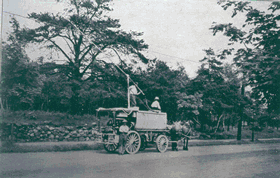 Postal address:
168 State House Station
Augusta, Maine 04333-0168
Phone: (207) 287-2431
Physical location:
90 Blossom Lane
Augusta, Maine 04333
---
Several Maine Forest Service programs are wholly or partially funded by the USDA Forest Service under various authorities.
In accordance with Federal law and U.S. Department of Agriculture policy, this institution is prohibited from discriminating on the basis of race, color, national origin, sex, age or disability. (Not all prohibited bases apply to all programs.)
To file a complaint of discrimination: write
USDA, Director, Office of Civil Rights
Room 326-W, Whitten Building
14th and Independence Avenue, SW
Washington, DC 20250-9410
or call (202)720-5964 (voice or TDD).
USDA is an equal opportunity provider and employer.