Browntail Moth - Euproctis chrysorrhoea (L.)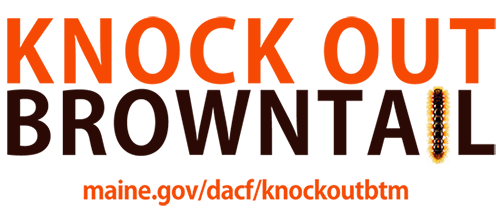 On this Page:
---
News & Events
August 4, 2022
It has been a little while since our last update in July, and conditions in the field have changed. The adult moths should be mostly, if not all, gone by now, with the females having laid their eggs in July on host foliage. Those egg masses have begun hatching, although there are areas we have not observed emergence.
Newly hatched caterpillars will feed communally on host plants from now until the end of September or the beginning of October, depending on the weather. They will also start building their winter web for shelter through the coldest months.
As the young caterpillars feed, they graze on the outer surface of the leaf without consuming the entire leaf. This damage is called skeletonization and causes the leaf to die and turn a bronzy-copperish color. When we perform our aerial browntail moth (BTM) surveys in the late summer, we use this damage to help identify where BTM populations are severe.
Summer treatment of the very young caterpillars can be difficult for a few reasons:
The damage from the younger caterpillars can be difficult to detect.
Caterpillars are not necessarily found on the same trees defoliated previously in the season, although this is possible in areas with high populations. If you can't tell whether or how badly infested trees are, plan to observe them more closely over the winter and decide whether and how to treat them before spring. Do not treat uninfested trees.
Caterpillars produce silk and feed under it, limiting their exposure to non-systemic pesticides.
Soil and tree conditions can affect the uptake of systemic insecticides and may lead to poor control by these products.
The caterpillars and webs of our native fall webworm (FWW) are also present across much of Maine. In late summer, distinguishing between the two can be difficult, especially if webs are out of reach. FWW webs will often, but not always, be larger this time of year. Later in the season, as BTM colonies build up silk along their travel routes on the twigs of hosts, this can be also be used to distinguish BTM (bright white silk on twigs) from FWW (lacking bright white silk). Often, the easiest way to differentiate between the two this time of year is the size of the caterpillars. Caterpillars of BTM will generally not exceed one quarter inch in length until next year. Those of FWW are variable in size at this point, but many are already longer than a quarter inch. If webs are out of reach, waiting for more distinguishable differences between the two structures in fall may be the only way to determine the resident's identity.
---
Although much less common this time of year, exposure to hairs from previous seasons' caterpillars can cause irritation and other symptoms, these exposures are most likely during activities that might stir up hairs in the environment, especially during dry conditions. They can also happen through contact with pupal cocoons (often in host foliage and sheltered areas), or surfaces that hairs settled on that have not been washed clean. Those caterpillars now feeding on the leaves are unlikely to cause a reaction in most people.
---
Contact 211 Maine for answers to frequently asked questions on browntail moths:
Dial 211 (or 207-874-2211)
Text your zip code to 898-211
Or visit our Browntail Moth FAQs.
---
---
General Information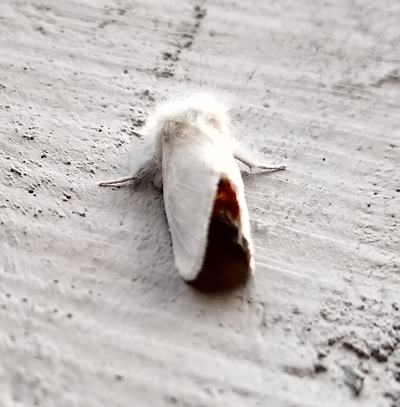 The browntail moth is an insect of forest and human health concern which was accidently introduced into Somerville, Massachusetts from Europe in 1897. By 1913, the insect had spread to all of the New England states and New Brunswick and Nova Scotia. Since that time, populations of this pest slowly decreased due to natural controls until the 1960's, when browntail moth was limited to Cape Cod and a few islands off the Maine coast in Casco Bay. Browntail moth populations are again building in Maine and are found in patches along the coast and up to 60 miles inland from the western Maine border to the New Brunswick border, with the greatest concentrations in mid-coastal Maine and the capital region.
The larval stage (caterpillar) of this insect feeds on the foliage of hardwood trees and shrubs including: oak, shadbush, apple, cherry, beach plum, and rugosa rose. Larval feeding causes reduction of growth and occasional mortality of valued trees and shrubs. Learn More: How to Identify Maine's Main Defoliating Caterpillars (YouTube) / Life Cycle of Browntail Moth (PDF)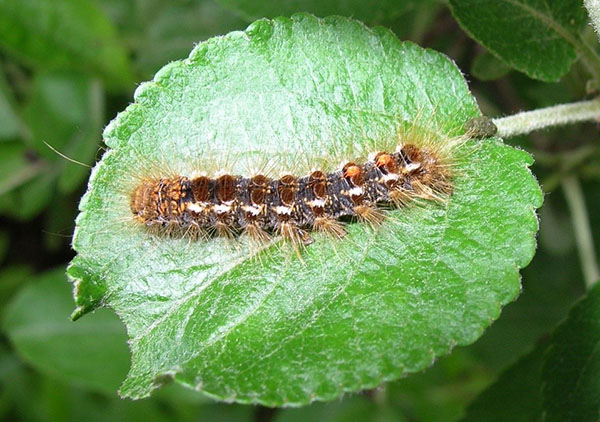 While feeding damage may cause some concern, the primary impact on humans by browntail moth results from contact with poisonous hairs produced by the caterpillars. Microscopic, toxic hairs break off the caterpillars and can be airborne or settled on surfaces in browntail moth infested areas. Sensitive individuals who encounter the hairs may develop a skin rash similar to poison ivy and/or trouble breathing. Symptoms can last anywhere from a few hours to several weeks and can be severe in some individuals. Learn More: Maine CDC Browntail Moth Information
---
Frequently Asked Questions
Partners at Maine Forest Service, Maine Board of Pesticides Control, Maine Center for Disease Control, Cooperative Extension and others have put together an extensive list of frequently asked questions. Questions cover topics from biology, to management, to policy to pets.
Moths found on buildings and in light traps are primarily males. Killing males is unlikely to reduce the next generation of browntail moth.
Using a bug-zapper or other device to kill insects attracted to lights is not recommended. It will kill insects that might help control browntail moth and other pests as well as browntail moths. It will also attract more browntail moths to the area. Females attracted to an area by lights tend to hang out in host tree foliage and are not captured in high numbers with these methods.
Close -
All Frequently Asked Questions

For More Information:
Dial: 211 or 866-811-5695
Text Zip Code to 898-211
Email: info@211maine.org
---
Management Techniques
Focus management on populations that will directly impact people, pets and livestock or pose a high risk of contributing to spread.
Use extreme caution if burning webs. Never burn unless the branches have been clipped off. This type of burning requires a burn permit. For more information, please visit www.maineburnpermit.com and check the daily forest fire danger report.
Browntail web removal: Webs in small trees and shrubs, safely within reach of the ground, and without hazards such as powerlines, can be removed between October and April. Destroy webs once removed (burn, soak for an extended period in soapy water, or dispose of in trash). With permission, you can do this on properties you don't own or manage. If there are hazards, or you need to leave the ground, this is work for a licensed arborist.
Browntail caterpillar treatment: If you miss the window for web removal, caterpillars can be treated with a variety of registered insecticides labeled for the type of application (such as ornamental tree or shrub, fruit tree) and effective in controlling caterpillars. Often browntail moth will not be on the label.
Applications must be consistent with the label directions. Consider hiring a licensed pesticide applicator. In most years, treatment should be effective (caterpillars killed) before late May. Later treatments do little to reduce both hairs in the environment and damage to hosts.
If you are managing browntail moth using pesticides within 250 feet of the mean high tide mark adjacent to coastal waters and extending upriver or upstream to the first bridge, additional rules apply.
If you are unlicensed, do not use this approach on properties that are not yours or are open to the public.
Close -
Hire professional help to treat webs out of reach or near hazards on the property you own or manage. Line up help during fall or winter.
Licensed Professional Arborists can remove BTM webs in larger trees and shrubs (October to April).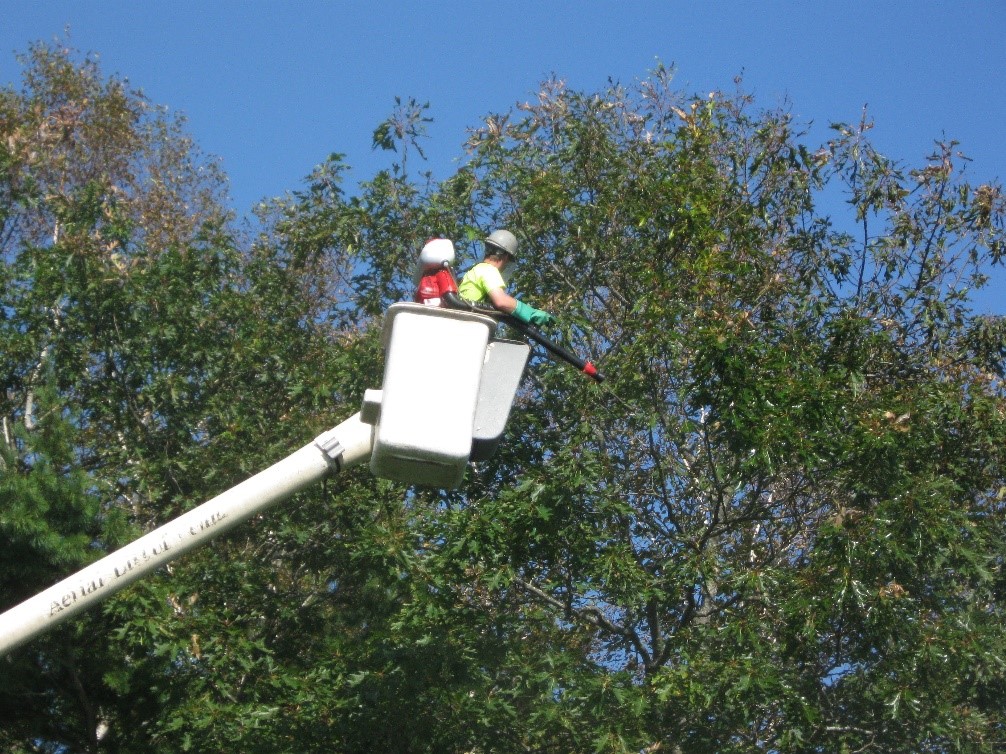 Unmanned Aerial Vehicle (UAV) Operators with an FAA Remote Pilot License may provide services using UAVs with attachments that physically remove webs.There is no requirement that these operators have knowledge of tree care. As in working with any professional, confirm your prospective contractor is adequately insured and qualified to provide the service.
For large trees, there are very limited insecticidal products (PDF) that are readily available to and applied by unlicensed individuals and that can legally be applied to target trees and life stages of browntail moth.** In trees where the caterpillars' hairs cause a nuisance and where it is not practical to remove the webs, Licensed Pesticide Applicators may be able to use insecticides during the growing season to manage BTM.
**Acecaps are not registered for use in Maine because the label does not meet federal standards for pesticide labeling. It is therefore not legal to use Acecaps. The Maine Board of Pesticides Control has provided support to the manufacturer to explain what needs to be changed to come into compliance and encouraged the manufacturer to work with EPA to bring their label up to standards. If we become aware of a change in status, we will update this message. You can check the current registration status by entering the product name in this database.**
Close -
---
Where is Browntail Moth in Maine?
Maine Forest Service conducts surveys for browntail moth from small planes and from moving trucks. These are broad-scale surveys that do not completely cover the impacted area. To understand what is happening in your neighborhood, and whether you are at risk of exposure to browntail moth, learn to recognize browntail moth then inspect the trees around you. The best time of year to do this is in the winter from mid-December through March. Browntail moth is most recognizable at this stage and management can occur or be lined up ahead of the spring season.
Browntail Moth Interactive Map
Citizen Science Survey Protocol
---
For Towns and Organizations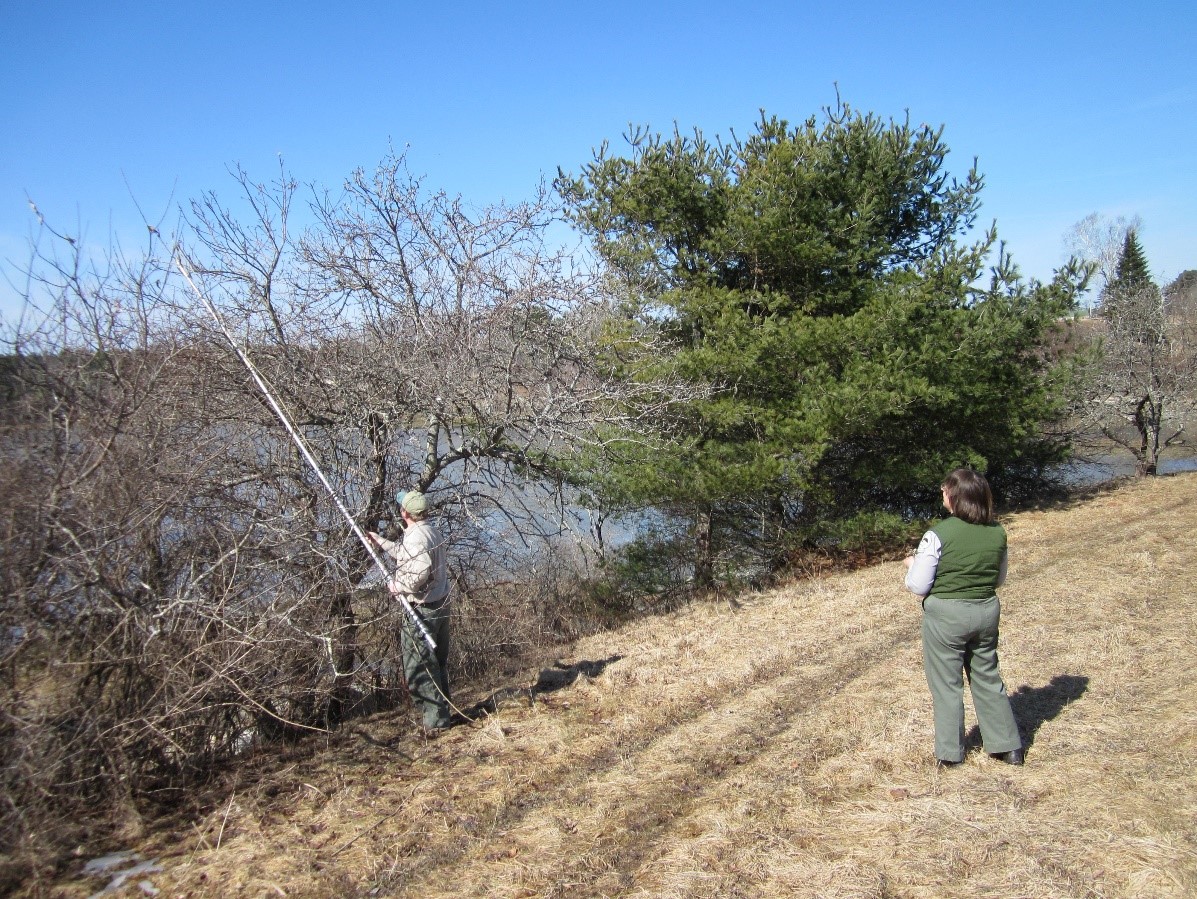 Focus management on populations that will directly impact people, pets and livestock or pose a high risk of contributing to spread.
An interactive map with past survey data was made available in December 2021
Hire professional help to treat webs out of reach or near hazards on the property you own or manage. Line up help during fall or winter.
Click the images below for larger shareable graphics for use on social media.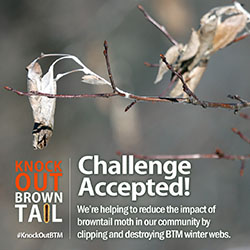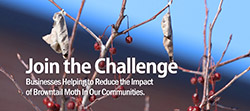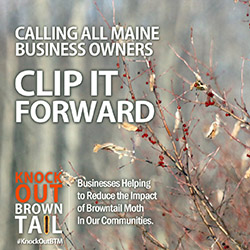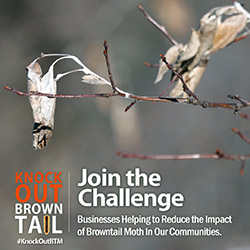 Close -
---
Research
Entomologists with the Maine Forest Service in the Department of Agriculture, Conservation and Forestry (DACF) have teamed up with the University of Maine to track the spread and investigate the causes of the outbreak and evaluate management strategies for this daunting pest.