Browntail Moth - Euproctis chrysorrhoea (L.)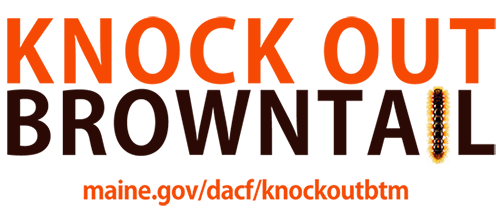 On this Page:
---
News & Events
May 20, 2022
Starting late last week and at all of our developmental monitoring sites this week we have observed that about half of the BTM caterpillars have developed to the fourth instar (life stage). Fourth instar and older caterpillars have white markings on the sides of each body segment and have more of the irritating hairs that cause human health impacts. This is a tipping point for this species in terms of the number of irritating hairs as well as the growing appetites of the caterpillars. We have also observed a high rate of variability in caterpillar size within sites. At one of our monitoring sites there are caterpillars that are 23 mm long alongside 9 mm caterpillars (indicating little development since emergence).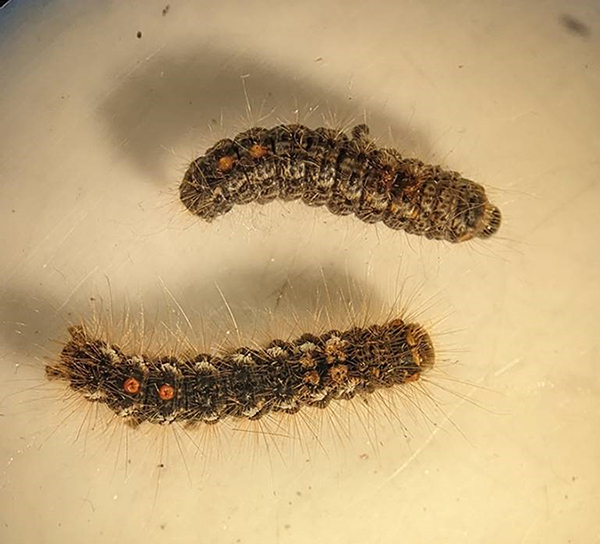 Dealing with Wandering Browntail Moth Caterpillars
The windy weather we've had the last couple of days seems to have hastened some of the caterpillars leaving their host trees by being blown to the ground. This means that there may be an increased chance of folks coming into contact with the caterpillars so caution should be exercised in areas of high infestations.
If you wish to remove caterpillars from decks, buildings, driveways and other surfaces do it in a way that will not increase your risk of exposure to their hairs (No leaf blowers allowed! We've seen it).You can dislodge them from areas out-of-reach with a strong jet of water. To remove them more permanently, add a couple of inches of soapy water to the canister of a wet/dry vacuum, vacuum them up, and allow them to sit until the caterpillars have drowned. Then safely dispose of the contents (bear in mind, the toxin in the hairs is stable).
Plans for management through insecticide treatment, and some treatments, should already be made. We recommend working with a licensed pesticide applicator for insecticide treatments. In most years, treatments should be completed before the end of May to limit buildup of toxic caterpillar hairs and host foliage loss.
Contact 211 Maine for answers to frequently asked questions on browntail moths:
Dial 211 (or 207-874-2211)
Text your zip code to 898-211
Or visit our Browntail Moth FAQs.
Caterpillar Comparison
Browntail moth caterpillars are not the only fuzzy caterpillar out and about this week. We have also received images and made observations of eastern tent, forest tent, and spongy moth caterpillars. Below we share some of those observations from the Bangor area.
Eastern tent caterpillars will be found in both wild and cultivated fruit trees. We covered some of the differences in the webs in last week's update. Note the central white stripe on the caterpillars. These native caterpillars can be considered beneficial. They provide important food for predators and parasitoids that also attack browntail moth. However, if they are in a prized fruit or ornamental tree, you may want to remove them. To remove them, you can twist a forked stick in the web during the evening hours. They can be moved to a wild cherry or serviceberry tree or disposed of in a manner similar to browntail moth.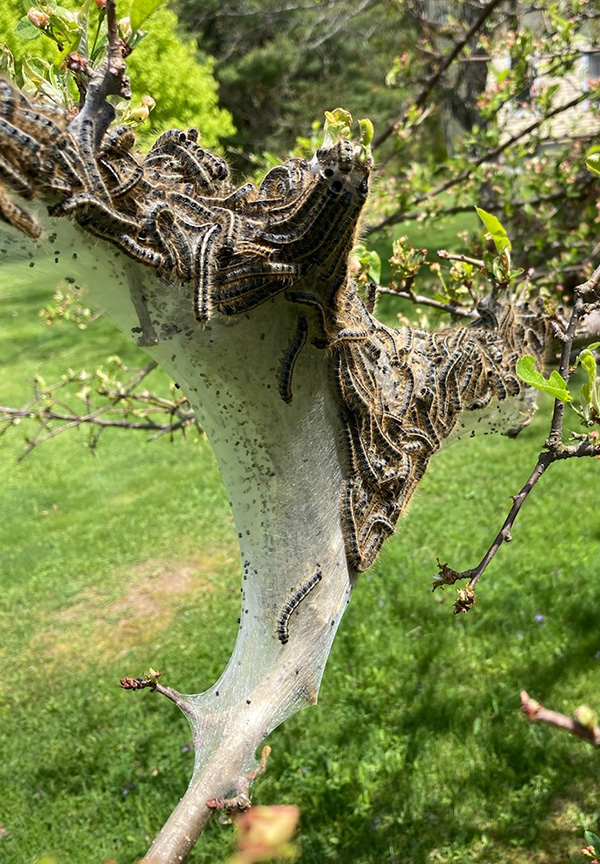 Forest tent caterpillars are starting to show their characteristic central white spots and blue coloration. The spots are variously described as footprint, keyhole and penguin shaped. They are sometimes off-white. This is also a native species. In small populations, they do little damage to trees. They are an occasional outbreak species, and recently contributed to a small pocket of oak mortality in Blue Hill.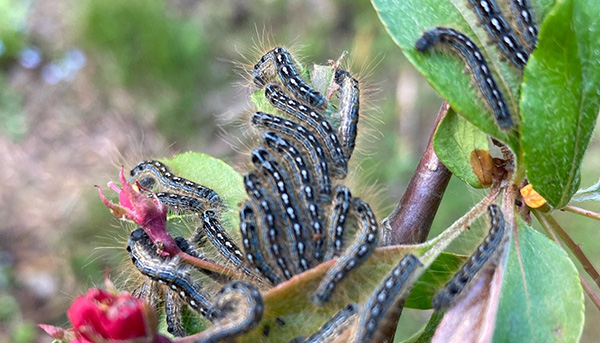 In the Bangor region, spongy moth caterpillars are just hatching. During this stage they will "balloon", or travel on the wind using length of extruded silk. Like browntail moth, this species is introduced. Also like its cousin, it is in outbreak-level populations in parts of Maine. The characteristic knobs on the side of the head capsule are the easiest identification cue at this stage of the caterpillar's development.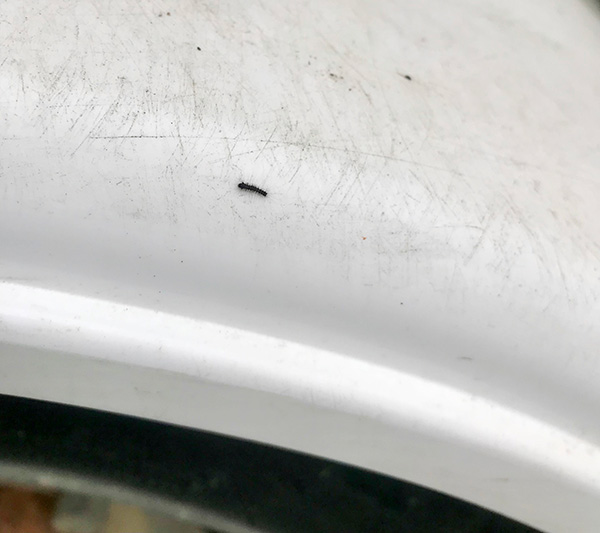 If you've read this far, you already know how to recognize browntail moth caterpillars. They are in variable stages of development, as are all the species covered. Look for the characteristic orange dots and the white tufts of hair. These caterpillars are quite able hitchhikers; you can read more in our recent bulletin.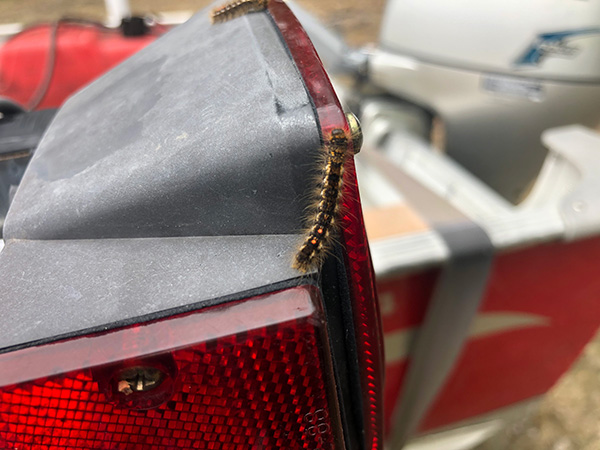 More information on distinguishing between some of Maine's hairy caterpillars is available in this video.
Use extreme caution if burning webs. Never burn unless the branches have been clipped off. This type of burning requires a burn permit. For more information, please visit www.maineburnpermit.com and check the daily forest fire danger report.
---
General Information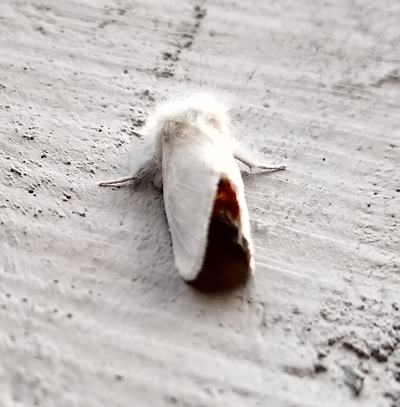 The browntail moth is an insect of forest and human health concern which was accidently introduced into Somerville, Massachusetts from Europe in 1897. By 1913, the insect had spread to all of the New England states and New Brunswick and Nova Scotia. Since that time, populations of this pest slowly decreased due to natural controls until the 1960's, when browntail moth was limited to Cape Cod and a few islands off the Maine coast in Casco Bay. Browntail moth populations are again building in Maine and are found in patches along the coast and up to 60 miles inland from the western Maine border to the New Brunswick border, with the greatest concentrations in mid-coastal Maine and the capital region.
The larval stage (caterpillar) of this insect feeds on the foliage of hardwood trees and shrubs including: oak, shadbush, apple, cherry, beach plum, and rugosa rose. Larval feeding causes reduction of growth and occasional mortality of valued trees and shrubs. Learn More: How to Identify Maine's Main Defoliating Caterpillars (YouTube) / Life Cycle of Browntail Moth (PDF)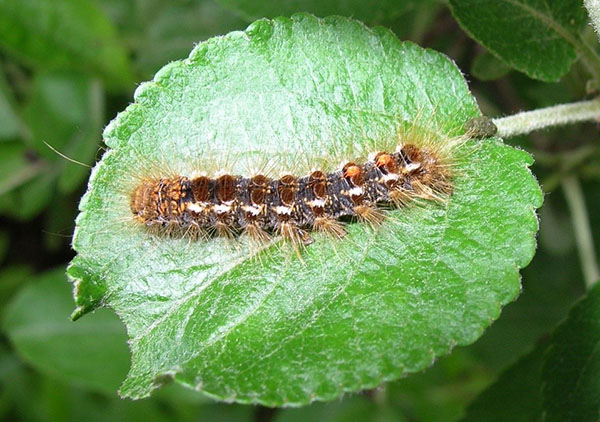 While feeding damage may cause some concern, the primary impact on humans by browntail moth results from contact with poisonous hairs produced by the caterpillars. Microscopic, toxic hairs break off the caterpillars and can be airborne or settled on surfaces in browntail moth infested areas. Sensitive individuals who encounter the hairs may develop a skin rash similar to poison ivy and/or trouble breathing. Symptoms can last anywhere from a few hours to several weeks and can be severe in some individuals. Learn More: Maine CDC Browntail Moth Information
---
Frequently Asked Questions
Partners at Maine Forest Service, Maine Board of Pesticides Control, Maine Center for Disease Control, Cooperative Extension and others have put together an extensive list of frequently asked questions. Questions cover topics from biology, to management, to policy to pets.
MFS highly recommends working with an experienced and reputable licensed pesticide applicator for management of this pest, but understands that this is not always possible.
BtK, Spinosad, and Acephate are all registered in Maine for use

** Acecaps are not registered for use in Maine because the label does not meet federal standards for pesticide labeling. It is therefore not legal to use Acecaps.

In all cases, read, understand and follow label directions.
Check the current registration status of any pesticide by entering the product name in this database.
To decide which trees to inject, scope out where the webs are in your yard by searching during the winter when the leaves are off the trees, the webs will shine brightly in the sunlight. Some webs may look like single leaves, but examination with binoculars under good lighting conditions should reveal bright white silk holding the leaf to the twig. This survey effort will give you a good idea of where to focus treatment.
Prioritize treatment of trees that are in high traffic areas such as overhanging a house or deck or other areas where avoidance will not be possible.
Use web-clipping instead of injection to treat trees whose branches are within reach.
Trees that are in poor health may not respond well to injections.
Close -
The optimal timing for control of the caterpillars is when they are small.
The label on the pesticide product should give directions for timing. Be sure to read and follow this label- it is the law.
Timing of injection may depend upon product used, tree species, mode of pollination, seasonal development, and injection system. The Department of Agriculture Conservation and Forestry recommends working with an experienced and reputable licensed pesticide applicator for management of this pest.
Injections that leave larger dead caterpillars with the associated hairs in your yard, either due to timing of injection or rate of product movement to leaves, are not ideal. In most years, controlling caterpillars before late-May is recommended.
In any case, the label directions and other pesticide regulations must be followed. In addition, understanding of details regarding rate of translocation of the product to areas where the caterpillars are feeding and duration of product in leaf tissues and other parts is needed for optimal management.
If a homeowner is intending to conduct treatments on their own they should be sure to understand and follow the label and know that information beyond what is on the label may be needed to understand what product best fits their needs.
The product manufacturer, University of Maine Cooperative Extension Pest Management Office and Maine Forest Service Forest Health and Monitoring Division can provide additional guidance.
Close -
All Frequently Asked Questions

For More Information:
Dial: 211 or 866-811-5695
Text Zip Code to 898-211
Email: info@211maine.org
---
Management Techniques
Focus management on populations that will directly impact people, pets and livestock or pose a high risk of contributing to spread.
Browntail web removal: Webs in small trees and shrubs, safely within reach of the ground, and without hazards such as powerlines, can be removed between October and April. Destroy webs once removed (burn, soak for an extended period in soapy water, or dispose of in trash). With permission, you can do this on properties you don't own or manage. If there are hazards, or you need to leave the ground, this is work for a licensed arborist.
Browntail caterpillar treatment: If you miss the window for web removal, caterpillars can be treated with a variety of registered insecticides labeled for the type of application (such as ornamental tree or shrub, fruit tree) and effective in controlling caterpillars. Often browntail moth will not be on the label.
Applications must be consistent with the label directions. Consider hiring a licensed pesticide applicator. In most years, treatment should be effective (caterpillars killed) before late May. Later treatments do little to reduce both hairs in the environment and damage to hosts.
If you are managing browntail moth using pesticides within 250 feet of the mean high tide mark adjacent to coastal waters and extending upriver or upstream to the first bridge, additional rules apply.
If you are unlicensed, do not use this approach on properties that are not yours or are open to the public.
Close -
Hire professional help to treat webs out of reach or near hazards on the property you own or manage. Line up help during fall or winter.
Licensed Professional Arborists can remove BTM webs in larger trees and shrubs (October to April).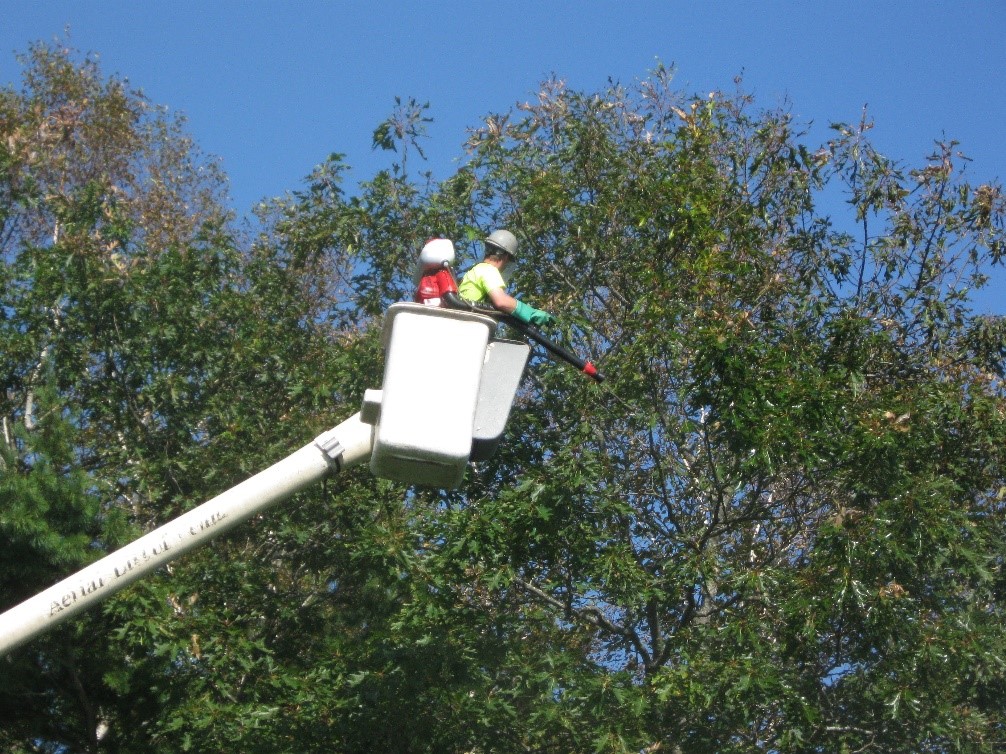 Unmanned Aerial Vehicle (UAV) Operators with an FAA Remote Pilot License may provide services using UAVs with attachments that physically remove webs.There is no requirement that these operators have knowledge of tree care. As in working with any professional, confirm your prospective contractor is adequately insured and qualified to provide the service.
For large trees, there are very limited insecticidal products (PDF) that are readily available to and applied by unlicensed individuals and that can legally be applied to target trees and life stages of browntail moth.** In trees where the caterpillars' hairs cause a nuisance and where it is not practical to remove the webs, Licensed Pesticide Applicators may be able to use insecticides during the growing season to manage BTM.
**Acecaps are not registered for use in Maine because the label does not meet federal standards for pesticide labeling. It is therefore not legal to use Acecaps. The Maine Board of Pesticides Control has provided support to the manufacturer to explain what needs to be changed to come into compliance and encouraged the manufacturer to work with EPA to bring their label up to standards. If we become aware of a change in status, we will update this message. You can check the current registration status by entering the product name in this database.**
Close -
---
Where is Browntail Moth in Maine?
Maine Forest Service conducts surveys for browntail moth from small planes and from moving trucks. These are broad-scale surveys that do not completely cover the impacted area. To understand what is happening in your neighborhood, and whether you are at risk of exposure to browntail moth, learn to recognize browntail moth then inspect the trees around you. The best time of year to do this is in the winter from mid-December through March. Browntail moth is most recognizable at this stage and management can occur or be lined up ahead of the spring season.
Browntail Moth Interactive Map
Citizen Science Survey Protocol
---
For Towns and Organizations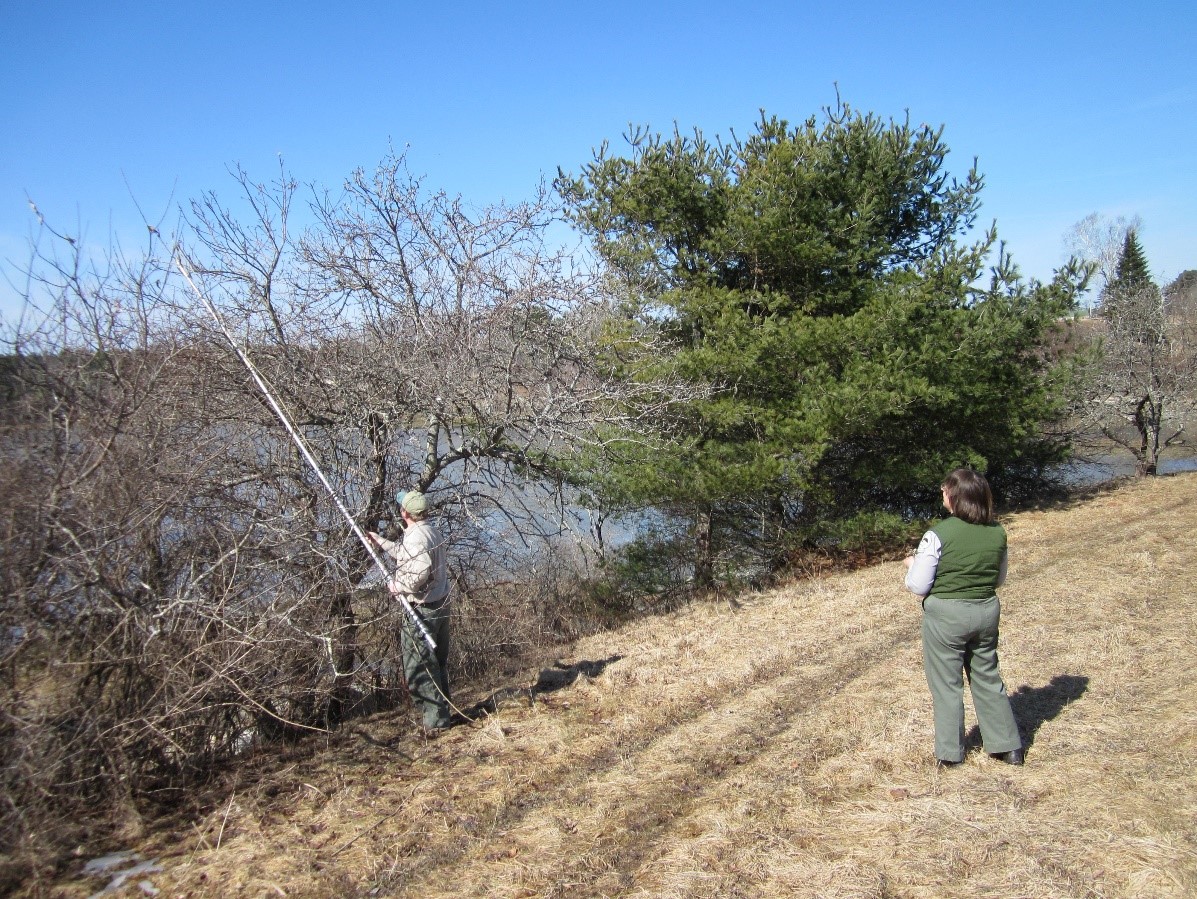 Focus management on populations that will directly impact people, pets and livestock or pose a high risk of contributing to spread.
An interactive map with past survey data was made available in December 2021
Hire professional help to treat webs out of reach or near hazards on the property you own or manage. Line up help during fall or winter.
Click the images below for larger shareable graphics for use on social media.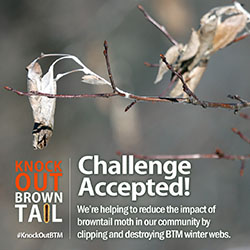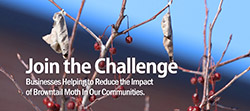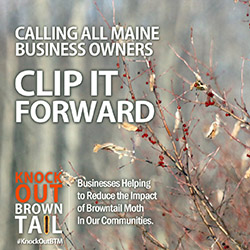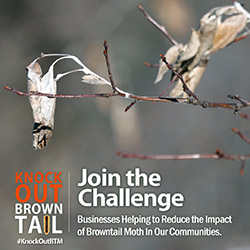 Close -