RVs and Campers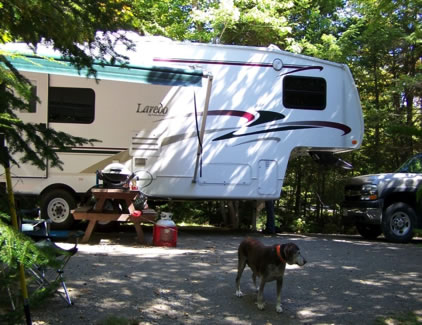 Allowed at all State Park Campgrounds except Warren Island.
Size restrictions are designated on each campground map by these symbols:

S = Small, pop-up or tent up to 20 feet
M = Medium, up to 25-foot camper
L = Large, up to 30-foot camper
X = Extra Large, up to 35-foot camper
U = Greater than 35-foot camper
T = Walk-in tent-only site
RV Dumping Stations
Are available at all locations except Aroostook, Bradbury Mt., and Warren Island State Parks. See the Campground Maps for locations at each park.

Family Campground Site Amenities & Information

Picnic table and fireplace is provided at each of the Family Camping sites.
Pets are allowed at all campgrounds except Sebago Lake State Park Campground. Pets must be kept on a leash under the physical control of the handler and must not be left unattended. Fecal deposits must be cleaned up immediately. Pet owners may be assigned picnic or campsites in a less congested area of the park.
Accessible (ADA* compliant) sites are offered at mainland Family Campgrounds. See the ADA symbols on the campground maps.
*ADA = Americans with Disabilities Act