State Parks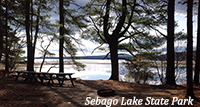 What we do:
Manage Maine's 48 State Parks and Historic Sites, including:

Coastal Parks: Ferry Beach, Popham, Reid, Two Lights, Shackford Head, Cobscook Bay
Lakeside Parks: Sebago Lake, Damariscotta Lake, Mount Blue, Aroostook
Riverside & Waterway Parks: Androscoggin Riverlands, Allagash Wilderness Waterway
Rolling Hills & Mountain Parks: Bradbury Mountain, Mount Blue, Camden Hills, Peaks-Kenny
Island Parks: Warren Island, Eagle Island State Historic Site

Provide thousands of miles of hiking trails, multi-use trails and beaches, plus ocean and lake swimming
Offer Family Camping at 12 State Parks and Group Camping at 10 State Parks
Promote health and nature appreciation through outdoor recreation events and programs. Annual events include:
Generate $100 million annually for the Maine economy. Read the Maine State Outdoor Recreation Plan for more details.
Help over 2 million people each year enjoy Maine's natural heritage
Loon Conservation Plate purchases help support the parks!

Other Publicly Managed Recreational Opportunities in the State:
Please note that State Park Passes are not accepted at these locations.
Our Contact Information:
Maine State Parks, Bureau of Parks and Lands, 22 State House Station, Augusta, Maine 04333-0022
(207) 287-3821