State Comprehensive Outdoor Recreation Plan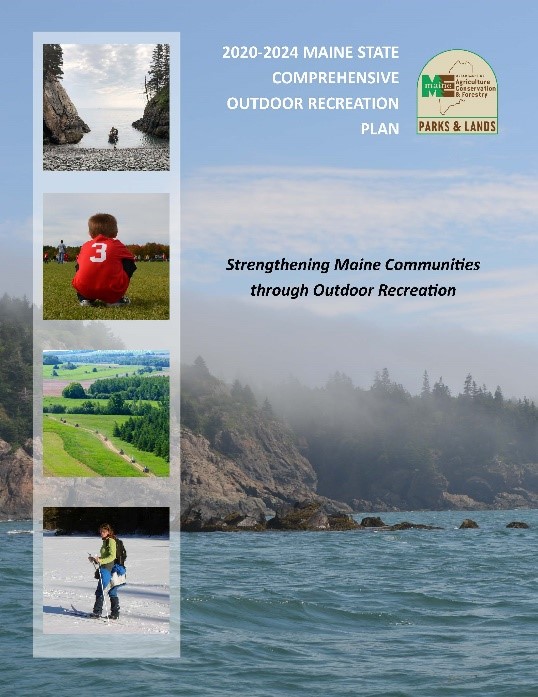 THE 2014-2019 ME SCORP IS NOW COMPLETE
The Bureau of Parks and Lands is happy to present the plan crafted to guide Maine's outdoor recreation priorities for 2014-2019. This plan was based on updated data, public input from a steering committee and most significantly over 16,000 survey responses and comments. The updated plan is shared below.
Final Draft Plan Contents
Maine SCORP 2014-2019 Final Plan (PDF 8.6MB)
Appendix to Maine SCORP 2014-2019 (PDF 1.7MB)
What is SCORP?
The Maine State Comprehensive Outdoor Recreation Plan (SCORP) process and ultimately the final approved plan qualify Maine to receive federal Land and Water Conservation Funds. Additionally, the Maine SCORP satisfies state legislative requirements and helps guide Bureau decision making.
Maine's SCORP identifies the demand for and supply of outdoor recreation areas and facilities based on available information, and discusses outdoor recreation issues of statewide importance based on public input. The plan's Implementation Program suggests broad priorities for expenditure of LWCF dollars in Maine. Additionally, it serves as source material assisting those looking to better understand outdoor recreation needs in Maine and how to align projects with those needs.

2014-2019 Maine State Comprehensive Outdoor Recreation Plan
Steering Committee Members
Rex Turner, Outdoor Recreation Planner (SCORP coordinator, writer), Maine Bureau of Parks and Lands
Katherine Eickenberg, Chief of Planning and Acquisitions, Maine Bureau of Parks and Lands
Doug Beck, Supervisor of Outdoor Recreation (LWCF program manager), Maine Bureau of Parks and Lands
Kaitlyn Bernard, Maine Program Associate, Appalachian Mountain Club
Greg Sweetser, Executive Director, Ski Maine Association
Leif Dahlin, Community Services Director, City of Augusta
Phil Savignano, Senior Tourism Officer, Maine Office of Tourism
Jessica Steele, Director of the Outdoor Adventure Center, Unity College
James Tasse Ph.D., Education Director, Bicycle Coalition of Maine
Greg Shute, Outdoor Programs Director, The Chewonki Foundation
Dan Parlin, President, Topsham Trailriders ATV/ Snowmobile Club
Al Cowperthwaite, Executive Director, North Maine Woods, Inc.
John Daigle, Associate Professor of Forest Recreation Management, University of Maine School of Forest Resources
Judy Sullivan,Program Director, Maine Adaptive Sports & Recreation
For more information:
Rex Turner
Outdoor Recreation Planner
Maine Bureau of Parks and Lands
22 State House Station
Augusta, ME 04333-0022
(207) 441-9152