Colonial Pemaquid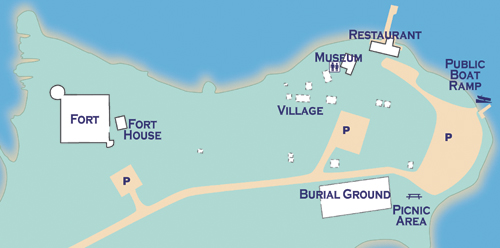 Click here to visit the Research Room and learn more about Pemaquid
Click here to watch Video Clips and learn more about Pemaquid
Home to Native Americans dating back at least seven thousand years, Colonial Pemaquid later became the site of a very early English outpost and fishing station.
Today, Colonial Pemaquid is a State Historic Site owned and managed by the Bureau of Parks and Public Lands, part of the Maine Department of Agriculture, Conservation and Forestry. The Friends of Colonial Pemaquid is a non-profit organization that provides important assistance to the state in caring for and interpreting this site.

Fort William Henry - Built on the site of two previous forts, the stone structure here was built in 1907 as part of the 300th Anniversary of Colonial Pemaquid. It is a replica of the 1692 Fort William Henry, the third fort constructed on this site. The tower of the fort contains interpretive panels and artifact exhibits as well as a beautiful view of the area from the roof.
Fort House - This restored Federal-style home dates to 1790 and contains a research library, archaeology lab, interpretive information and artifact storage from the many archaeological digs that have been conducted at Pemaquid.
Village - This collection of stone building foundations reveals the locations and size of structures from various periods of the village's history.

Burial Ground - Gravestones in this burial ground date back well into the early 1700s and this is likely the site of burials for settlers dating back to the original British arrival in the 1620s.

Museum - The museum houses dozens of exhibits on the history of Pemaquid from ancient Native American life here through the colonial period. It also includes a large diorama of the Pemaquid village.
The Angel Gabriel was a galleon that was destroyed by a hurricane while anchored at Pemaquid in 1635. In 2010, descendants of the survivors dedicated a bronze plaque at the site commemorating the wreck.
A Gift Shop operated by the Friends of Colonial Pemaquid offers history-related items to visitors. It is located in the Fort House.
Colonial Pemaquid is managed with the help and support of the Friends of Colonial Pemaquid.