Maine ATV Program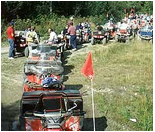 What we do:
Establish trail systems and produce maps
Help solve landowner/user conflicts
Help organize clubs
Provide grants to clubs and municipalities
Provide trail signs and sign guidelines
Provide club and landowner insurance
Most of the hundreds of miles of ATV trails located throughout Maine are on private land and are maintained by local clubs. Cooperative agreements between private landowners, ATV clubs, and the Bureau's ATV Program are key to the success of the trail system.
It is important to note that without the use of private land, most trails wouldn't exist and your ability to ride is a privilege that is granted to you by the landowner. Please respect their wishes and their land as if it were your own. Remember that many of these trails are not open during mud season. Please call ahead before riding in the spring. TREAD LIGHTLY!