News
Untold Secret: Maine Public Lands
Explore the unbelievably beautiful Maine Public Lands. These are magical places in Maine—and they belong to all of us. Watch the new 21-minute short film, or in segments, to begin your virtual journey and plan for your visit to Maine Public Lands.
Campground Reservation's Call Center is Closed for the Season
2020 Camping Reservation Dates for Call Center and Online Reservations
Peaks-Kenny Wins Best Family Campground
Rubys on the Road, a blog written by and for parents with young children who camp, hike and explore the outdoors together, has declared Peaks-Kenny the best family campground! Read their review of this and other sites.
Cold Stream Forest Gets Custom State Heritage Fish Signs
Maine is the last best hope for lake- and pond-dwelling wild native brook trout. With over 600 such waters, we have roughly 90% of what is left in the United States. Continue reading.
2020 Park Passes go on Sale August 15, 2019
The 2020 Maine State Park Pass will go on sale on August 15th. It is a great deal because the 2020 Park Pass is good for the remainder of 2019 and all of 2020; that's sixteen months for the price of twelve months! And, three of the season passes are collector's items - the Individual, Vehicle and Senior Vehicle passes are emblazoned with the Maine Bicentennial logo! Get yours ASAP!
Parks & Historic Sites: Days & Hours
Parks may be visited year-round, from 9:00 a.m. to sunset daily unless otherwise posted. Fees are collected at the booth by staff or through self-service stations.
For current status:
Please call the park or historic site directly.
Park Amenities, such as water, restrooms and buildings, are shut down for the winter season as dictated by weather. Primitive toilets may be available at some locations.
Parking - Most parks and historic sites are not plowed during the winter due to seasonal staffing. A few parks are only plowed when the manager is on duty.
ATV Trails Update
View and subscribe to our list of ATV Trail Notices and check in with local clubs for the most up to date trail condition information.
Drone, Unmanned Aircraft (UAS) Policy
The general use of drones (UAS) is prohibited in Maine State Parks, Historic Sites, or DACF Boat Launches without direct oversight and guidance of an approved law enforcement agency or by the issue of a Special Activity Permit.
Upcoming Events & Activities
Upcoming Public Meetings
No meetings currently scheduled.
commemorating 200 years of statehood


Leave No Trace
SCORP
Learn about the State Outdoor Recreation Plan
Parks and Lands Newsletter
Maine Conservation Corps (MCC)

Help support State Parks and IF&W programs
Purchase a Loon/Conservation License Plate from the Bureau of Motor Vehicles online or at your town office.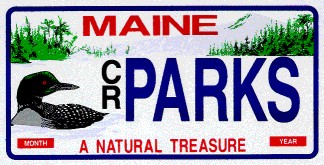 Purchase a Snowmobile Trail Fund Sticker at the IF&W online store.
Your Passport to FUN!