Submerged Lands
Most of the land in Maine that is covered with water is publicly owned.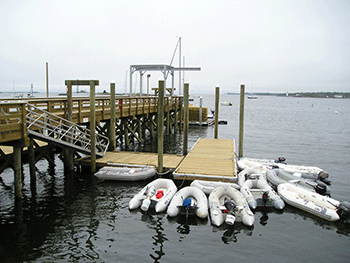 Historically, this public ownership dates back to Colonial times when these lands were reserved as a public trust. That is, everyone had a right to use them for "fishing, fowling (hunting), and navigation." These were considered essential public rights, and the State of Maine has retained these rights, and included public access and recreation, as have most other states.
Piers and other structures located on submerged lands may be privately owned; the land and water beneath them are not.
What We Do:
Administer Submerged Lands Leasing Program.

Provide limited use leases and easements to allow piers and other structures to be built on and over Public Submerged Lands.
For more information view the Submerged Lands Rules (PDF 103KB). (You will need the free Adobe Reader to view this document.)

Administer the sunken log salvage program.

Offering opportunities for qualified companies and individuals to salvage sunken logs from publicly owned submerged lands.
For more information:

Program funds from leasing and log salvage are used to support municipal harbor planning and public access improvements. Learn more about grant opportunities to improve access to Maine waters:
Publicly Owned Submerged Lands - as defined by the State of Maine:
Coastal region (including islands): All land from the mean low-water mark out to the three mile territorial limit. Where intertidal flats are extensive, the shoreward boundary begins 1,650 feet seaward from the mean high-water mark.
Tidal Rivers: All land below the mean low-water mark of tidal rivers upstream to the farthest natural reaches of the tides.
Great Ponds: All land below the natural low-water mark of ponds that are 10 or more acres in size in their natural state.
Boundary Rivers: Land lying between the banks of rivers that form Maine's border with Canada.
Publicly Owned Submerged Lands - do not include:
Beaches or other shoreland that is covered by water only at high tide
Land that has been flooded by dams
Land beneath ponds that are less than 10 acres in size, or
Land beneath non-tidal rivers that do not border Canada
A Lease or Easement is Required for structures located on submerged land that are:
Permanent
Seasonal (in place less than 7 months) and larger than 2,000 square feet that are used for commercial fishing purposes
Seasonal and larger than 500 square feet that are used for residential or for commercial purposes other than fishing
Pipelines, utility cables, outfall/intake pipes, and dredging.
To Qualify for a Lease or Easement:
Proposed use cannot have adverse impacts on:

Access to or over the waters of the State;
Public trust rights - fishing, waterfowl hunting, navigation, and recreation; and/or
Services and facilities for commercial marine activities.
Lease or Easement?
The size and nature of the project determines whether a lease, which has an annual rental fee, or an easement, which has a registration fee, is required.
The Bureau will usually not approve leases or easements for:
Filling submerged land
Activities that could take place on the upland such as offices, parking space, restaurants, or residences
The Bureau may place special conditions on the terms of a lease or easement when traditional and customary public uses are diminished. Projects may be required to include public walkways or boat ramps; navigational improvements; publicly accessible space for fishing, sight-seeing, waterfowl hunting, or recreation; and/or protection of important commercial fishing and water dependent activities.
Structures that were in place prior to October 1, 1975 were granted constructive easements that expired on September 30, 2005. New leases or easements from the Bureau are required to legally occupy the submerged lands where the structure is located. Applications are available from the Bureau to replace constructive easements with a new lease or easement.
Fees:
Annual lease fees are set by statute and are based on the type of use, property values, and the amount of submerged land area occupied.
The minimum annual lease rent is $150.
Easements require a $50. registration fee every five years.
For Lease Application process, including related fees, and information regarding the management of submerged lands:
Application Forms are available from the Bureau of Parks and Lands.
For more information about submerged lands, contact:
Submerged Lands Program
Maine Bureau of Parks and Lands
22 State House Station
Augusta, Maine 04333-0022
Telephone: (207) 287-3821
Fax: (207) 287-6170