The Burying Ground at Pemaquid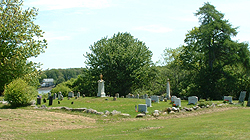 Gravestones in this burial ground date back well into the early 1700s and this is likely the site of burials for settlers dating back to the original British arrival in the 1620s. Staff at the park have been cataloguing the stones and the families interred here so that relatives and researchers can look into the history of past inhabitants of Pemaquid.
Very likely, villagers from the 17th century also buried their dead in or near the present graveyard, although the oldest graves were marked with field stones and wooden markers, long since rotted away. Many field stones still indicate where unknown settlers were buried. One gravestone mentioned in John Cartland's Twenty Years at Pemaquid, but of unknown location now, was believed to be that of Sergeant Hugh March, a member of Fort William Henry's garrison, killed on September 9, 1695. The earliest slate stone found in the burial ground belonged to Mary Mors, who died in 1734. The original cemetery is believed to have been much larger than the present area, which was first fenced in by James Partridge circa 1847.
Although many families may have established small plots on their own property, the graveyard probably remained the preferred burial ground of village inhabitants throughout the 18th century. One of the more notable graves is that of Alexander Nichols Jr., son of one of Fort Frederick's last commanders. He and his family were also the first documented occupants of the Fort House. Descendants of the Partridge family continue to be buried in the current cemetery.
The Division of Parks and Public Lands does not own the cemetery. It is owned by a private cemetery association. Visitors are encouraged to appreciate and photograph the old stones with their interesting designs of willows and death's heads and decorative borders. However, the making of gravestone rubbings is prohibited because of the damage it causes to the fragile stones.