The Wreck of the Angel Gabriel, 1635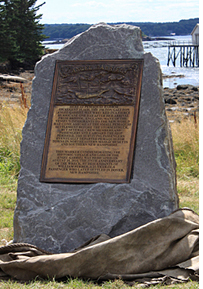 A plaque commemorating the shipwreck was placed at Colonial Pemaquid in 2010.
The Angel Gabriel was a 240 ton galleon carrying settlers to new lives in New England in August 1635 when it anchored at the village of Pemaquid. Most of the passengers and crew got off the ship before nightfall to rest on land as guests of the villagers. That night, August 14-15, a storm later known as "The Great Colonial Hurricane" struck the area and the Angel Gabriel was torn from her anchors and destroyed.
In the nid 1970s efforts were made to locate the wreck in Pemaquid Harbor with divers and a magnatometer and sideccan sonar but no artifacts form the ship were ever located.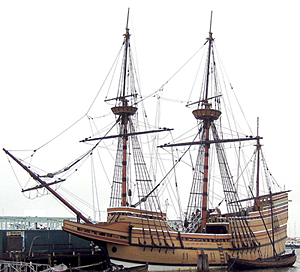 The Mayflower II at its home dock in Plymouth
The Angel Gabriel was very similar to the Mayflower but eighteen feet longer and bearing four more gun ports per side.
Today, several descendants of the survivors of the wreck belong to family associations and occassionally hold reunions. In August 2010, many of these descendants gathered to dedicate a bronze plaque at Colonial Pemaquid commemorating the wreck on its 375th Anniversary.
Beginning in the summer of 2011, the museum at Colonial Pemaquid will display a trunk that went down with the ship and was found floating the next day. It belonged to a passenger named John Cogswell and his descendant of the same name has agreed to loan the trunk for display.