The Forts at Pemaquid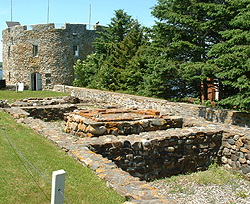 The stone tower and walls at Colonial Pemaquid are a 1908 partial reconstruction of Fort William Henry. The original structure was the second of three forts built on this site. The bastion of the fort contains interpretive panels and artifact exhibits as well as a beautiful view of the area from the roof.

The first fort at this site was Fort Charles, a wooden stockade structure built in 1677 and destroyed in 1689 by native Americans allied with the French.
The Colony of Massachusetts built Fort William Henry in 1692 as protection for its eastern frontier. However, Native Americans destroyed it as well in 1696.
British Col. David Dunbar built Fort Frederick in 1729 on the ruins of Fort William Henry. It was maintained by the British until 1759 when it was abandoned and fell into ruin.
Private interests reconstructed a portion of Ft. William Henry, still present today, in 1908. The area to the right of the bastion door shows a mixture of structures from both Fort William Henry and Fort Frederick excavated by archaeologists.