Swan Island Wildlife Management Area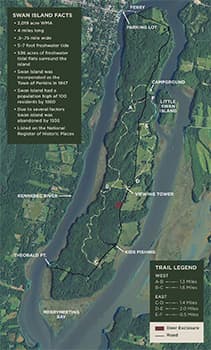 Explore with us!
Swan Island, at the head of Merrymeeting Bay, welcomes hikers, campers, birders and explorers to its shores for an unforgettable Maine experience.
Board our ferry for the five-minute ride across the Kennebec River to your remote getaway…close to home. Once on the Island you can begin your exploration or travel in our tour truck to the campground. From here explore the campground area and homes, rent a kayak to explore the islands, walk the scenic gravel road to Theobald Point, or begin exploring 7-miles of hiking trails.
Make your reservation now!
Call: 207-287-5322
Email: Swan.Island@Maine.gov or mail: reservation form (PDF)
More information:
On-Site Conveniences
10 Adirondack shelters in a grassy field overlooking Little Swan Island and Kennebec River
Fire pit and picnic table at every site
One group site
Drinking water
Picnic shelter
Clean, modern restrooms
Utility/dish room
7 miles of hiking
4.5-mile dirt road for hiking/biking
Canoe & Kayak rentals
Fishing pond for kids under 16 - fishing gear provided!
Wildlife viewing tower
Swan Island Events
View details and all upcoming events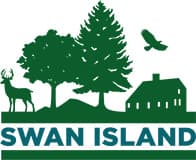 Directions & Map
To get to Swan Island, take Route I-295 to Exit 43 (Richmond/Litchfield). From the exit, follow Route 197 East for approximately 3 miles to Richmond Village. Turn left at the intersection of Routes 197 and 24. The Swan Island parking lot, marked with a brown State of Maine sign, is immediately on your right, next to the brick Richmond Utilities District building.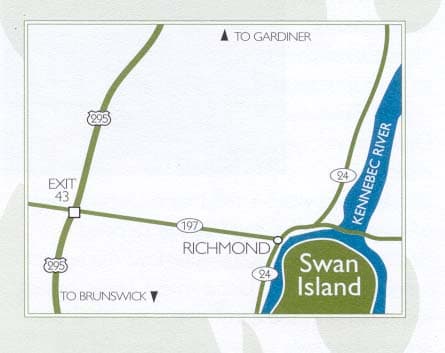 Download topographical map of Swan Island (PDF)