Getting Here & Fees
Season Dates
Swan Island is open to camping and day use from May 1-October 30! Camping is first-come, first served and we do not accept reservations. Visitors are responsible for accessing the island on their own by canoe, kayak, or boat and must carry out all trash.
Directions
For GPS: 7 Swan Island Landing, Richmond, ME
Take Route I-295 to Exit 43 (Richmond/Litchfield).
From the exit, follow Route 197 East for approximately three miles to Richmond Village.
Turn left at the intersection of Routes 197 & 24.
The Swan Island Parking lot is immediately on your right and identified with a large State of Maine sign.
From the parking lot you will paddle yourself to the island.
Self-access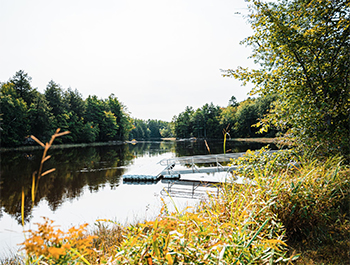 Paddle your canoe or kayak to the main island landing (5-minute paddle) or about a 30-minute paddle to the campground on the east side. If you prefer to paddle across the river to the main island landing you will hike 1.5 miles to the campground.
Kayak and canoe rental options (delivered to parking area on mainland):

Please note, the docks at the mainland and island landings are for department use. Be sure to pull any watercraft above the high tide line and out of the way of access for other users. If you would like to access with a motor boat, please call ahead to confirm if dock space is available at the campground. A map of the island showing landing sites is available for download (PDF).
Richmond Tide Chart and Richmond Weather