Getting Here & Fees
Season Dates
Swan Island is closed for the season! Visitors may continue to self-access the island and deposit the day use fee in the repository upon arrival.
Directions
For GPS: 7 Swan Island Landing, Richmond, ME
Take Route I-295 to Exit 43 (Richmond/Litchfield).
From the exit, follow Route 197 East for approximately three miles to Richmond Village.
Turn left at the intersection of Routes 197 & 24.
The Swan Island Parking lot is immediately on your right and identified with a large State of Maine sign.
From the parking lot you will take the ferry or paddle yourself to the island.
Self-access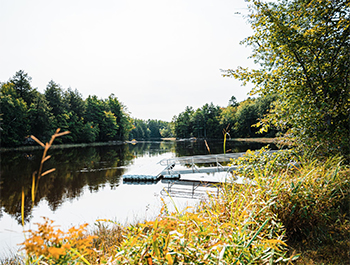 Paddle your canoe or kayak to the main island landing (5-minute paddle) or about a 30-minute paddle to the campground on the east side. If you prefer to paddle across the river to the main island landing and take the trolley ride to the campground you can do so by calling or emailing us to add that to your reservation. Available trolley times are 9:15, 12:15, and 3:15. Reservations are not required for day use.
Kayak and canoe rental options (delivered to parking area on mainland):
Seaspray Kayaking & Paddlingboarding – Brunswick: (207) 404-1100
Webb & Sons Rentals – Readfield: (207) 200-8230
Midcoast Kayak – Damariscotta: (207) 563-5732

Please note, the docks at the mainland and island landings are for department use. Be sure to pull any watercraft above the high tide line and out of the way of access for other users. If you would like to access with a motor boat, please call ahead to confirm if dock space is available at the campground. A topographical map of the island showing landing sites is available for download. Download Topographical Map (PDF).
Fees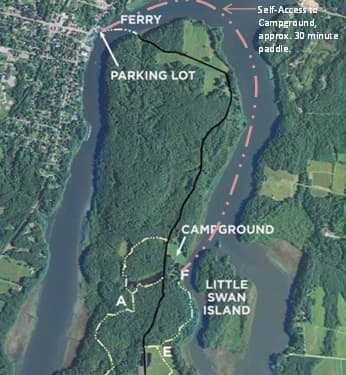 Day Use
$8 per person (please deposit in the iron-ranger on the island)

Camping
$30 per site per night
Group site: $60 per night for 20 people
Picnic Shelter Rental $20
Canoe/Kayak Rental - $10/hr or $35/day (available at campground)
Firewood - $8/bundle
For more information call 207-287-5252.