All-Terrain Vehicles (ATV)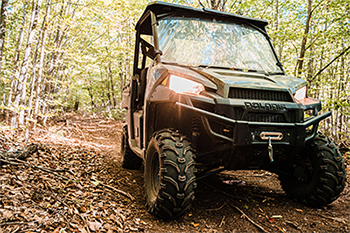 Riding an ATV is an exciting way to explore the beautiful State of Maine. But Maine's thousands of miles of ATV trails across the state wouldn't be possible without dedicated ATV clubs and the generosity of private landowners – 80 percent of the state-supported ATV trail system resides on private land.
Do your part to keep Maine's ATV trails open for generations to come:
Stay on marked ATV trails. ATV trails have green and white signs. Not all snowmobile trails are ATV trails.
Respect closed trail signs.
Never drink and ride.
Drive to the right and at an appropriate speed.
Tread lightly – Don't tear up the trail!
Remember that modified exhausts are illegal.
Be respectful on ATV access routes – Yield to all traffic and never pass a vehicle.
Register your ATV. It is required and helps pay for trail maintenance and support.
Support a local ATV club by donating your time and/or money.
---
Registration
All ATV registrations expire June 30.
Maine residents may renew an ATV registration online. New registrations must be done through a registration agent such as a town office or the MDIFW main office in Augusta.
Nonresidents may register or renew an ATV registration online.
This online service allows you to register your ATV with the State of Maine. Following your transaction, you will receive a confirmation page to print for immediate use. Your official registration and stickers will arrive at the shipping address specified within thirty days.
Registrations may also be obtained from some licensing agents or by mail.
Agents may charge a fee of $1 for renewals and $2 for new registrations.
Fees
Residents
Nonresidents
Antique ATV**
$70*
Prior to registration, sales or use taxes are due.
Season: $115*
7-Day: $100*
$45*
Residents** & Nonresidents
The season registration for an ATV is valid for one year, commencing on July 1st of each year.
* Plus agent fee
** Antique ATVs must be registered through the MDIFW Augusta office (in-person or via mail).
New registrations only - Beginning May 1st of each year, registrations will be valid from the date of issue through June 30 of the following year.
Proof of payment of sales tax required on first time registrations or proof of prior registration (Maine residents only).
---
Maine's State ATV Program
Maine's state ATV program is critical to the economics of many rural Maine communities. It provides a funding mechanism for ATV clubs to work with landowners and provides a trail network that is attractive to both resident and non-resident ATV enthusiasts. Governor Mills convened an ATV Task Force in 2019 and in 2020 the Task Force provided several focal points as initiatives to keep the world of ATVing in Maine a success.
Where does your ATV registration money go?
When an individual registers their ATV in Maine, the registration fee is currently split between two state agencies: the Maine Department of Inland Fisheries and Wildlife for safety education, law enforcement, the state's landowner relations program, and administrative processing of registrations; and the Off-road Recreational Vehicle Office of the Maine Department of Agriculture, Conservation and Forestry (ACF)'s Bureau of Parks and Lands, which is charged with establishing a statewide trail network, providing development and maintenance grants to clubs and municipalities, conducting landowner relations, and coordinating and supporting ATV clubs. For every ATV registration purchased, over 2/3 of the fee goes directly into the trail maintenance fund.
What are ATV trail grants?
ATV Trail grants are funded through a portion of registration fees for creation, improvement, and maintenance of local trails. Grants can be issued directly to an ATV club or through a municipality or county, with conditions attached to either option. Once the work is completed, the club or municipality is reimbursed (100% for club grants and 90% for municipal grants). A reimbursement of $500 per year for landowner relations initiatives or events is also available with either grant type.
How do ATV clubs contribute?
Clubs are critical to Maine's ATV program, and at the heart of its success. They apply directly for club grants and often are appointed to carry out municipal grant work. When constructing or maintaining trails, clubs pay for the entire expense upfront and then are reimbursed with grant funds. Clubs provide a valuable link between ATV riders, businesses, landowners and first responders. The future of ATV riding depends upon more people joining clubs, to grow on a wider and more consistent scale the professionalism and service-minded values that well-trained volunteer members demonstrate in the following ways:
Trail Stewardship
Club members work with landowners (public and private) to locate, design, construct, map, and maintain trails. This includes weekly monitoring (checking general condition and ensuring there is no environmental damage from off-trail riding, etc.) and routine maintenance (clearing brush, filling small holes, small culverts, etc.).
Landowner Relations
Clubs are the initial contact with local landowners and the main contact to establish, close, and relocate trails. They also help find and provide solutions that address landowners' needs.
Emergency Assistance
ATV club members know their trails inside and out, and often step in to provide equipment, personnel, and guidance for first responders. They also help to identify and locate problem users.
Rider Education and Outreach
ATV club members promote safe, ethical, environmentally sound riding and positive landowner relations, leading by example and through education/outreach. Their communication methods include publishing newsletters, newspapers, and social media communications; conducting safety and maintenance clinics; and sponsoring ATV outings.
GPS Recording and Mapping
ATV clubs help collect GPS data on their trail system so it can be accurately mapped for insurance protection and to provide guidance to users as well as landowners and first responders.