Fishing Report
Click the links below for the most up-to-date fishing news and suggestions from Maine's fisheries biologists.
Before you head for a day of ice fishing, ALWAYS tell someone where you are going and when you will return. Please enjoy the Maine outdoors safely and responsibly!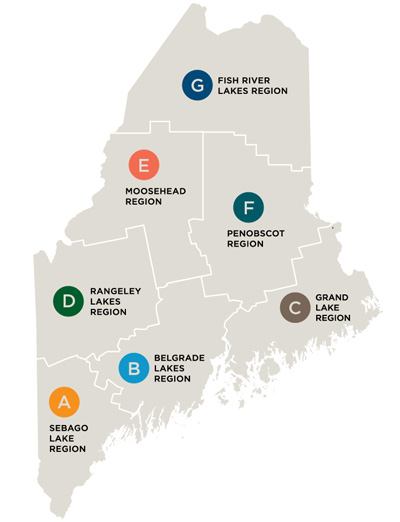 Sebago Lake Region
From Fisheries Resource Supervisor James Pellerin
Where to fish: May is probably one of the best months of the entire year to fish for coldwater species in southern Maine, the water is starting to warm up and trout/salmon whether stocked or "wild" are going to be more active.
In addition, the hatchery trucks are rolling and will continue to stock waters throughout the month. Rather than name specific streams/rivers, check the annual stocking report for your local area on our website and go try some places. Although we do not list the actual stocking sites, on streams we typically stock most of the major road crossings in the listed town and/or the tailraces below many of the dams. Streams are a good place for beginners with more limited gear and equipment (no watercraft required).
For lake and pond fishing, it's a great time to target salmon and lake trout on waters like Auburn, Sebago, and Thompson Lakes. Lake and pond fishing for brookies, browns, and rainbows will also be quite good for the entire month. Smaller ponds with good shoreline access are good for beginners or kids (i.e. try the Otter Ponds 2 and 4 in Standish). For warmwater fish enthusiasts, bass will begin moving into shallower waters and towards the end of the month begin spawning. Spawning bass are quite aggressive, an easier target for beginners and still exciting for those that have been fishing for decades!
Fishing tip: Trolling is very effective for lake and pond fishing, and with the warmer temperatures you can migrate from the very effective slow troll with bait (still works) and speed up with the use of lures and streamer flies allowing one to cover more water. While fish can suddenly be on the bite at any time, there is a lot of truth to the old adage, "The early bird gets the worm." Some of the best spring trout and salmon fishing often occurs from dawn to 8:00 AM, and dusk is also a good bet.
Reminder: Stay safe, wear a life preserver when in any type of watercraft. The water is still relatively cold and the potential for hypothermia remains high despite the warming air temperatures. Stream and river systems can run swifter than normal, so wade carefully. As always, check the fishing laws as they vary from water to water depending on the specific management objectives developed for the water.
Belgrade Lakes Region
From Fisheries Resource Supervisor Jason Seiders
Where to fish: A good number of central and midcoast Maine rivers are heavily stocked every spring. These rivers offer anglers great opportunities to fish for brook trout and brown trout and you don't need a boat to land some beautiful fish. Trout are stocked at most of the road crossings on these rivers and that's where you'll find the best public access. Here is a list of rivers and streams that offer great spring trout fishing opportunities:
Nezinscot River (Turner)
Messalonskee Stream (Oakland, Waterville)
Pemaquid River (Bristol)
Medomak River (Waldoboro)
St. George River (Union, Searsmont, Appleton)
China Lake (China) – We've received reports about nice brown trout on China Lake in recent months. Anglers report browns up to 20-inches, so you could land some very nice fish. In addition to brown trout, China supports a tremendous bass population with some trophy size largemouth. White perch are very abundant in China Lake and anglers will begin finding them concentrated in areas with some flow as they begin to spawn. After the spawn is over white perch can be found virtually anywhere in the lake.
Togus Pond (Augusta) – Togus Pond offers a wide variety of fishing opportunities. A newly-built boat launch allows great access for brown trout and bass fishing on Togus. In addition to the trailered launch on Togus Pond, we now have carry-in access available to both Togus Pond and Lower Togus, located just off Route 105. This newly-built family fishing site near the Route 105 crossing is truly one of a kind, accommodating anglers with a wide range of mobility limitations and it provides an opportunity to fish from the shoreline. The fishing area is large so anglers have plenty of room for casting and landing their catch. Though this area was specifically designed for anglers with physical limitations and families, it's open to anyone that wants to wet a line.
Fishing tip: Presentation can often be the key to improving your angling success. Try to minimize the "unnatural" in your gear. Keep hook sizes appropriate for the species you're targeting; don't use a size 2/0 hook for brook trout. Minimize the use of swivels, if possible. Many lures, like jigs and even snelled hooks with worms, don't require a swivel. If you need a swivel for lures like spoons or other hardware, try using small, black barrel swivels and keep them a foot or so above your lure or bait. Connect the swivel to your hook with fluorocarbon leader, which is nearly invisible under water. This type of rig means you'll need to cut-and-tie when you change lures, but it will be worth the work. Finally, choose the right pound test for your line. Heavy line is more difficult to cast and it can greatly impact bait presentation and hook sets. Keep your line as light as possible and make sure you know how to use the drag settings on your reel.
Reminder: Please be respectful of fishing access areas. Don't rip up access roads or leave trash behind. These are sure-fire ways to lose access, especially when that access is granted by a private landowner.
Feel free to contact us with any questions you may have. We enjoy helping anglers have a successful trip!
Grand Lake Region
From Fisheries Resource Supervisor Greg Burr
Area locations for anglers who do not have boats that would like to take advantage of Downeast Maine's terrific May fishing are as follows: Wading and bank fly fishing for landlocked salmon and brook trout at Grand Lake Stream and for youths wanting to fish with flies, lures or worms for brook trout, the nearby Grand Lake Stream Canal is the place to go. Fishing off the Route 1 bridge in Princeton for white perch is great fun in May. Fishing on the West Branch of the Union River at Goodwin's Bridge on Route 181 or at Mariaville Falls, located just up the road at the falls parking area is very productive in May for smallmouth bass. Anglers can also have some great brook trout fishing by fishing just below the Alamoosook Dam in Orland off the Mast Hill Road, casting for trout at Simmons Pond in Hancock off the Washington Junction Road, West Pike Brook Pond on the Deblois blueberry barrens, or off the bank at Simpson's Pond at the Rogue Bluffs State Park.
For fly anglers fishing the rivers and streams for brook trout, my favorite fly is the Woods Special. For pond brook trout fishing my favorite fly is the Micky Finn. For catching a brook trout with lures my favorite lure as a kid was the gold Phoebe. If you are looking for a remote brook trout experience, I highly recommend fishing Salmon Pond in T 10 SD. You get to this hike in water off the Tunk Mountain Trail off Route 182. Remember to dress warm as May can be cold month and always wear a life jacket around May's 50 degree waters.
Rangeley Lakes Region
From Fisheries Resource Technician Tyler Grant
Where to fish: May in the Western Mountains of Maine starts with snow on the ground and ends with fields full of grass and leaves on the trees. It's a month of transitions and about the best time of the year to get out and fish.
Early spring trolling on lakes like Clearwater Pond in Industry, Embden Lake in Embden, and Varnum Pond in Temple, can prove to be very successful in those lakes which are sometimes known to be slow fishing. All three of these waters have convenient boat launches and excellent natural forage. Trolling a sewn smelt or a streamer slowly near the surface early in the season can give you an edge in these waters. All three of these lakes have high quality landlocked Atlantic salmon populations and abundant lake trout populations.
Anglers who are looking to fish from shore have plenty of opportunities in the Rangeley Lakes Region as well. May is one of the best months to fish small streams and Berden Stream and Mountain Brook in Township D, just north of Byron, are excellent wild trout streams with some fantastic views of the western mountains. Angel Falls on Mountain Brook has a 90-foot drop, one of the highest single drops in Maine, making it a great side trip. Further south in Byron and Roxbury, the Swift River below Coos Canyon holds stocked populations of brook trout, brown trout and rainbow trout making a funadventure for several different species. Above Coos Canyon, the East and West Branches, as well as the main stem of the Swift River hold wild brook trout and are easily accessible.
Fishing Tip: In May the fish are hungry, but the water is still cold and there is an abundance of wild forage. Making your bait or lure match the natural food available is the best chance for getting a bite. Slow retrieves on lures or flies, and slow trolling speeds can be more productive.
Reminder: Remember to always check the fishing regulations when venturing to a new area. The Fishing Laws Online Angling Tool (FLOAT) available on the Inland Fisheries and Wildlife website is an excellent tool especially for checking the regulations on new streams. You can access FLOAT at mefishwildlife.com/float.
Also remember your preferred type of insect repellant. May is black fly month in the State of Maine. Many anglers will tell you that if you aren't swatting black flies, you are fishing in the wrong spot. A good insect repellant or a bug proof shirt and hood can make a spring angling adventure much more enjoyable.
Moosehead Region
From Fisheries Resource Technician Stephen Seeback
Where to fish: Mud season is in full swing in the northern part of the Moosehead Lake Region, although waning south of Greenville. While writing this report, we still have snow in the woods north of Greenville and dirt roads are still soft and muddy. Please respect private landowner roads while accessing public waters this spring. The privilege to travel these byways are important in managing Maine's public waters. If roads are impassable chose a different fishing destination until these conditions improve.
Some early season fishing destinations to consider for anglers who do not have boats are not limited to shoreline fishing at public boat access locations. Although these can be great places to try during the early season. These locations are where many of the Department's spring fish stockings occur and fishing can be good until stocked fish disperse from those locations. I am talking about the thousands of miles of rivers and streams found in the region, 4,180 miles to be exact. The Moosehead Lake Region is located at the headwaters of the Kennebec, the West Branch of the Penobscot, the Piscataquis, the Pleasant, and Saint John rivers. These main stem rivers account for 330 miles, into which flow 3,850 miles of smaller tributaries. Many of which provide seasonal brook trout fisheries that can be accessed by the thousands of miles of commercial forest dirt roads. There is no better time of the year to fish these smaller tributaries with their culvert pools and boggy areas found along the backcountry roadways of Somerset and Piscataquis Counties. Plentiful amounts of cold-water runoff from melting snow and spring rains allow the benefit of our cold-water species like brook trout and salmon to be found in places they may not be found during other times of the year. The accurate placement of a delicately casted worm (AKA: garden hackle) in what appears to be a roadside ditch might surprise beginner anglers and seasoned fish story tellers alike. Other likely locations to fish in the spring are around inlets which can be quite productive when the smelt are running.
Fishing tip: A short rod is the best choice when fishing small streams with overhead canopy or lots of snags and blowdowns. It will allow you to cast more easily in these congested locations. During the early season the "go to" bait for my kids and I are worms. They can be easily found and work quite well. They can be purchased at most gas stations, convenience stores, as well as local tackle and bait shops. Bobbers or a fishing float while fishing with worms may be beneficial for beginners since it will help keep the bait from getting stuck on the bottom. We also like to use small spinners and lures. We find that a slow retrieval works best this time of year. Just fast enough so that the spinner blade is turning, or a lure/spoon has a slight wobble. Great options are small Panther Martin spinners, Rooster Tails spinners, Mepps Aglia spinners, Rapala floating lures, Phoebe spoons, and let's not forget about the old Super Duper! All of which come in a variety of colors and sizes.
Reminder: Know before you go! Before organizing and packing your fishing gear for a trip north or digging up those worms from mom's garden, with permission of course, familiarize yourself with the fishing regulations in the area you are planning to fish. You can download a PDF of the 2022 Maine Inland Fishing Laws at mefishwildlife.com/laws to your smart phone. So, the next time you head into the backcountry and lose cell coverage you have a copy of the law book at the ready. This in addition to a Delorme, "The Maine Atlas and Gazetteer", you should be ready to explore the endless flowing water fishing opportunities that await you this spring in the Moosehead Lake Region.
Penobscot Region
From Fisheries Resource Supervisor Kevin Dunham
With many of our larger lakes ice free by mid-April, open-water fishing action is just getting good with increasing water temperatures in May. While the ice went out on several regional lakes before the end of April, fishing has been somewhat slow during the seasons' "If you're itching" infancy. However, I've heard firsthand from some dedicated anglers that action is starting to pick up while trolling for salmon and togue.
If you've got spring fever and itching to get trolling for coldwater gamefish think of heading to Duck Lake in Oqiton Twp. Duck Lake is stocked each spring with landlocked salmon and the action can be remarkable, especially once the water warms a bit towards the middle of May. The Department of Agriculture, Conservation, and Forestry Bureau of Parks and Lands maintains a boat launch and camping area on the eastern shore of Duck Lake. Follow the link for more information: https://www.maine.gov/cgi-bin/online/doc/parksearch/details.pl?park_id=49
Don't have the set-up for trolling? You can still get in on the spring fishing action for brook trout, particularly at Loon Pond (T40 MD), Crystal Pond (T40 MD), or Trout Pond, also in T40 MD. All these ponds have an area to launch a kayak or canoe, are stocked with brook trout, and can be fished from shore as well. The fishing can be really good in these ponds, specifically early in the season, as they are all closed to ice fishing and the trout are looking for an easy meal.
If river fishing is more your thing, the Mattawamkeag River in the towns of Haynesville, Bancroft, and Drew Plt. has several convenient canoe and kayak access points. River flows should be favorable in May and water temperatures will continue to warm providing great early season brook trout action. The portion of the Stillwater River in Orono from Stillwater Ave. downstream to the Penobscot River offers bank-fishing opportunities as well as canoe and kayak access. Both the Mattawamkeag River and Stillwater River will be stocked this spring with brook trout in the 10" range. Be sure to check out the current fish stocking report on our website for daily stocking updates to help plan future fishing outings: https://www.maine.gov/ifw/docs/current_stocking_report.pdf
Looking to take a youngster fishing or introducing them to the sport for the first time? There are several special "youth only" fishing waters in the Penobscot Region and each one stocked with brook trout. April and May are prime time to take advantage of these waters, once they become ice-free and get stocked the fishing can be steady enough to hold a youngster's interest; rivaling their favorite video game. Milo Farm Pond (Milo), Edwards Family Kids Fishing Pond (Lincoln), Rocky Brook (Lincoln), Burlington Fire Pond (Burlington), Hannington Pond (Reed Plt.), and Jerry Pond (Millinocket), as well as portions of Mattagodus Stream (Springfield), and Cold Stream (Enfield) are all great places to teach a youngster about fishing and the outdoors.
Fishing tip: Early spring ice-out conditions is a perfect time to try trolling for salmon. Using a 9-foot fly rod with a tandem fly pattern such as a grey ghost or maple syrup, or even a live sewn-on smelt, trolled slowly on the surface before temperatures warm and fish seek deeper water can be quite an experience. Whatever you favor for bait, a life jacket should be the first piece of equipment you grab whether you're heading to a favorite ice-out lake or discovering a new one.
Fish River Lakes Region
From Fisheries Resource Supervisor Frank Frost
Ice outs have begun in southern Aroostook County as of April 24. Houlton area waters are now ice free and we expect the ice out line to move north quickly. Anglers should expect ice outs in most waters by about May 3. Northern Aroostook also still has a considerable snowpack especially in the heavy wood cover with snow depths of 20 inches measured recently. Road conditions within the industrial forestland will be tenuous for a couple of weeks so plan your angling trips according to reports from authorities.
Places to fish: There are many brook trout waters in southern and eastern Aroostook County that are popular with anglers during the early season, soon after ice out. A few noteworthy ones are:
Timoney Lake, Oakfield (shore angling available)
Nickerson Lake, New Limerick
Carry Lake, Littleton
Conroy Lake, Monticello
Hanson Brook Lake, Presque Isle (shore angling available)
Echo Lake, Presque Isle (shore angling available)
Nadeau Lake, Fort Fairfield (shore angling available)
All of these waters are stocked with brook trout and can have great early season action. Waters with some bank angling opportunity are noted for those who prefer to fish from shore.
Fishing tip: The best option for early season fishing gear is to go with natural baits where allowed by rule. Garden worms or crawlers and live baitfish, especially rainbow smelt, are most productive now. Fish these terminal gear choices deep and slow or very close to shorelines where trout and salmon are actively feeding this time of year.
Reminder: We are actively seeking anglers who want to volunteer their time in providing records of their fishing activity. There are a number of waters in Aroostook County where we are interested in gathering more information. If you fish regularly in northern Maine, please drop me an email at frank.frost@maine.gov and I'll provide more information. These voluntary records can be highly valuable in managing our fisheries.