Fishing Report
Click the links below for the most up-to-date fishing news and suggestions from Maine's fisheries biologists. The December and January fishing reports list several small bodies of water that typically freeze first, but it is up to you, the angler, to test for ice safety. Remember to always use extreme caution when venturing onto Maine's waterways. Accessing lakes and ponds should be avoided unless you can be certain of ice conditions by checking ice thickness. Before stepping out, use a chisel or auger to test ice thickness in several places. Remember that ice seldom freezes uniformly and conditions are always changing and can vary from one location to the next. Ice that forms over flowing water and currents, especially near streams, bridges and culverts, can be particularly dangerous. We hope you have a great ice fishing season! Learn more about ice safety.
Before you head for a day of fishing, ALWAYS tell someone where you are going and when you will return. Please enjoy the Maine outdoors safely and responsibly!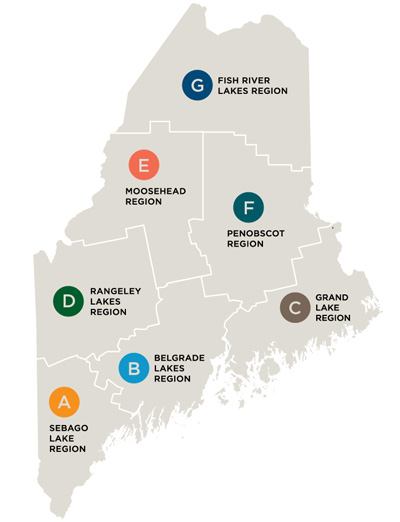 Sebago Lake Region
January
From Fisheries Resource Supervisor Jim Pellerin
Where to fish in January: For the earlier part of the season, December through mid-January, anglers should target smaller-medium sized waters (<1,000 acres). Waters in this category generally have safer ice, and in this part of the state many of the larger waters like Thompson Lake, Kezar Lake, Great East Lake, etc. don't fully set-up with ice until the second or third week in January. Sebago is typically our last lake to get ice and it often does not fully set-up, although areas like Jordan Bay and the Station typically have fishable ice for a good portion of the season.
Brook trout and/or salmon are great early season species to target. Check the annual stocking report online for fall brook trout stockings to narrow down your list of places to try, these fall stockings are numerous throughout the region and there is sure to be a few waters close to home. Some good bets for early season salmon in the region include: Mousam Lake (Shapleigh), Moose Pond (Bridgton), Kezar Lake (Lovell), Keoka Lake (Waterford), and Bryant Pond (Woodstock). Rainbow trout are also a good early season species, but they also tend to persist longer into the season than either brook trout or salmon. Some good waters for rainbows include: Stanley Pond (Hiram), Kennebunk Pond (Kennebunk), Crystal Lake (Gray), Middle/Upper Range Ponds (Poland), and Worthley Pond (Peru).
Fishing tips: Timing is important for success. Don't miss the early season for brookies and salmon, these species are very vulnerable to ice fishing and their numbers diminish quickly as the season progresses. You can target other salmonids like rainbows, browns, and lake trout later in the season. Also, the early bird gets the worm! While the bite for salmonids can get hot at various times throughout the day, early morning fishing (dawn-8:00 AM) is generally the best.
Rainbows are a different critter, while they can be caught on live fish and tip ups, other forms of bait (worms, crawlers, salmon eggs, artificial baits) fished on or just off the bottom in ten feet of water or less is typically more productive. Jigging is also a great tactic for rainbows. Lastly, don't ignore the weeds as rainbows commonly feed off aquatic insects under the ice.
Regulation changes for 2023: The only new regulation change for the Sebago Lakes Region that will take effect January 1st: The lower section of the Little Androscoggin River (Welchville Dam in Oxford downstream to its confluence with the Androscoggin River in Auburn) was opened to year-round fishing. MDIFW will implement a new fall stocking program for the river over the next year or two, and it is expected to provide another popular fall fishing spot. In addition, we will be adding a new stocking site for the river below the Lower Barkers Dam and this reach should provide better angling as a result of higher minimum flows established during the re-licensing process.
Reminders: Always use extreme caution when venturing on waterways, particularly early in the season. Check ice conditions frequently as you move about, avoid areas of flowing water, go with other people, and bring safety gear (i.e. ice picks).
---
December
From Fisheries Resource Technician Brian Lewis
The month of December offers a variety of fishing opportunities but some of the most popular are oriented around Region A's fall brook trout stocking programs. Many of these brook trout are stocked in waters open to harvest in December, they are also stocked in relatively high densities which can lead to some fast fishing. Good candidates in southern Maine include Otter Pond #2 and #4 in Standish, Chaffin Pond in Windham, and Halls Pond in Paris. Jig poles tipped with a shiny lure and a bit of worm will lead to the highest rate of success. While we seem to be a ways off from having fishable ice in southern Maine we will, as always, remind anglers to be safe on the ice. Test thickness as you cross the ice and fish with a buddy if possible.
Belgrade Lakes Region
January
From Fisheries Resource Biologist Wes Ashe
With only a handful of days left in 2022, it's now time to venture down in the cobweb-filled basement to tune up the auger, change the hooks on your trusty traps, and track down the aging DeLorme to select a water for January 1st – the traditional start of the ice fishing season.
Where to fish in January: For fast action, early season trout fishing in central/Midcoast Maine, we recommend Halfmoon Pond (Prospect), Charles Pond (Georgetown), Pinkham Pond (Alna), Caesar Pond (Bowdoin), Jamies Pond (Manchester), and Minnehonk Lake (Mount Vernon). Even some of the Region's moderate to larger sized waters like Lake George (Canaan), Hermon Pond (Hermon), Salmon Lake (Belgrade), McGrath Pond (Belgrade), Maranacook Lake (Winthrop), Alford Lake (Hope), and Upper Narrows Pond (Winthrop) provide surprisingly high trout catch rates when fished close to shore with worms/small baitfish in no more than a few feet of water.
Regulation changes for 2023: Starting in 2023, three of the Belgrade Lakes Region's more popular ice fishing destinations will undergo a substantially more angler-friendly regulation change. Parker Pond (Vienna), Echo Lake (Fayette), and Swan Lake (Swanville) will shift from 2-lines to 5-lines/person, giving anglers a considerably better chance at landing a finned heavyweight.
While all three waters support stocked landlocked salmon and brook trout, Echo and Swan also host wild togue populations. The togue population on Swan Lake has exploded over the past few years, so we recommend setting four traps and jigging the fifth hole with a white marabou jig or flashy Swedish Pimple tipped with a piece of crawler or dead bait. Using this technique, it's not unheard of to catch a dozen or more lakers per day on Swan. Echo Lake's togue population is not nearly as abundant as Swan's, so while catch rates are lower the chance of landing a trophy-sized fish is much higher. In a recent netting of Echo Lake, fisheries biologists collected several togue greater than 25-inches. The largest of the bunch measured a whopping 35" and weighed 15-lbs or better (our scale couldn't quite handle the behemoth)!
Reminder: Early season ice conditions are often snowless with ridiculously slippery ice. It can be miserable and dangerous if you're without footwear that provides decent traction with metal cleats/grippers. Any type of gripper will do the trick, but we highly recommend the Sportneer Crampon Ice Cleats. You can pick up a pair on Amazon for $20 or so. They can make or break (no pun intended) your early season ice fishing experience.
---
December
From Fisheries Resource Supervisor Jason Seiders
Where to Fish: December can be an in-between time (between hunting season and ice fishing), but central and midcoast Maine has several options for those looking to wet a line in December. The following list contains some rivers that are open to year round fishing and they're regularly stocked with brown trout and brook trout.
St George River (Appleton, Searsmont, Union)
Medomak River (Waldoboro)
Megunticook River (Camden)
Nezinscot River (Turner)
The following list of waters include some stocked trout ponds that are open to year round fishing and might provide some early season ice fishing, as long as we can get some cold weather and safe ice!
Levenseller Pond (Searsmont)
Maces Pond (Rockport)
Tilton Pond (Fayette)
Kalers Pond (Waldoboro)
Crystal Pond (Washington)
Brettuns Pond (Livermore)
Crystal Pond (Turner)
Fishing tips: Colder water temperatures mean you'll need to slow down your presentation if you want to catch fish. If you're fishing flowing water, let the current do most of the work for you. If we get some safe ice in December, remember that brook trout typically stay shallow. Fish rocky or gravelly areas and use small bait. That's one of the best ways to improve your success for brook trout through the ice: downsize your bait. Small minnows or a small piece of worm or nightcrawler are very effective. Jigging with small jigs and spoons; don't use bigger casting or trolling spoons. A small spoon or jig tipped with a tiny bit of worm can be deadly for early season trout.
Reminder: Please wait for safe ice before venturing out on the lakes; it's not worth your life. I love ice fishing as much as anyone, but I won't hit the lakes until I know it's completely safe. Good luck and stay safe!
Grand Lake Region
January
From Fisheries Resource Technician Jake Scoville
Where to fish in January: January 1st is always an exciting day for Maine ice anglers, as it marks the unofficial start to ice fishing season. Although you may find some December ice, January is typically the month where ice starts setting up on larger water bodies in the Downeast region and opportunity is abundant and diverse.
If you are looking for something a little different than your go-to lakes and ponds this January, the Downeast region has several new ice fishing opportunities that may be just what you are looking for. Upper Spectacle Pond in Township 19, Upper Morrison Pond in Great Pond, and Williams Pond in Township 28 are all new brook trout programs that are small, remote waters. These new trout waters should provide January anglers with fish between 10 and 16 inches. All these remote waters require a little bit of extra effort to get to but could be very rewarding.
If you are looking forward to the chance of catching salmon and lake trout this January, I would suggest a few of the classic Downeast waters. West Musquash Lake in Talmadge (salmon, lake trout), Cathance Lake in Cooper (salmon), Green Lake in Ellsworth (salmon, lake trout), Eagle Lake in Bar Harbor (salmon, lake trout) are some of the most reliable salmon and/or lake trout fisheries we have in the region. Waters like Pleasant River Lake in Beddington, Mopang Lake in Devereaux Township, Bog Lake in Northfield, Nash's Lake in Calais, Toddy Pond in Orland, and Spring River Lake in Township 10-SD are all popular waters that anglers regularly catch warmwater species like perch and pickerel, but also catch coldwater species like brook trout and splake. Pleasant River Lake and Toddy Pond are also great places to bring kids because you never know what might come up through the hole.
Fishing tips: Be the first on the lake. Well, maybe you don't need to be the first, but making sure you get on your favorite lake early could be the difference in catching a few more fish. For instance, a bright sunny day may not be the best day to target salmon, but I have seen (and experienced) the salmon bite the best before the sun rises over the trees and it would be a bummer to miss it. Also, don't be afraid to be mobile. If the fishing is slow at your initial spot (or depths) go and change up your location. It can be tough to pack up and move, but you may just stumble into a hot spot. Being complacent could just ensure you're in for a slow day of fishing.
Reminders: When the calendar flips to January 1 it doesn't guarantee ice will be safe everywhere. Here Downeast, we have coastal waters that could still have thin ice well into January. Take extra safety measures and be sure to check the ice thickness as you make your way to your spot. Lastly, always be sure to check the Maine fishing laws before you head out.
---
December
From Fisheries Resource Technician Jake Scoville
As winter starts to tighten its grip on the state, December can be a sneaky good month for the eager early season ice angler. Of course, just because the calendar has flipped to December doesn't always mean mother nature has cooperated and there is safe ice. But, if you can't take the itch anymore and there has been a consistent cold snap, there are a handful of waters Downeast that you should try before January 1st rolls around.
Where to fish in December: When you think of Downeast, one of the first things that may come to mind is the ocean, and the ocean usually isn't an ice angler's best friend. Coastal waters tend to be the last to safely freeze and almost always the first to go ice free in the spring. But luckily, the Downeast region is very diverse and in December if you get just a little way away from the salty air, you will start finding ice.
Waters in Hancock County that I would recommend you check are Tilden Pond in Township 10-SD and Lovejoy Pond in Township 34MD. Tilden Pond is located off Route 182 (Blacks Woods Road) in the Donnell Pond Public Lands. Tilden is unique because access is hike-in only. Parking is at the Tunk Mountain trail head, where anglers will hike on the Tunk Mountain trail for one mile, before bearing right onto the unmarked Tilden Pond trail, which is about a half-mile hike to the pond from that junction. It's best to hike into Tilden with minimal or no snowpack and light gear (backpack, chisel, a few traps, and worms). Tilden is fast fishing for 8–12-inch brook trout. Lovejoy can be accessed via a side road off the Beddington CCC road shortly after passing the Bracy Pond Campsite. There is a woods road that runs along the eastern side of the lake that anglers can park at and then walk onto the pond. The first anglers that reach Lovejoy in the winter tend to have the best days (sometimes of their whole season). Fishing can be fast and the brook trout average 9 to 13 inches.
For anglers in Washington County, two waters are popular early season locations: Vining Lake in Cathance Township, and Goulding Lake in Robbinston. Vining Lake is a popular early season brook trout fishery. Anglers can catch fish consistently in the 8-to-10-inch range with the occasional catch being around 15 inches. Vining can be reached about a half-mile west of Route 191 on the Vining Lake Road. The parking area, access trail and surrounding land is owned by Downeast Coastal Conservancy. Goulding Lake can be reached by taking the Brewer Road, which is west of Route 1 in Robbinston, then taking a slight right onto the Sherman Road, after about a mile that will turn into the Western Road which will bring you right to the Goulding Lake parking area. This small pond tends to be one of the first to freeze in that area and can hold brook trout in the 11-inch range, with some anglers getting lucky and catching trout over 14 inches.
Fishing Tips: Early season trout fishing can be as fun as it gets, and often all you need is worms to entice brook trout. If you can't get your hands on live bait, I wouldn't be discouraged, worms will get the job done. I recommend setting the worms close to or right on bottom. Trout will move close to the bottom and just a slight wiggle of a nightcrawler will get that trout to eat. Also, if you find yourself traveling to unfamiliar areas and new waters to fish early season, especially hiking into ponds or driving on dirt roads I highly recommend downloading an off-line map that you can use if you lose service going into the new areas. Apps on your smart phones like OnX, HuntStand, or Gohunt all have these capabilities. There's nothing worse than getting turned around or taking a wrong turn when you're headed into a place to fish. Any of those apps will help you go straight to your early ice location.
Reminders: If you do find yourself on some early ice, be sure to double check the 2022 fishing regulations for the water. For example, a lake could be open to ice fishing in the month of December but could also have an ALO (artificial lures only) regulation until January 1st. Double checking regulations is always a smart call. Lastly, don't be afraid to pack extras. Early ice fishing has its dangers (obviously thin ice conditions) and even if you are confident about ice thickness, bringing extra socks, gloves, and base layers could save your day if you get wet.
Rangeley Lakes Region
January
From Fisheries Resource Technician Tyler Grant
Where to fish in January: After a warm start to the fall, temperatures have finally cooled off and ice is forming in the Western Maine mountains. There is some snow in the forecast, and it is time to get out ice fishing.
Wentworth Pond, or Ironbound Pond depending on where you're from, in Solon is a good bet for opening day ice. Access is easy via the Hole in the Wall Road and then the West Shore Road. There is an MDIFW launch at the end of the road that can provide a good place to park and access the water. This 213-acre, 48-foot-deep pond is stocked with 500 brook trout in the spring and 400 in the fall and 400 splake in the fall giving anglers the opportunity to catch an assortment of excellent coldwater sportfish. This year it also received 30 adult retired broodstock brown trout as well. At over 18" long, one of these brown trout would create a lasting memory. It is also well known for large white perch and smallmouth bass.
For anglers with kids, there are a couple of great options with fast fishing and easy access. Tibbetts Pond in Concord TWP is a kids-fishing-only water with two easy access points off rt 16. The access point at the north of the pond is much less steep and is a good place to bring smaller kids. Brook trout are stocked in the spring and the fall to provide plenty of action. Haley Pond in Rangeley is another great place to bring kids. This 170-acre, 23-foot-deep pond is stocked with brook trout in the spring and the fall and is easily accessed from several locations in Rangeley off rt 4. Harvey Pond is an often-overlooked kids only ice fishing water right off Rt 4 in Madrid, near Smalls Falls. It is stocked with brook trout in the spring and the fall and provides an excellent fishery. All three of these waters are good bets to have decent ice on opening day. Always test the ice for yourself.
Anglers looking to get off the beaten path and have a pond to themselves might consider Austin Pond in Bald Mountain Twp. This 684-acre, 34-foot-deep pond will require a long walk or a snowmobile ride along the Austin Pond Road from the Deadwater Road off Rt 16. Anglers willing to make the trek will find a healthy stocked brook trout fishery, and a wild salmon fishery that produces moderately sized but fat fish. Austin Pond was opened to ice fishing in 2022, so the ice fishing season is still quite new. If you do make the trek, take a moment to tell your local biologist about your fishing trip. The data you provide is important to creating and managing the fishery for happy anglers.
Fishing tip: When jigging, experiment with different colors and speeds. You never know what the fish might be looking for at that moment, or how the light through the ice is changing the color of your lure. I like purples and greens, but white is a good choice too.
Reminder: Early season ice fishing can be some of the best all winter, but the weather conditions can also be the most challenging. Always bring plenty of warm clothes and choose your spot carefully. Finding some shelter on the lee side of an island or point can make a tough windy day into an enjoyable one.
---
December
From Fisheries Resource Biologist Dylan Whitaker
Places to fish in December:
December is when many of us are starting to think about the fast-approaching ice fishing season. It's the time of year when that corner of the room in your home or garage is swept clean of tree stands, pop-up blinds, or camo coveralls and is soon replaced with jet sleds, pack baskets, and bait buckets. Here in the Rangeley Lakes region the hard water season is just around the bend and although many of our ice-fishing waters in the North Zone don't open until January 1st we still have a few destinations you can target in December that are open to either open water or ice fishing. Roxbury Pond in the town of Roxbury is one of those waters. Roxbury is stocked annually in the fall with 10-12" brook trout and receives about 50 retired brood fish each year. Anglers on Roxbury can also enjoy fishing for perch, crappie, and smallmouth bass. Toothaker Pond in Phillips is another December water that recently changed in the law book from a kid's only ice fishing water to open to the general public throughout the open water and ice fishing season. Toothaker Pond is a relatively small waterbody that's stocked with brook trout throughout the year and can often provide a fast-fishing opportunity. Other popular waters open during December are Sandy and Fahi Pond in Embden, Norcross Pond in Chesterville, Beaver Pond in Township D, or Pepperpot Pond in Adamstown TWP. If you're interested in finding more December fishing opportunities, I recommend using Maine's map-based online fishing law book to help locate which waters are open: mefishwildlife.com/float
Fishing Tips: Ice fishing close to shore is a safe bet when ice conditions are early, brook trout typically like to cruise the shallows to feed and are more readily available to fishermen in these areas. Jigging in shallow water can be a lot of fun too, often times you can watch a brook trout take your jig or bait right under the ice.
Reminders: Remember to always check ice conditions before venturing on a lake to fish. Check out MDIFW safety tips to learn more about what factors can impact ice conditions: mefishwildlife.com/icesafety
Moosehead Region
January
From Fisheries Resource Supervisor Tim Obrey
December 19, 2022
There's been very little fishing ice fishing activity so far in the Moosehead Lake Region. We'll need some cold, calm nights for the ice to set up. So, stay on the small ponds for now. Waters like Mountain View (Fitzgerald) Pd, Sawyer Pd, Prong Pd, Branns Mill Pd, and Snow's Pd will be the first to have sufficient ice. They are all stocked late in the fall, so the fish are there. Big Wood Pd in Jackman is a larger body of water, but it seems to freeze earlier than most mid-sized lakes. Big Wood offers some fast early-season action for splake, brook trout, and the occasional salmon. It's located in downtown Jackman, so access is easy. It's going to be a while yet for Moosehead and other large lakes. A few of the coves on Moosehead caught last week and held tight during those very windy days. But they are probably not safe. As I write, there is a significant rain event in the forecast. This will soak down through the foot or more of snow, and it will delay freezing. Let's hope for some colder weather on the backside of the storm to tighten up the lakes in the area. In the meantime, check your leaders, start your auger, and prep your gear for the upcoming hardwater season.
---
December
From Fisheries Resource Supervisor Tim Obrey
The extended warm weather has put us behind schedule with ice formation in the Moosehead Lake Region. Some of the smaller ponds have a little ice but caution is required. Mountain View Pond, Prong Pond, Brann's Mill Pond, and Sawyer Pond are some early season favorites. These ponds were all stocked in the fall with yearling brook trout that generally range from 12-14 inches. A few older fish are occasionally mixed in to sweeten the pot. The lack of snow in the roads will help anglers fishing Prong Pond and Mountain View Pond. Anglers can currently drive on the access roads to the boat launches on these ponds. As always, check the ice before venturing too far on the ice this time of year. It's not worth a cold bath for a fish and better conditions will be here soon.
Penobscot Region
January
From Fisheries Resource Supervisor Kevin Dunham
Where to fish in January: For many winter anglers January 1 is the long-awaited "official" opening of a new ice fishing season. For some, the start of a new year brings anticipation of fun-filled days on the ice with friends and family enjoying the great Maine outdoors. Others may look forward to spending some solitary days on the ice, relishing the opportunity to slow-down and recharge after a long, hectic year. However you choose to kick off 2023, may the year ahead bring you happiness, good health, ice-free holes, and tight lines.
A few possible waters to fish in January include Hay Lake (T6 R8 WELS,) which typically has adequate ice come January. Hay Lake is stocked with brook trout and landlocked salmon each fall to enhance anglers' opportunity to catch one of these coldwater salmonids. Another water, which we believe to be underutilized during the ice fishing season, is Lunksoos Lake in T4 R7 WELS, this waterbody is not the easiest to access during the winter, but those that make the trip are often rewarded with brook trout in the 12"-14" range and no crowds. A third possible water to fish this winter is actually a new opportunity for most in 2023. Little Round Pond in Lincoln has had a special regulation in the past which designated the pond as a "special opportunity water" from December 1 to April 30 for use by persons under 16 years of age or those holding an eligible complimentary fishing license. Information we've gathered from winter creel surveys indicated Little Round Pond was not being utilized during the December through April timeframe. As a result, we implemented a regulation change that takes effect beginning January 1, 2023 which will open Little Round Pond as a year-round angling opportunity for all anglers. A great "new" fishing opportunity close to the town of Lincoln.
Fishing tip: It can be worth the effort to set an ice fishing trap in-close to shore rigged with an earthworm, especially early in the season, when targeting brook trout. Trout are often cruising the shoreline looking for a quick meal and ice anglers can use that to their advantage.
Reminder: Many new water-specific regulation changes will take effect for 2023. You can check out the new regulations here https://www.maine.gov/ifw/docs/22-MDIFW-6-FISHING-LAWBOOK-2023.pdf and be sure to check on the location you'll be fishing for any changes. Stay safe, and as always check ice thickness often!
---
December
From Fisheries Resource Supervisor Kevin Dunham
Where to fish in December: If the right conditions set in, December can be a good time to hit some smaller waters to get a jump on the ice fishing season. Along with General Law South Zone waters open to year-round angling, several North Zone waters with special regulations, particularly those with an "A season" designation, are open to ice fishing in December. Consult the 2022 Maine Inland Fishing Law Book (PDF) for details. In Region F a few waters which tend to freeze early if cold weather cooperates include:
Middle Oxhead Pond in T40 MD; this 38-acre waterbody is stocked each fall to create a winter put-and-take brook trout fishery. Particularly popular with anglers in December and early January as ice forms early and access off the Morrison Ridge Road is convenient if there is little or no snow cover.
Molunkus Lake in Molunkus Twp.; public access is located at the boat launch in the south-west corner of the lake and this cove usually freezes over early. Molunkus is another water which we stock fall-yearling brook trout and landlocked salmon to provide a winter angling opportunity.
Rock Crusher Pond in Island Falls; this small water body is a "special opportunity" water open only to those who are under 16 years of age or hold an eligible complimentary fishing license. This is another water MDIFW stocks with fall-yearling brook trout and provides a convenient opportunity to introduce children to the sport of ice fishing, or a fun days outing over school vacation.
If you're more "old school" and prefer to wait for the traditional January 1 opening day of ice fishing, December is the perfect time to make sure your fishing gear is in top shape. Jigging rod ice reels may need re-oiling or greasing to help prevent freeze-up. Fishing line of tip-ups can get easily frayed and weakened from rubbing on the underside of ice-holes and now is a good time to inspect and replace. Swivels and hooks can also become worn and dull, becoming a problem when you're trying to land the "big one" in freezing conditions. Don't forget that tattered and torn flag you've been meaning to replace for a couple years now.
Reminder: December is also a great time to begin planning outings for the new year. The Department's historical Lake Survey Maps are helpful in locating deep holes, humps, or drop-offs to concentrate your angling efforts (just keep in mind that while the maps and lake depth data is still current, the summary information associated with each map are historical and may not contain the most up to date information).
Fish River Lakes Region
January
From Fisheries Resource Supervisor Frank Frost
December 16, 2022
Where to fish in January: Smaller lakes and ponds have up to seven inches of ice currently but ice thickness varies considerably due to warm weather and high river flows. Safe ice is unlikely to form the last half of December due to forecasts of above average temperatures. We are expecting safe ice to exist only on smaller, shallower waters and coves of larger lakes by January 1st. With this in mind, here are a few waters that should have safe ice on January 1st:
Portage Lake, Portage – a large shallow lake with brook trout, salmon, smelt and several species of non-sport fish
Drews Lake, Linneus – a large shallow lake with brown trout, splake and several species of non-sport fish
Cross Lake, T17R5 – a large shallow lake with brook trout, salmon, smelt and several species of non-sport fish
In addition, I want to highlight those waters that will be newly open to ice fishing in 2023. Those waters are: Durepo Lake (Limestone), Trafton Lake (Limestone), and Monson Pond (Fort Fairfield). These three waters open January 1st to ice fishing.
Reminder: Early season live bait availability is oftentimes an issue. While bait dealers work hard to have inventory for anglers by opening day, supply of live bait can be limited. Anglers should plan ahead by contacting dealers or make plans to catch their own bait.
---
December
From Fisheries Resource Supervisor Frank Frost
Places to fish in December: A few small ponds are beginning to freeze in far northern Maine, but recent rainstorms are keeping any significant ice from forming at this point. There are a few flowing waters open right now (mentioned in an earlier fishing report), however, flows are too high to fish safely at this time. If the recent warm weather continues its march toward the holidays at the end of the month, there could be some open water chances for those diehards who did not pack away their wading gear.
Some early season opportunity, assuming safe ice forms in the near future, include: Mud Pond (Linneus), Arnold Brook Lake (Presque Isle), or Dickwood Lake (Eagle Lake). These waters are stocked multiple times a year to provide fast fishing for brook trout.
Other opportunities in Aroostook County this time of year are rainbow smelt waters that oftentimes form safe ice in December. Scopan Lake (T11R4), Little Machias Lake (Nashville Plt.), and Portage Lake (Portage) all have strong smelt populations that can be a reliable source of live bait or food fish alike. Safe ice in the early season can sometimes only be found on shallow coves so be sure to check ice thickness before you venture out.
Reminder: We have a large number of rule changes that will be going into effect on January 1, 2023, and nearly all of those are liberalizations on length and harvest limits. In addition, three of those changes involve opening small waters to ice fishing for the first time. Those waters are: Durepo Lake (Limestone), Trafton Lake (Limestone), and Monson Pond (Fort Fairfield). These three waters open January 1st to ice fishing.