Fishing Report
Click the links below for the most up-to-date fishing news and suggestions from Maine's fisheries biologists. The December and January fishing reports list several small bodies of water that typically freeze first, but it is up to you, the angler, to test for ice safety. Remember to always use extreme caution when venturing onto Maine's waterways. Accessing lakes and ponds should be avoided unless you can be certain of ice conditions by checking ice thickness. Before stepping out, use a chisel or auger to test ice thickness in several places. Remember that ice seldom freezes uniformly and conditions are always changing and can vary from one location to the next. Ice that forms over flowing water and currents, especially near streams, bridges and culverts, can be particularly dangerous. We hope you have a great ice fishing season! Learn more about ice safety.
Before you head for a day of fishing, ALWAYS tell someone where you are going and when you will return. Please enjoy the Maine outdoors safely and responsibly!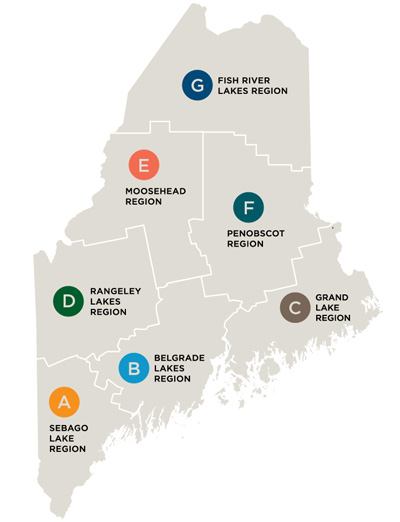 Sebago Lake Region
From Fisheries Resource Technician Brian Lewis
Where to fish: The month of March has long been considered the last month of ice fishing in southern Maine. Warmer temperatures and generally easier traveling conditions on the ice open up a variety of ice fishing family oriented outdoor adventure options. One possibility is that of overnight camping on the ice with night time fishing for cusk as one of the main events. Many waters that support a cusk fishery also support other game fish which can be targeted during daylight hours.
Possible cusk fishing destinations in southern Maine include Bryant Pond in Woodstock (cusk, splake, and salmon), Hancock Pond in Sebago (cusk and brown trout), and Thompson Lake in Otisfield (cusk and lake trout). Dead bait fished at or near the bottom of the lake in shallow to moderate depths seems to be a favorite tactic of successful cusk anglers. Remember to check your nighttime cusk traps at least every hour as required by law and to check ice conditions around your fishing area before setting out in the dark.
Belgrade Lakes Region
From Fisheries Resource Supervisor Jason Seiders
Where to fish:
Spectacle Pond (Augusta) – Spectacle Pond is part of the Garcelon Wildlife Management Area and it's located just outside the City of Augusta. For being so close to Augusta, Spectacle has a very remote feel and is accessible by snowmobile, snowshoeing, or even cross country skiing because the access road remains gated through the winter. Those willing to make the trek can be rewarded with quality and trophy sized brown trout. A robust smelt population fuels great brown trout growth and excellent water quality allows these fish to live and grow to older ages and larger sizes.
Salmon Lake (Belgrade) – Salmon Lake is another nice central Maine brown trout water. While it doesn't typically grow trophy-sized browns, anglers could have a multi-fish day for brown trout, which isn't all that common. Salmon Lake is also stocked with good numbers of brook trout every fall. In addition to trout fishing, Salmon Lake supports some great fisheries for smallmouth and largemouth bass and a wide variety of panfish.
Burbot (Cusk) Fishing: Central Maine doesn't boast a ton of cusk waters, but we have a handful. We don't tend to see monster cusk pulled from these waters, but we frequently see respectable sized fish, certainly enough to provide some angling action and potentially a great meal! Here are some of central Maine's better cusk waters:
Wassookeag Lake (Dexter)
Flying Pond (Vienna)
Minnehonk Lake (Mt. Vernon)
Parker Pond (Vienna)
Echo Lake (Fayette)
Woodbury Pond (Litchfield)
Sand Pond (Litchfield)
Fishing Tips: March is the perfect time to target bass through the ice. Bass will become much more active in anticipation for the upcoming spawning season. Those looking for smallmouth bass should fish rocky areas in the 12-25 foot range. Live bait always works well, but I encourage folks to try jigging for these fish. Often times smallmouths will be concentrated in these areas and jigging is a great way to catch a lot of fish over the course of a day. March tends to bring warmer weather, so jigging can be a little more enjoyable on those sunny days. If you're looking for largemouth, try some areas near vegetation. Large, flat, weedy areas can be very productive; look for 8-15 feet of water. Depth can vary a bit depending on the particular lake, but in general you'll find largemouth in this type of habitat. It's common to catch some of the bigger fish during the month of March, especially if you use some larger live bait.
Reminder: Ice conditions have improved, but they are highly variable. I've never seen stranger ice conditions for this time of year, and it has curtailed my fishing activity. Check the ice as you go along and don't take any chances!
Grand Lake Region
From Fisheries Resource Technician Jacob Scoville
If you are looking for a place to fish Downeast this March, conditions will vary throughout the region. Some lakes could be ice free and others will still be holding on to ice measuring upwards of 18 inches. The longer days and warming sun can make for some great fishing days and some anglers even regard March as their favorite time to fish.
Where to Fish: If you're anything like me, you've spent January and February chasing brook trout, salmon, and lake trout (for the most part). While it never really gets old, I tend to use March as an excuse to try new waters and target new species, just to change things up a bit. The warming weather of march is a great time to go target some white perch. Mainers love a good perch feed, so if you haven't fished for white perch this winter, I highly recommend you plan to do so! Some waters that I would suggest fishing would be at Patrick Lake in Marion, Upper Lead Mountain Pond in T-28 MD, and Abrams Pond in Eastbrook. Find some deep water and set traps with live bait, dead bait, or worms near bottom, plus try jigging to increase your chances.
Where to Fish for Cusk: Late February and early March is the time to target cusk (burbot) here in Maine. West Grand Lake in northern Washington County is one of the only waters that is home to cusk here in the Downeast region. The cusk fishery in West Grand is sought after by some anglers and although the cusk are small (typically less than 3 pounds), they can be a blast to catch. Cusk fishing is usually the best in 20 to 60 feet of water, and the bite picks up dramatically after the sun goes down. Setting traps with dead bait is how most anglers target cusk, but they can be jigged up as well. Fishing at night can be a lot of fun, especially when you rig up your traps with bells and flags that light up! Remember to check your nighttime cusk traps at least every hour.
Fishing Tips:
White Perch Tip: One thing I have noticed when jigging for white perch is that they tend to strike when using the "dead stick" method sometimes more than when actively jigging. The "dead stick" method is just simply letting your jig rod sit still rather than jigging it up and down. Perch can be surprisingly picky and a lot of times they will be attracted to the jigging movement but come in and not strike. Dead sticking can be just the trick to entice them to strike. Also, I always like to tip my perch jigs with worms or little pieces of cut bait.
Cusk Tip: This time of year, cusk are actively spawning. Spawning activity means if one comes in, often there are likely more nearby. To get the cusk interested, try using heavy, glowing jigs that bang on the bottom and create noise. This will get the cusk's attention, and if you're lucky, you could find yourself in the middle of a "cusk ball." When setting traps for cusk, try setting them in different depths and after you catch a few, try moving your traps to the depth that seems to be holding the most fish. A simple move like this can really increase your catch rates.
Reminders: Like I said before, the month of March could see a lot of early ice-outs for the coastal areas of the Downeast region. If you find yourself near ice free waters, I encourage you to go try open water fishing (if the water is legally open to open-water fishing before April 1st). Fishing right after ice out on small trout waters can be super productive and a great way to get you switching gears from ice to open water fishing. In recent years on coastal waters, March has felt a lot like April, so don't forget there are plenty of open water opportunities to be explored!
Rangeley Lakes Region
From Fisheries Resource Biologist Dylan Whitaker
The beginning of March is shaping up to be a cold one, many of our waters open to ice fishing in Region D have plenty of safe ice and I suspect good ice conditions will persist through the remainder of the month. March is arguably the best time of year to ice fish. The days are finally getting longer, the sun seems to shine a bit brighter, and temperatures are often more bearable. March ice fishing can also be very productive depending on the species you plan to target. Cusk for example, also known as burbot, eelpout, lingcod, or lawyer is a freshwater cod native to Maine that spawns under the ice between mid-February to mid-March. They are nocturnal feeders so catch rates are typically highest during the night. However, during the spawning season anglers can catch cusk even during the day. The list of cusk waters in Region D is short, as the western mountains and foothills of Maine are not particularly known for cusk, but we do have a few lakes open to ice fishing with cusk populations.
Cusk Waters:
Chain of Ponds in Chain of Ponds Twp has a Cusk population that is often overlooked by anglers. Cusk in the Chain of Ponds aren't extremely abundant, but a few lucky anglers always seem to pull up some very large Cusk this time of year. Clearwater Pond in Industry is another sleeper Cusk water. Most anglers target Salmon, Brook Trout, or Lake Trout here but are often pleasantly surprised to land a Cusk on the ice. To target cusk in any water I'd recommend dropping dead bait on bottom near humps or shoals in the lake and wait for them to come in and feed. If you hit it right expect to be chasing flags.
Tips:
Despite their appearance Cusk have a nice tender white meat that has a very mild fish flavor. I enjoy filleting the fish rolling them in a batter and frying them up, or if you can catch a number of Cusk I recommend trying a fish chowder. The internet is full of great recipes to try and if you haven't had Cusk before I encourage you to try something new. I think you'll be surprised.
Where to fish:
If cusk fishing doesn't interest you, there are still plenty of other opportunities and fish species to target in Region D. Embden Pond in Embden is a large, deep, cold-water lake with Salmon, Lake trout, Brook Trout, Smallmouth bass, Pickerel, and Perch. Embden Pond froze over in mid-January and has about 12-16 inches of safe ice across the lake. Hancock Pond is just over the ridge from Embden Pond, it's a smaller body of water compared to Embden but still has cold deep-water habitat. Public access is via a short snowmobile ride through the Hancock WMA, and anglers can also expect to catch Salmon, Lake Trout, Brook Trout, Smallmouth bass, and Pickerel.
Moosehead Region
From Fisheries Resource Supervisor Tim Obrey
As we roll into March, we take stock of the ice conditions since this winter has been very mild. In a more normal year, anglers would be reaching for their auger extensions in March. Not necessary this year. While there is ample ice, we are well below the average thickness for this time of the year. Anglers need to take care in the usual bad areas, especially around moving water, pressure ridges, and natural constrictions. As the sun gets higher, exposed rocks and shoals will heat during the day which results in thin ice along the edges. The good news is the extended forecast looks seasonably cold, so the ice will hopefully hold up through the month. But we are likely to have an early ice out this year.
Early March is a good time to fish for cusk. The weather is typically more tolerable at night and the cusk are very active. The number of places to catch cusk are limited, but Moosehead is a perennial favorite. Chamberlain and Chesuncook Lakes also have good cusk fisheries. Big Wood Pd and Little Big Wood Pd also have fisheries, if you're in the Jackman area. Each year, anglers ask about cusk fishing on Sebec lake. Don't bother, as there are very few cusk in the lake and it's really not worth your time. If you really want a cusk feed, then head further north.
Cusk come into the shallow areas in late February and early March to spawn, so you won't have to travel far. Bait or jigging on the bottom is the only way to go. Now, most anglers feel the need to use dead bait, and while that might be cheaper and easier, live bait works well too. And here is a little tip from experience: Tie your lines off so the cusk can't "spool" you and get caught in the rocks and sticks. If you're using a standard trap, just pull out a few feet of extra line and put a half hitch around the spool so it won't turn any further. Then just wrap the extra line back on the spool. When the cusk gets to the end, it will snub itself up. This will keep you from having to reel and untangle frozen lines in the middle of the night and save your fingers for another day!
Penobscot Region
From Fisheries Resource Supervisor Kevin Dunham
March is the month many ice anglers look forward to with mixed emotions; the sun is higher in the sky bringing warmer, more comfortable days on the ice, but with the warm temperatures comes standing water, softening ice, and broken edges.
A few ideal waters to fish in March include: East Grand Lake in Danforth, Forest City Twp., Orient, and Weston. East Grand offers excellent landlocked salmon, lake trout, and lake whitefish action. Schoodic Lake (Brownville, Lake View Plt., T4 R9 NWP) is another late season water to target as evidenced by results of the recent fishing derby held there the salmon growth is excellent and good numbers of lake trout are being regularly landed. Lastly Cold Stream Pond (Enfield, Lincoln, Lowell) is a perennial favorite for lake trout and salmon fishing in March. All the aforementioned waters also hold healthy cusk populations and March is prime time to target cusk since they are becoming more active in preparation of spawning. They might not win any beauty contests, but cusk certainly are tasty in a chowder.
Coldwater gamefish tend to decrease their activity somewhat with the arrival of longer days and warmer temperatures of March, but warmwater species such as white perch and pickerel can become more active and shouldn't be overlooked when planning a March outing. Pushaw Lake (Glenburn, Hudson, Old Town, Orono) is a perfect water to try your luck catching several different warmwater species in March.
Fish River Lakes Region
From Fisheries Resource Biologist Jeremiah Wood, 2-22,23
After the roller coaster ride of weather patterns we've experienced this winter, a slow and steady March into spring would be a welcome change for anglers this month. Most of our waters didn't have enough safe ice to support much fishing activity in January, and February has seen many days downright unsuitable to fish in. The lower fishing pressure means more fish available to be caught for those venturing out this month.
While most of our larger waters support cusk populations, the two Eagle lakes in northern Maine offer unique opportunities. The Eagle Lake closer to civilization (in the town of Eagle Lake) offers the chance to catch a cusk of exceptional size – sometimes in excess of ten pounds. In the Allagash Wilderness Waterway, Big Eagle Lake is a great place to catch large numbers of cusk. The fish don't get as big here, but can provide lots of action.
While it's common knowledge that fishing on bottom is the way to catch cusk, how you define 'bottom' could make a difference. I've had the best luck fishing baits 3-6" off bottom, which helps keep the bait out of the mud and easier for the fish to detect.
Trafton and Durepo lakes in Limestone, as well as Monson Pond in Fort Fairfield are great places to take a short fishing trip close to home as the days grow longer. These three waters contain large numbers of stocked brook trout. Be sure to check the fish consumption advisory for Durepo if considering keeping fish to eat.