Boating Safety Tips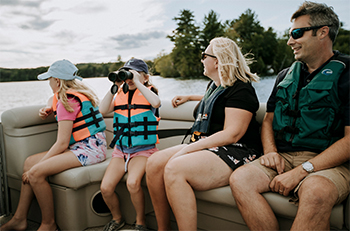 Many look forward to spring and summer days to spend time on Maine's waterways, from quiet ponds and majestic larger lakes to meandering rivers and streams. The key to an enjoyable day on the water, whether on a motor-powered boat, a canoe, kayak, or wind propelled watercraft, is to be safe and prepared. Here are a few reminders to keep you and your passengers safe:
Always wear a life jacket. If you think you will have time to put it on after you are in the water, think again.
Stay alert and be aware of others on the water.
Always operate your boat at a safe and reasonable speed for your surroundings.
Remember that the law requires you to operate at "headway speed" within 200 feet of any shoreline, including islands, and within a marina or an approved anchorage in coastal or inland waters. "Headway speed" means the slowest speed at which it is still possible to maintain steering and control of the watercraft.
Never drink and drive!
Check the weather before leaving shore and carefully observe changing weather.
Always wear an engine cutoff switch.
Watch out for wildlife.
Become familiar with the water body. Look at a map for depths and any potential hazards. Lake associations, Maine guides, and local wardens can be a great resource.
Bring plenty of water to stay hydrated and wear a hat and sunscreen to avoid overexposure to the sun.
Always tell someone where you are going, and when you will be back.
Life jackets and personal flotation devices: State law requires each person on board to have a properly fitting U.S. Coast Guard-approved serviceable life jacket. Also, boats longer than 16 feet must have a throwable PFD. The Maine Warden Service recommends that everyone wear his or her lifejackets while on the water.
If your boat has any enclosed compartments or a false floor you must carry a Coast Guard approved fire extinguisher. Make sure it is charged and accessible.
Always test your boat lights before the boat leaves the dock and carry extra batteries.
Keep emergency supplies on board in a floating pouch complete with maps, flares, and a first aid kit.
And make sure you have an anchor and can properly use it.
Never drink and boat.
Leave alcohol on shore and never use drugs or alcohol before or during boat operation. Alcohol's effects are greatly exaggerated by exposure to sun, glare, wind, noise, and vibration. Alcohol use is dangerous for passengers too. Intoxicated passengers can easily slip, fall overboard or suffer other life-threatening incidents.
Remember, boating under the influence (BUI) is illegal. Operating a recreational vessel with a blood alcohol concentration of .08 or higher is against Maine law. Boating under the influence applies to drugs, as well as alcohol. Even some prescription medications can make operating a recreational vessel unsafe. Check with your doctor about the effects of any medications you may be taking.
Be weather wise.
Regardless of the season, keep a close eye on the weather and bring a radio. Sudden wind shifts, lightning, and choppy water all can mean a storm is brewing.
If bad weather is approaching, get off the water early to avoid a long waiting line in inclement weather.
Cold water temperatures, particularly in spring and fall, increase the risk of hypothermia. Remember that northern Maine holds on to winter as long as it can, and it often feels like winter well into spring.
Be sure to take these steps before getting underway.
Open all hatches and run the blower after you refuel and before getting underway. Sniff for fumes before starting the engine and if you smell fumes, do not start the engine.
Make certain your registration is up to date and on board with you and that your boat displays the current year sticker.
Do not overload your boat. Abide by the listed weight capacity and make sure all equipment is working and that the plug is in.