Commissioner's Office
Commissioner Chandler E. Woodcock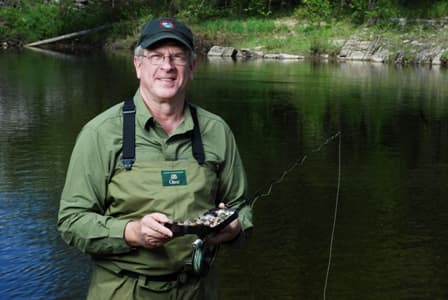 We are extremely fortunate. We live in a special place. My outdoor experiences have included bird and deer hunting, a brief trapping stint, kayaking on inland waters and the Atlantic, canoeing both the Allagash and St. John rivers, an Audubon bird count and teaching our grandchildren to appreciate the woods and waters and the fine art of putting a worm on a hook to name a few.
My outdoor journal, kept since 1974, serves as evidence of my most consuming recreational passion, a passion which has many times led my grandmother, mother and wife to say, "Chan, you have to do your chores before you go fishing."
I fish.
Now, with this opportunity, I will be able to return a portion of that which I have taken, of that which has so meaningfully and richly filled my years. I am humbled. The chance to assist in effectively preserving and enhancing Maine's sporting tradition and to also assist the non-sporting outdoor experiences of generations to follow is a challenge that I readily accept.
We must find a mechanism by which to increase our deer population in northern, western and eastern Maine. These geographic regions have been home to historic camps and lodges that catered to resident and non-resident deer hunters who hunted here because Maine had a reputation, for more than a century, for big bucks, big woods and iconic guides.
The economy of those areas was significantly augmented by the dollars spent on deer hunting. We must work with all stakeholders to protect and replenish the deer herd in those areas where it is a necessity. It is a critical task for the new commissioner and the department. A unique opportunity exists for Maine because our inland waters are home to the largest remaining population of native and wild Brook Trout remaining in the continental United States. They are a beautiful and delicate jewel worth protecting.
A report recently released by the National Fish and wildlife Service indicates that fishermen from Maine prefer to fish for Brook Trout more than any other species and our native and wild Brook Trout are a critical part of that fishery.
While a member of the Maine Senate and this committee, I was honored to sponsor a bill from the Sportsman's Alliance of Maine which established Maine's native and wild Brook Trout as a "heritage" species. I eagerly look forward to preserving our angling destinations for anglers from around the world. "If you build it, they will come."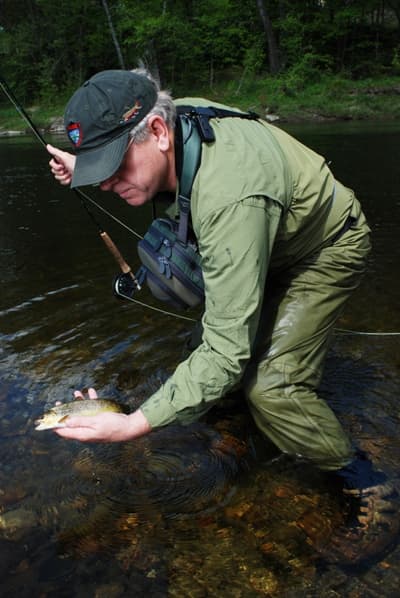 A particular emphasis on attracting young people to hunting, fishing and other outdoor activities is obviously vital to our future. Giving youth more opportunities to participate through our education efforts should be a central focus for all of us and every viable channel should be utilized.
Increased involvement in learning and a variety of outdoor experiences, offered in concert with sporting organizations throughout the state, must attract young sportsmen to become lifelong participants.
An important undertaking for the department should be to build and enhance our relationship and cooperatively interact with those sporting organizations and the people of Maine. Mutually working to develop strategies which protect our resources and increase our opportunities for usage of those resources is critical for the department. I have always believed that a concerted cooperative effort is necessary to effectively improve relations among all stakeholders.
Our department will have a renewed emphasis on customer service. Whether it is a call asking a question about a license purchase or a contract with a warden or biologist in the field, our goal should always be to provide a positive experience.
We must treat our clients, those who enjoy the woods and waters of Maine, with courtesy and a "can do" attitude while promoting respect for the law and the outdoor opportunities which our state affords.
I eagerly look forward to contacting a youngster worm fishing on a small brook, a non-resident sport at one of Maine's traditional camps or a community-minded citizen running an ice fishing derby for charity. I want to shake their hand and ask, "How's the fishing or hunting and what can we do better?'
For me, it is about experiencing Maine's outdoors and protecting our resources for everyone to enjoy. As commissioner, I will be in the field, attending functions and promoting Maine and the department at every opportunity. It is very important to be visible because I believe that the department of Inland Fisheries and Wildlife has a critical place in our state's economic resurgence.
We should be one of the catalysts for the flow of additional dollars which will be spent in Maine. Promote the resources, educate about the importance of those resources and entice more participation in the outdoor arena- it benefits all.
I am particularly honored to be nominated by the Governor for this position. The outdoors of Maine has held a prominent place in my life since I was three years old when my grandfather and grandmother first took me bass fishing and encouraged me to land a three-pound largemouth bass with minimal assistance. I must confess however, in the spirit of full disclosure, the bass was probably two pounds, but the years have passed and I am a fisherman.
I appreciate the many duties required of the Commissioner of Inland Fisheries and Wildlife. We have much to do and difficult issues to resolve. Rest assured, these great challenges will be met with the common fisherman and outdoor enthusiast in mind.
I feel confident that my background as an outdoorsman and educator, as a lifelong resident, as a three term State Senator and two term member of this committee make me familiar with the issues of the Department of Inland Fisheries and Wildlife and the people of Maine. I am comfortable in a leadership capacity, confident in my abilities, humbled by the opportunity and eager to confront the challenges ahead.