ATV riding

Boating (motorized)

Camping

Canoeing

Cross-country skiing

Fishing

Hiking (trails)

Hunting

Snowmobiling

Snowshoeing

Swimming

Watchable wildlife

Picnic area

Trailered boat launch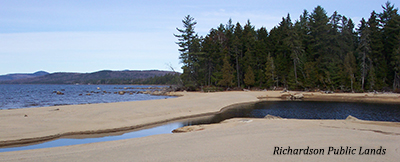 Description
Located in the scenic Rangeley Lakes Region of western Maine, the 22,000-acre Richardson Unit includes 21 miles of shoreline on Richardson and Mooselookmeguntic Lakes, as well as frontage on several small ponds. Covering 1,900 acres, the Bald Mountain Unit offers views of the surrounding mountains and lakes. The big lakes and small ponds, bounded by hardwood ridges and softwood flats, attract those who enjoy boating, fishing, hiking, and camping in a remote setting near the mountains.
Richardson and Mooselookmeguntic Lakes are part of the Northern Forest Canoe Trail. The Northern Forest Canoe Trail is an historic 740-mile watertrail through New York, Vermont, Quebec, New Hampshire, and Maine.
If you are interested in learning about geology around the state, check out the Maine Geological Survey Searchable Database.
Activities
ATV riding
Boating (motorized)
Camping
Canoeing
Cross-country skiing
Fishing
Hiking (trails)
Hunting
Snowmobiling
Snowshoeing
Swimming
Watchable wildlife
Rules
Consider lending a hand. Contact us if you would like to help with stewardship or maintenance work.
Services and Facilities
Picnic area
Trailered boat launch
Special Considerations
Moving firewood can transport exotic insects & diseases that pose a serious threat to our forests. Don't transport firewood, buy it from a local source. Burn It Where You Buy It Out-of-State firewood is banned.
When to Visit
Open All Year.
Location
Oxford County, Maine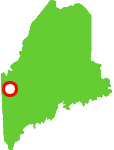 Contact
Bureau of Parks and Lands
Western Public Lands Office
PO Box 327
Farmington, Maine 04938
(207) 778-8231

Current Weather
Directions and Parking
Located between Upper Richardson Lake and Mooselookmeguntic Lake in western Maine. Access to the southern portion of Richardsontown is by water, with launch sites at Oquossoc in Rangeley and at South Arm in Township C. Route 16 passes through the northern