April 24, 2020
Katharine England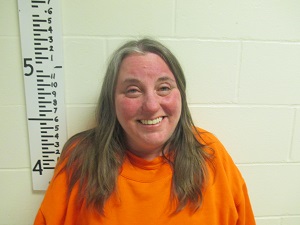 A Sandford woman is facing charges after driving her vehicle off the road earlier this week.
On April 21, 2020, A Trooper from Troop A was dispatched to the report of a vehicle off the road at the intersection of Hamilton Road and South Waterboro Road in Lyman. It was reported that there was no injury to the driver of the car, but that she appeared to be intoxicated. After arriving on scene and speaking with the driver, Darcey Nundy, 42, of Sanford, the Trooper observed multiple signs of impairment. Standardized Field Sobriety Testing was administered, which Nundy failed. She was arrested for Operating Under the Influence.
It was also discovered that Nundy had three separate sets of bail conditions, one set was for Domestic Violence Assault, one was for OUI, and the last was for Violating Conditions of Release. Two of Nundy's bail conditions also prohibited the use or possession of Alcohol. She was transported to York County Jail for an Intoxilyzer test. The test showed that her breath alcohol content was over the legal limit.
Nundy was booked at the jail on the charges of OUI (Class D) and Violation of Conditions of Release (Class E). Darcey was held without bail.