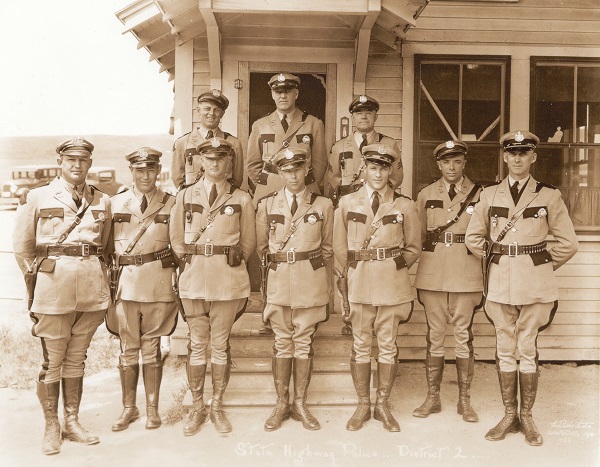 2021 marks the Centennial for the Maine State Police. We will be marking the occasion with various tributes to our history, tradition, and excellent service to the state of Maine.
Specialty Cruisers
As part of celebrating our history and tradition State Police Cruisers will display special 100th Anniversary license plates that are orange and black, replicating the first plates used in 1921. Nine special edition marked cruises have been released – one for each of Maine's Troops. These black, fully marked cruisers are designed with replica door seals and other markings duplicating the first cruisers issued in the mid 1930's as the agency began the transition to cars over motorcycles. These vehicles were included in our normal fleet order and were not additional purchases. They will remain on the road for the full service life well beyond 2021.
Anniversary Badge
State Police sworn personnel are authorized to wear special 100th Anniversary badges on their uniforms that are replicas of the first badges issued. These badges have been approved by command staff to be worn in celebration of the Centennial but are optional. Troopers who wish to display one have purchased them with their own money.
Yearbook
The agency will publish a 100th Anniversary yearbook, the first yearbook in 20 years.  
A group of dedicated Troopers and civilian staff are putting together a Centennial Yearbook to mark the 100 Year Anniversary of the Maine State Police. The book will be available for the public to order through Acclaim Press. The Yearbook will feature hundreds of color photos all current members of the Maine State Police Family and Support Staff, as well as living retirees, historic photos and stories from members of the Maine State Police Family dating back to 1921 from the archives.
Acclaim Press has done similar Yearbooks for agencies such as the Massachusetts and Vermont State Police and other agencies across the country. If you would like to order a copy you can find that information below or pre-order from Acclaim Press on their website and search for Maine State Police and order yourself a piece of Maine History.

You can also download a PDF of the order form here to mail in your pre-order.