Title VI Program Discrimination Complaint Information Form
Public Notice of Title VI Program Rights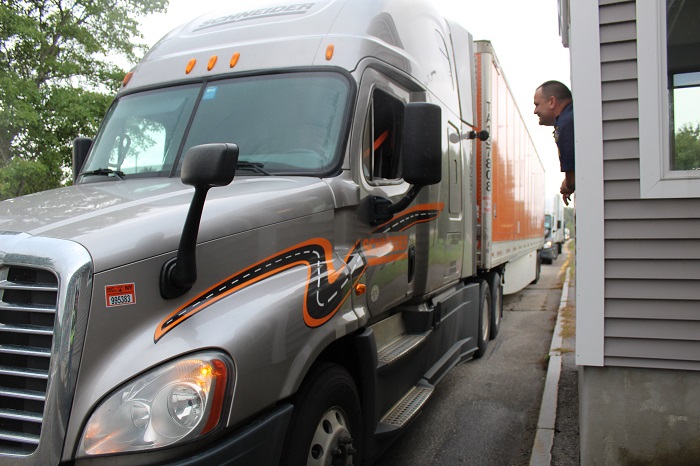 The mission of Troop K, Commercial Vehicle Enforcement is to ensure that commercial vehicles operating on Maine's highways comply with state size and weight laws and the Federal Motor Carrier Safety Regulations. Our focus is the safety of the motoring public. The goals of our enforcement efforts are to reduce crashes, injuries, and deaths involving commercial motor vehicles. We aim to accomplish these goals through focused enforcement efforts and proactive enforcement patrols.
Troop K consists of sworn state troopers and civilian motor carrier inspectors. All are specially trained in the complex and highly technical regulations governing commercial vehicle regulations.  In addition to the federal regulations, sworn State Troopers are also charged with enforcing Maine's complex size and weight laws. Civilian motor carrier inspectors conduct administrative safety audits and safety reviews of Maine based motor carriers.
To help accomplish these goals, Maine has permanent weigh and inspection facilities located on Interstate 95 in Kittery, York, Sidney, and Old Town. Several rest areas on Interstate 95 and other routes throughout the state are regularly used as temporary weigh and inspection locations.
In addition to conducting fixed enforcement details, all CVEU Troopers carry portable scales and actively patrol assigned areas throughout the state. CMV inspections are conducted according to established North American Standards, and results are electronically submitted to the Federal Motor Carrier Safety Administration's SAFER system.
Troopers assigned to Troop K also provide assistance to outside agencies with traffic stops involving CMVs when requested, and assist with the investigation of serious CMV crashes.
Troopers assigned to Troop K also provide technical assistance as members and instructors to many Maine State Police specialty units and training assignments.  Troop K members regularly serve as members of the Crash Reconstruction Unit, Forensic Mapping Unit, K9 Unit, Underwater Recovery Team, Tactical Team, Firearms Training Unit,  Crisis Negotiation Team, Emergency Vehicle Operation Course, Bomb team, among others.
Members of Troop K actively conduct speaking engagements and participate in safety meetings with companies throughout the state.  If you would like to have a member of Troop K make a presentation at your facility or participate in a safety day, please contact us to schedule. Presentations can be tailored to almost any topic based on your company's needs.
Members also participate in organizing truck driving championships, industry association meetings, trade school outreach, and other similar events.  It is our belief that the common goal of safe transportation of goods and passengers depends on a positive relationships between industry and enforcement.
Drivewyze PreClear Weigh Station Bypass Program: Maine State Police has authorized the Drivewyze PreClear bypass program to operate in the state of Maine. Commercial carriers and owner-operators that enroll in the Drivewyze PreClear bypass service are eligible to legally bypass open weigh stations and inspection sites instead of always pulling in, at bypass rates determined by Maine State Police and based upon carrier safety scores and other state-defined prerequisites. Drivewyze PreClear is a software service that uses GPS and cellular communications, instead of a transponder, and runs hands-free on many brands of Electronic Logging Devices (ELDs) and other in-cab telematics devices, including tablets and smartphones. For more information about Drivewyze, including a full list of compatible ELDs and other in-cab devices, please visit www.drivewyze.com.  
List of MDOT Posted Roads.
Troop K, Commercial Vehicle Enforcement
36 Hospital Street, Augusta
Mailing address: 20 State House Station 
Augusta, ME 04333-0020
Phone 207-624-8909
Fax 207-287-5247