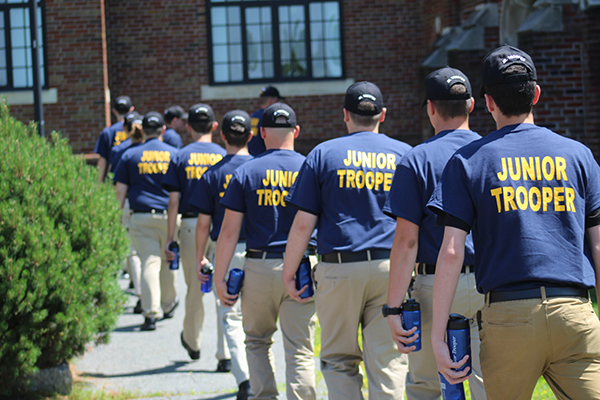 Applications for the 2020 Junior Trooper Academy will not open until March 2020.
UPDATE: We have reached our max capacity of applicants for the Junior Trooper Academy and will not be able to accept applications. Letters to those who have applied are being mailed out with further details about the program. Applications received after May 28th  will be emailed notifying the program has reached the maximum number for participants. 
The Maine State Police wants to thank everyone who has shown interest in participating! 
 
The Maine State Police will be hosting a three-day Junior Trooper Academy. This is a Career Orientation Program to be held from July 16 through 18, 2019. The program is open to any High School Junior or Senior who has a strong interest in learning about a career with the Maine State Police. Lodging and meals will be provided at the Maine Criminal Justice Academy in Vassalboro to those selected and invited from a pool of submitted applications. There is no fee associated with the program, and overnight stay will be a requirement. Space is limited!
The curriculum is designed to provide an orientation to law enforcement duties specific to the State Police, and the rank of Trooper. Some of the courses may include a K-9 demonstration, Overview of the Specialty Teams (e.g., Tactical Team, Underwater Recovery Team, Bomb Team, IMAT, etc.), Drill and Ceremony (marching), Introduction to Self Defense, Felony Motor Vehicle Stops and Cruiser/Equipment Orientation.

There will also be a familiarization with the role of a recruit in the academy environment as well as question and answer periods with Troopers temporarily assigned as support staff for the program. The participants will also be provided with the information needed to pursue a career with the Maine State Police. 

Our goal is to provide a program guided by the Maine State Police Core Principles of Integrity, Fairness, Compassion and Excellence in an environment that accurately portrays the professionalism and pride of the Maine State Police, as well as our desire and willingness to reach out to Maine's youth, who are the future of this department. 

Please submit the completed application and release form along with a 100 word essay on why you would like to attend this program and/or why you would like to be a Maine State Trooper, no later than June 1, to Maine State Police Junior Troopers, 15 Oak Grove Road, Vassalboro, ME 04989. Questions regarding the program can be directed to Stacy Thorndike at the Maine State Police Training Unit by calling 877-8025. The Junior Troopers will be selected by June 15, and students will be notified by mail.